Visit Ireland's UNESCO World Heritage Sites
This Week's Focus: Sceilg Mhichil
Last updated: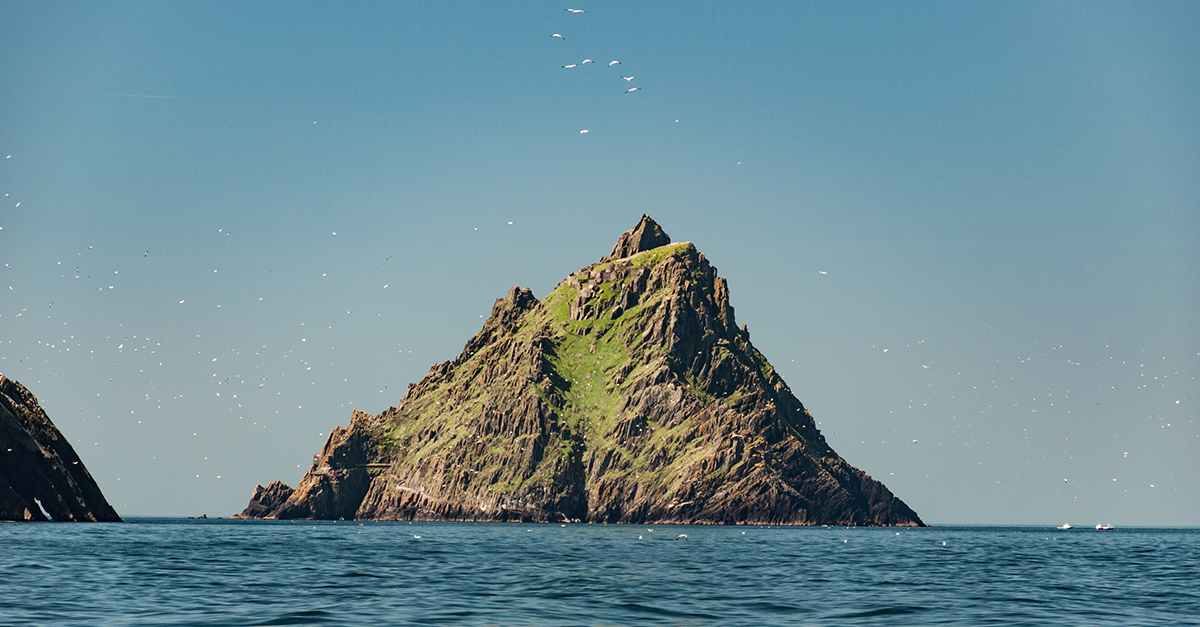 Did you know that Ireland is home to two UNESCO World Heritage Sites? Over, the next two weeks, we will review the sites in detail and hopefully provide some inspiration for your next trip in Ireland.
Sceilg Mhichil
The island of Sceilg Mhichíl or Skellig Michael is located 12 km west of the lveragh Peninsula in County Kerry and is one of the most impressive tourist destinations in Ireland, if not Europe.
Visiting Sceilg Mhichíl is certainly a privilege – especially when you consider that only 180 visitors are permitted to visit the island each day during the summer months.
The main thing that hits you when you reach Sceilg Mhichíl is the sheer ruggedness and isolation of the island. Once on the island, you are met by a series of 618 steps which bring you up to the 6th century monastic settlement.
How To Get There
Licensed boats depart from Ballinskelligs, Portmagee and Bunavalla on a daily basis between the months of May and September. Spaces tend to go fast every year as only 180 daily visitors are permitted to visit the island. We highly recommend to book well in advance as places can be difficult to secure during the high season.
You can view a list of all licensed boat operators on the official Wild Atlantic Way website.
What To Bring
Visiting Sceilg Mhichíl is like going back in time. The island has been virtually untouched over the centuries and there are no service or bathroom facilities. To keep yourself comfortable during your trip, it is highly recommended to bring a packed lunch, plenty of water, sun-cream and suitable walking shoes.
As the weather is very unpredictable, we also recommend bringing along appropriate clothes in the event of rain.
Bring a Camera
If you're planning on visiting Sceilg Mhichíl soon, make sure to bring a good camera.
The dramatic topography of the island along with the monastic settlement is what truly makes Sceilg Mhichíl a magical place to be in. The views approaching the island and from the summit are simply breath-taking. Sceilg Mhichíl is home to thousands of puffins and which are surprisingly comfortable with the presence of tourists. As you make your way to the top, don't be surprised to see the puffins dive right by your face as they make their way down to the Atlantic Ocean for food.
Boats tend to depart each day at 9am and the journey to Sceilg Mhichíl is roughly an hour. Once on the island, you have about 2 hours to explore and visit the monastery before the boat departs back to the mainland.
George Bernard Shaw once described the Skelligs 'as part of our dream world'. If you get the chance to visit this mythical place in Ireland, please send your photos to us and we'll upload them to our social media channels.
---
Planning on taking a few trips this year? Protect you and your family by taking out an annual multi-trip policy. Get a Quote here.
First published by Ian O'Reilly