Typical types of Travel Insurance
Get clued up on travel insurance
Last updated: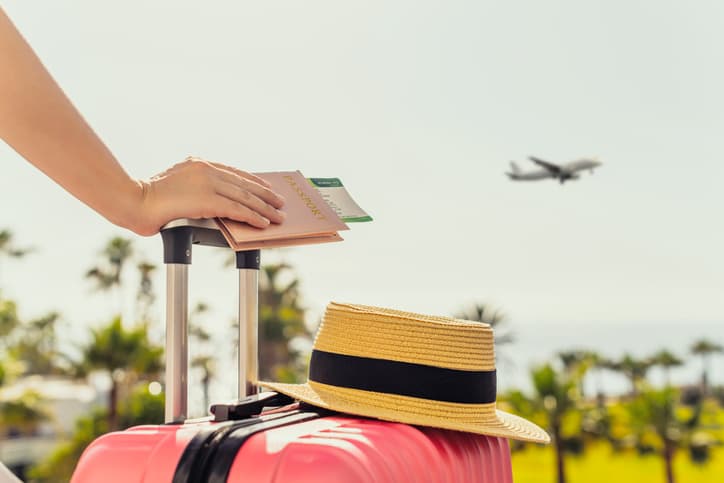 When travelling anywhere, whether within Ireland or a little further afield, it's important that you have the right cover to protect you should an accident happen. Holidays should be filled with fun, adventure and laughs, but injuries can still occur no matter where you are in the world.
When it comes to taking out an insurance policy, how do you know what type of travel insurance you will need? There isn't just one type available, and you don't want to choose one that could potentially leave you unprotected.
Below, you can find the various types of travel insurance available to help you decide which one is best for you. We explain what (and who) they cover, and when you might need that specific type.
Single-trip travel insurance
A single-trip policy does just what it says: it provides cover for a one-off holiday or breaks during a set time period. This means you can tell the insurance provider exactly when you're travelling and know you'll be covered for most incidents that occur during this time, from lost luggage and stolen cash to illness or injury (though we hope none of these things actually happen).
Purchasing this kind of insurance might be economical if you only go on one holiday a year, however, if you travel more than once, it might make more sense to book a multi-trip policy.
Annual/Multi-trip Travel Insurance
If you're planning to travel more than once within a 12-month period, then you should consider taking out multi-trip travel insurance. This can be cheaper than taking out multiple single-trip policies and you'll be covered for the entire year, not just a singular break.
The policy will protect you against the same incidents as single-trip insurance, including lost luggage, trip cancellation, natural catastrophes and lost cash.
Some insurers offer various packages, depending on the level of cover you want over the 12 months, such as Chill's Silver, Gold and Platinum packages. When making a decision, read the policy documents carefully to understand how each of these differ. A Platinum package will generally provide more protection than a Silver or Gold package, so be sure that the one you choose covers everything you need.
Family Travel Insurance
Bringing the kids with you on your holiday? They can be covered too, and sometimes at no additional cost.
If your children are under 18 and have no ongoing medical conditions, most insurers will let you add them to your policy free of charge. This means if you decide to go hiking up a mountain or swimming in the sea, everyone is protected should an injury occur. Giving you peace of mind and a chance to really enjoy your holiday. Most Insurers don't charge extra for under 18s with no health issues.
In some instances, you'll need to pay a bit extra to take out family insurance, but this should work out cheaper than insuring each person individually.
Student Travel Insurance
This type of travel insurance is ideal for, well, students. If you've planned a backpacking trip in Asia, are heading to this year's most favoured festival or plan to interrail around Europe, then student travel insurance is likely going to be the best option. There are both single and multi-trip options available, and you know you and your belongings will be protected no matter where you are.
Worldwide Travel Insurance
When reading through some policy documents, you might have noticed that not all policies cover every country. This is usually because the countries that are excluded have a particularly high cost of medical treatment, and so insurance policies that cover these countries may be a bit more expensive.
If you're planning to travel to the USA, Canada, Australia or New Zealand, it's likely that you will need a worldwide insurance policy. Before taking out any cover, be sure to check the small print - you don't want to pay for a policy to find out it doesn't actually protect you in the country you're going to.
Winter sports Travel Insurance
If you're feeling extra adventurous and will be partaking in some fun sports on your holiday, it's imperative that you've covered for any accidents that are a result of that sport. Many insurance companies offer winter sports cover separately, because of the risk involved.
This type of insurance should cover you for sports such as skiing, snowboarding, ice hockey, bobsleighing, sledding and more.
Should you be planning to take part in any other 'risky' activities, such as jetskiing, then make sure that your standard policy covers this. If it doesn't, you might need to take out an additional policy that will protect you.
Group Travel Insurance
A group travel insurance policy is slightly different to a family one. Whereas family insurance will protect your children under 18, a group policy may be ideal for those going away with friends or other adults. If you're heading on a fun-filled stag do or going away with the girls for a relaxing beach break, then group travel insurance could work out cheaper than if each person was to take out an individual policy.
You will all need to travel on the same dates and from the same location, e.g. Dublin airport, to be covered together.
Over 65s travel insurance
Getting any kind of insurance can get harder as you get older, but you don't need to put your travel plans on hold when you get over the age of 65. While it may be a bit more expensive, you should be able to get over 65s travel insurance to cover you for any holidays or trips you plan to take.
You will likely need to declare any medical conditions as well as subsequent medication that you're on. These things could determine the premium you have to pay, but be sure to shop around to get the right cover at the right price.
We hope this article has given you a better idea of the types of travel insurance that are available. If you need help or are unsure which one is right for you, you can contact us or fill in the quote form.
First published by Ian O'Reilly