Our Travel Essentials
Read Up Before You Fly
Last updated: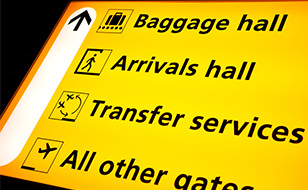 It's summertime! Although, we've been experiencing something of a heat wave in recent weeks many people will shortly be heading to the airport for their holiday. Before you fly out, make sure you take a look at our travel essentials so that you have an enjoyable and claim-free break.
Be covered!

Some of the most common travel claims are for emergency medical expenses and trip cancellations due to personal injury, serious illness or the death of a family member. That's why we'd always recommend that you don't leave home without travel insurance as it gives you peace of mind in case something happens before or during your holiday.

The small print

We advise that you check exactly what your policy covers, and read the small print before committing to a travel insurance policy. There are travel policies to suit different needs, depending on frequency of travel, the value of luggage or contents, the level of cover, and the excess on the policy; that is the amount an individual pays personally before the insurance kicks in.

It's important to remember that most leisure travel insurance does not include compensation for an airline cancelling a flight, a travel agent becoming insolvent, missing a flight or ferry, or a personal decision not to travel. Holiday makers are also advised to check their cover if they are participating in an activity the insurer considers dangerous (such as skydiving, bungee jumping, scuba diving, jet-skiing, or snow skiing). Some companies require supplementary adventure-sports coverage.

The right policy

We recommend an annual multi-trip policy for those planning more than three holidays or weekend breaks within 12 months, including internal domestic flights. Multi-trip policies, which start from a budget option may specify a maximum number of days travel or maximum holiday duration, so it's important check.

Single trip cover is for those who only get away once a year, and are unlikely to have additional business travel or weekend breaks. Whereas extended stay cover is available for anyone planning on backpacking for a year, or heading off to experience another country or culture for a few months.

How much will it cost?

Those with existing health insurance will find travel policies cheaper to purchase, but must check their health plan covers them internationally. Home contents insurance may also cover valuable personal possessions, reducing the need for extra cover.

Policies will also specify certain travel regions, with cover for European travel only costing less than worldwide trips. Insurance is cheaper to buy as a couple or family, although do check the policy doesn't specify that the parties must always travel together! Age is another big factor affecting the price of travel insurance. Rates go up dramatically for every decade over 50 years old, while cover is inexpensive for children.
If you'd like to know more about travel insurance or take out cover, you can give us a call on 1800 30 34 09 or hit Get a Quote now.
First published by Ian O'Reilly