Thwart the Tablet Thieves
With These Handy Tips
Published on by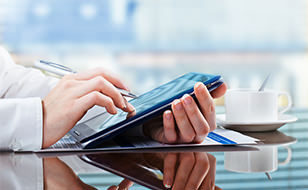 We all want the latest and greatest gadgets, for work, play and everything in between. However, having the latest tablet at home or out and about, can put you on the radar of thieves. With some of the top tablets selling for four figure sums, it's no surprise that they have become such a popular target for these crooked characters.
According to the National Crime Prevention Unit, tablets are the most common items stolen in burglaries, along with cash and laptops. That's why it's important to ensure you've taken the necessary precautions to make the thieves think twice:
Set-up security codes

All tablets come with an in-built security code feature which requires you to enter a PIN code in order to access the device. We recommend that you set-up these codes and make sure that you don't share it with anyone you don't know – treat it like your credit card PIN.

Keep it out of sight

Although the temptation is to take out your tablet when you are waiting in-line, taking the bus or walking down the street, it's best not to draw attention to your prized possession in public. Opportunistic thieves often hang around crowded public areas, waiting for a chance to pinch your smart device.

Don't leave it behind

Treat your tablet like an extension of your body. You wouldn't leave your left arm on the table at Starbucks when you collect your coffee, so why leave your tablet. Your tablet can be swiped in a split second and disappear forever before you can say hazelnut frappuccino.

Use a security lock

Ok, so maybe it's not always feasible to pack up all your belongings each time you want to venture to the next aisle in the library. Fortunately, some clever clogs have invented tablet security locks which can be used to attach a cable from your device to a table or chair, in order to deter thieves. These can also come in handy if you leave your tablet at home while you're out.

Download a locator app

One final suggestion is to download a locator app which will come in handy if the worst should happen and your tablet is lost or stolen. There are now a multitude of apps available (many for free) that will allow you to pinpoint the location of your tablet online. Some apps will also make a noise and lock down the tablet until you find it and enter your PIN.
Of course, nothing gives you peace of mind like knowing that you're covered if anything should happen to your treasured tablet. We offer great value gadget insurance from €9.99 per month*, just hit Get a Quote now to get covered!
*Price based on Chill Gadget Insurance Extra level of cover for a tablet including theft, damage and write off cover. Prices correct as of 26/08/13 and are valid for 30 days.
Modified Date: