Thinking About Life Cover?
Here's Our Advice
Last updated: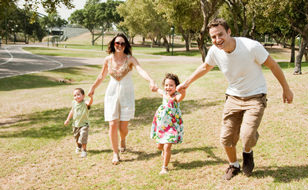 Most people don't bat an eyelid when buying car or home insurance, but life cover is often something that they tend to neglect or overlook.
There may be many possible reasons for this, however, it's important to remember that not only does life cover provide peace of mind and financial security to your family, but there has never been a better time to take out life cover. At the moment there is excellent value available and life cover is much more affordable than you may think! We also have additional discounts available to make life cover even more affordable. For instance, you can get up to 50%* off your first year premium or a discounted monthly premium* for the duration of your policy.
Life insurance isn't necessarily needed by everyone. It very much depends on an individual's personal situation. If you have a mortgage or dependents, such as a wife, partner or children then life insurance is a necessity. It may also be important for you to consider the financial impact of being diagnosed with a serious illness.
For the best value options on life insurance, mortgage protection, and serious illness cover you should get in touch with one of our team. We make the whole process of looking for cover straight forward. Just give us a call on 01 4003400.
*T&Cs apply.
---
Up to 50% off discount terms and conditions:
To avail of this discount the policy must have a minimum premium of €500 per year and a minimum term of 10 years.
Premium inclusive of discount is paid upfront when application is accepted.
This policy cannot be used in whole or part to replace or otherwise alter an existing policy with Zurich Life. Client(s) cannot have held a similar policy with Zurich Life within the last 5 years.
The discount only applies to the first year premium.
---
Monthly premium discount terms and conditions:
From time to time we are able to offer discounts off your monthly premium.
Discounts may be applied for the full term of your policy, subject to you maintaining your monthly payment by direct debit.
These offers are subject to change without notice; please contact us directly for specific terms & conditions that apply for this discount option.
First published by Fergal Lynch