The True Cost of a Smart Home
Detailed Breakdowns Room By Room
Last updated: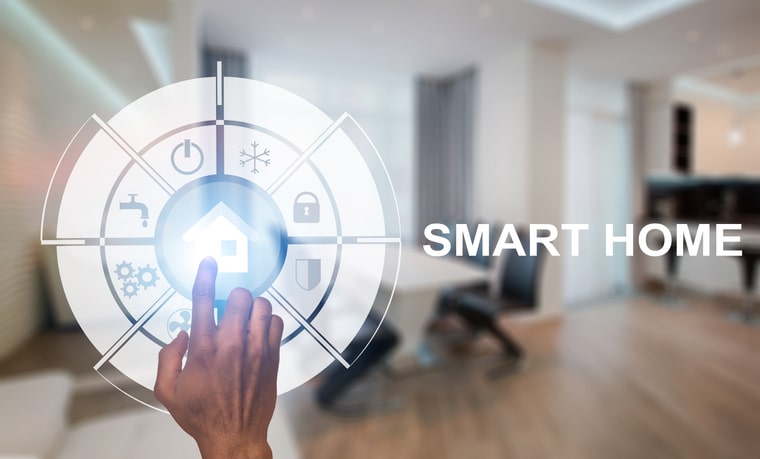 Only a few years ago, automated homes were thought to be something for the distant future - a pipe dream reserved for science fiction movies. However, with an array of innovative smart technology now not only available but increasingly attainable, transforming your home into the cutting edge smart house of tomorrow has never been easier. This is reflected in the fact that we are now witnessing a 50% year-on-year increase in home automation in Ireland.
From devices focused on making your home more energy efficient to those automated mod cons that make life that little bit easier, safer or more comfortable, practically every area of your home can now be 'made smart'. However, just because these devices are now more mainstream than ever before, it doesn't necessarily follow that transforming your property into a so-called 'smart home' is either affordable or cost-effective in the long run.
Here at Chill, this got us thinking about the true cost of creating a smart home. So, whether you're thinking about kitting out your entire house with smart thermostats and intelligent light bulbs, or considering a self-driving robotic lawn mower for the garden, we thought we'd look at the most popular and desirable smart appliances and devices for every area of the home, assess their benefits and look into how much they could cost. Here's what we found.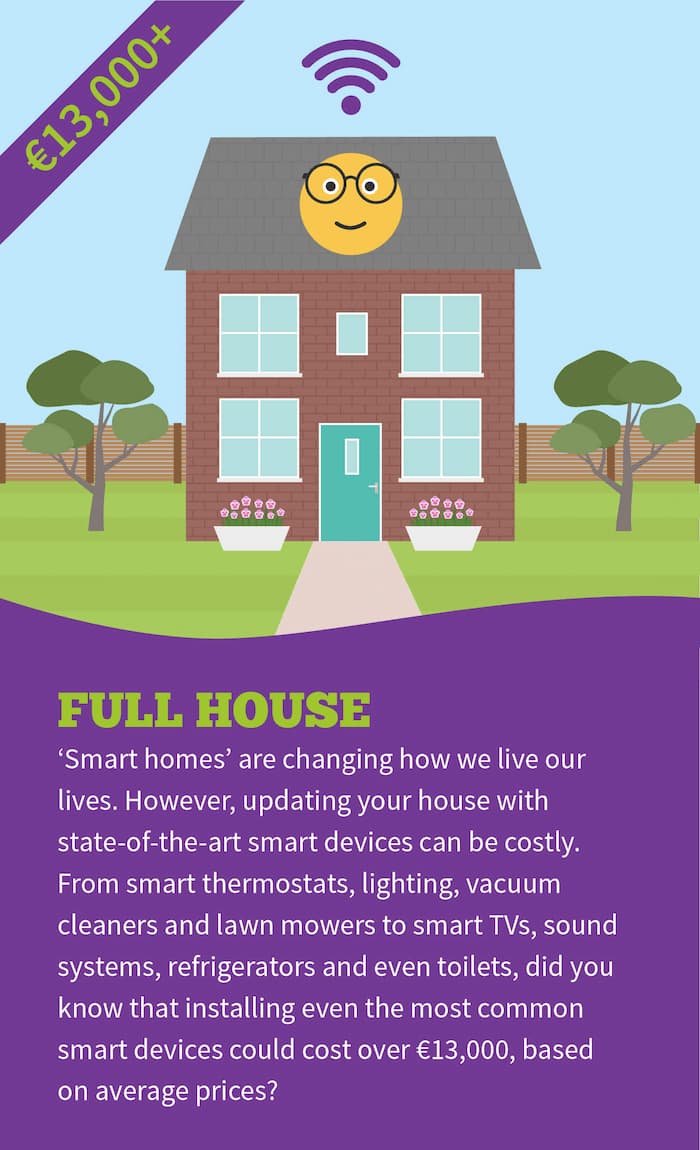 According to our research, installing even the most common smart devices could cost over €13,000, based on average prices. However, while some of these devices may be seen as nothing more than gimmicks, others can have a genuine practical purpose and be used throughout the entire home. Smart thermostats and lighting, for example, are designed to actually save you money in the long run. Smart thermostats give you the ability to control your home's heating from anywhere. This means you can turn it off when you're away from home, saving valuable energy and money. Smart pre-set features can also help you look after the pennies.
Similarly, smart lighting - the use of app or voice controlled light bulbs or LEDs - is not only efficient and simple to use, but it uses less energy than traditional lighting too. Although smart light bulbs will cost you on average around €50 to purchase and install , depending on the brand, this intelligent lighting can save you significant amounts on your electricity bill.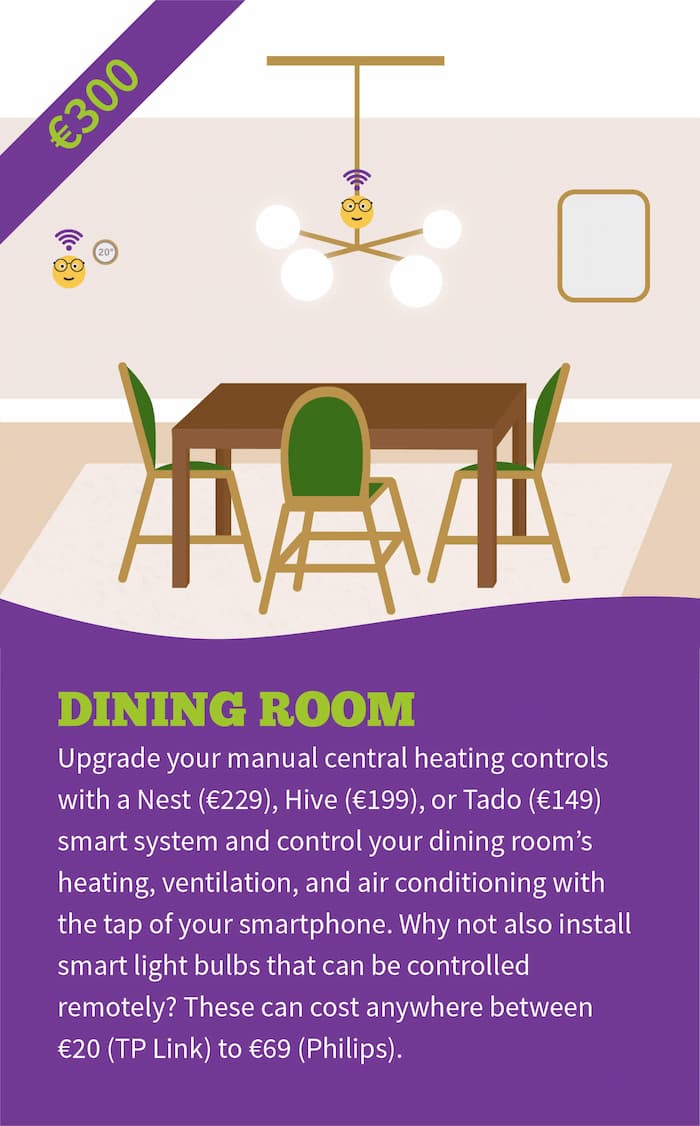 The dining room is perhaps the most important social hub for many homes and therefore can benefit most from smart heating and lighting systems. Install smart light bulbs that can be controlled remotely and amaze your family and friends alike, all while saving energy. Depending on your needs, these bulbs can cost less than €30. Family and dinner party guests can also be kept at the perfect temperature with the help of a smart thermostat system. However, depending on whether you opt for a Nest, Hive or Tado system, for example, you are looking at somewhere between €149 and €229, as well as possible subscription fees.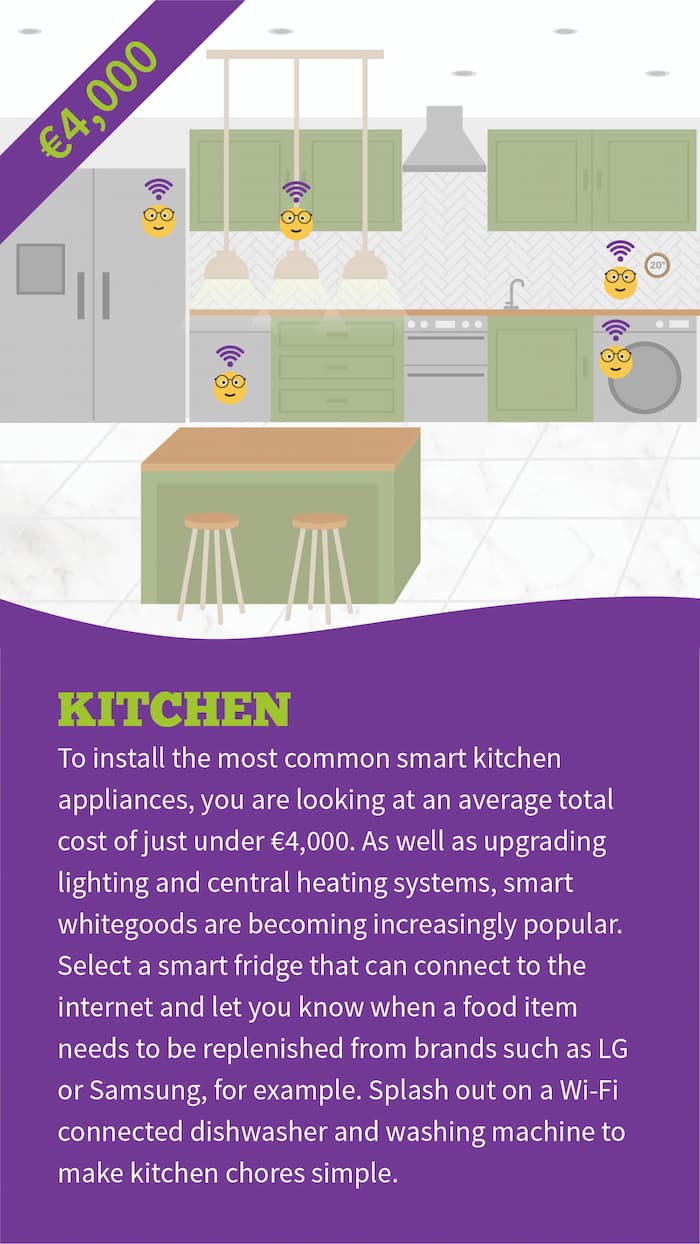 Costing around €4,000 to kit out your kitchen with the most desirable smart devices, aside from upgraded lighting and central heating options, these devices are more about added convenience than saving money. While it's true that smart white goods, such as fridges, dishwashers and washing machines, are likely more energy efficient than older models, the real benefit of these devices is their ability to connect to the internet. For an average price of just under €3,000, a smart fridge that will remind you when a food item needs to be replenished, while smart dishwashers and washing machines will send notifications directly to your smartphone when a cycle is over. But bear in mind that these appliances could cost you a combined €1,800 on average.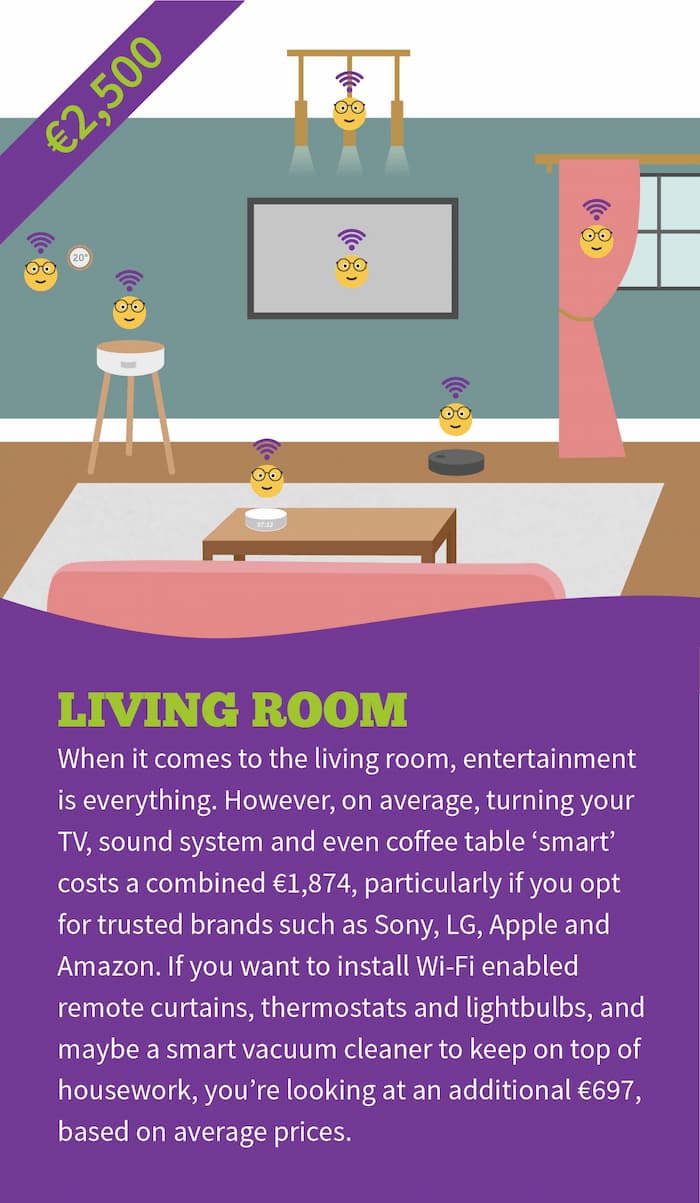 They say the living room has replaced the kitchen as the heart of the home, and with the array of smart entertainment options available nowadays, that shouldn't come as a surprise. From smart TVs and sound systems to smart coffee tables and curtains, technology has made the living room the most relaxing room and entertaining of the modern home. However, this tech does come at a substantial price. Depending on the brand, a top of the range new smart TV alone can cost anywhere between €530 (LG UN73 43" 4K Ultra HD Smart TV) and €3,200 (Samsung 82" 4K Crystal UHD HDR LED Smart TV), while the addition of app-controlled curtains and an automated smart vacuum cleaner is likely to cost an extra €457.08, if you opt for mid-range models.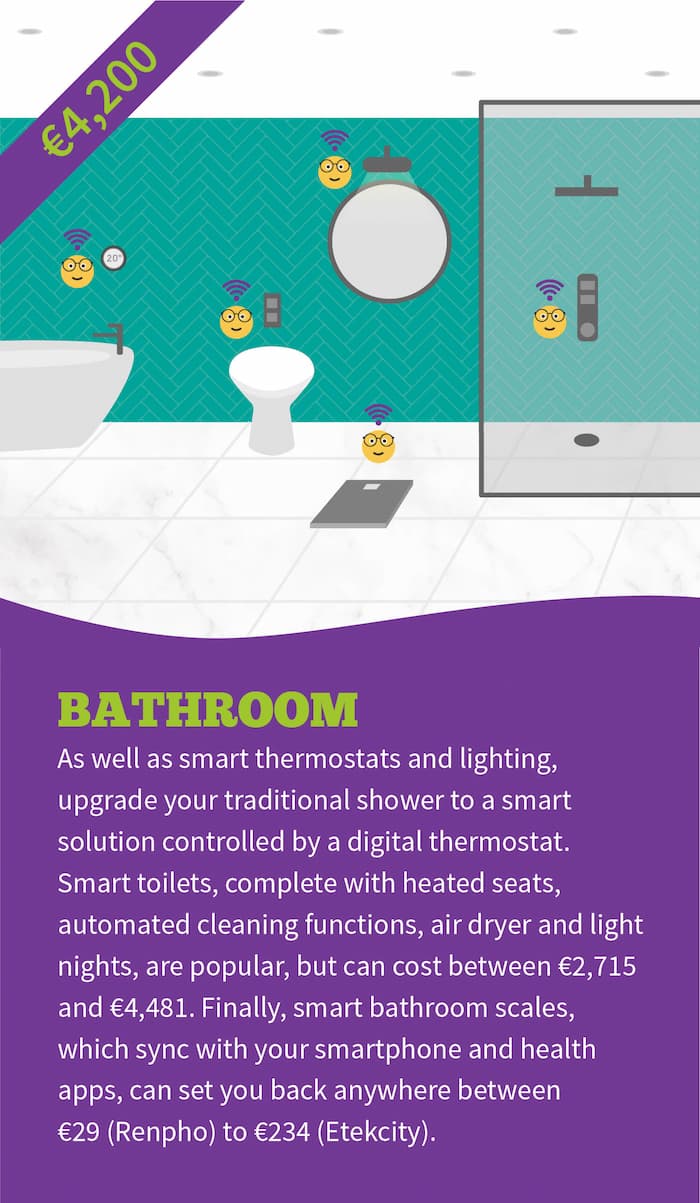 As with smart heating and lighting systems, automated devices and appliances designed for the bathroom are eco-friendly as well as convenient. Smart toilets, equipped with a range of special comfort and cleaning features could cost you a minimum of €2,715, however, do typically include intelligent water and energy saving features that save money in the long run. Similarly, smart showers - which according to our research will cost you an average of €411- can also help you slash your energy bills. Smart bathroom gadgets such as scales which sync with your smartphone's health apps are also becoming popular. While they can cost anything between €29 to €233, can you really put a price on your wellbeing?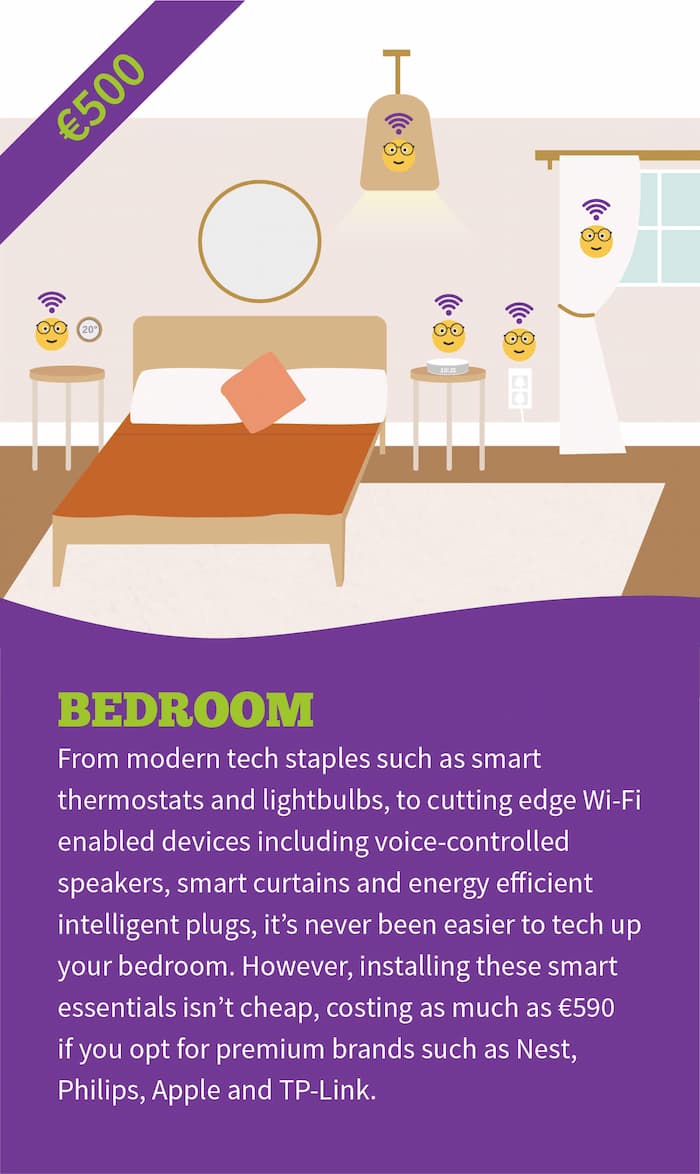 Smart beds may not have become mainstream yet, but there are still many ways to kit out your bedroom with the latest technology - but it will cost you. While a handy smart plug - that will set you back €26.08 on average - can save you money and energy, as well as help to make your home look more secure when you're out, other smart devices for the bedroom are more focused on convenience. From voice-controlled speakers to automated curtain shutters, making your bedroom 'smart', will likely need to cost over €500.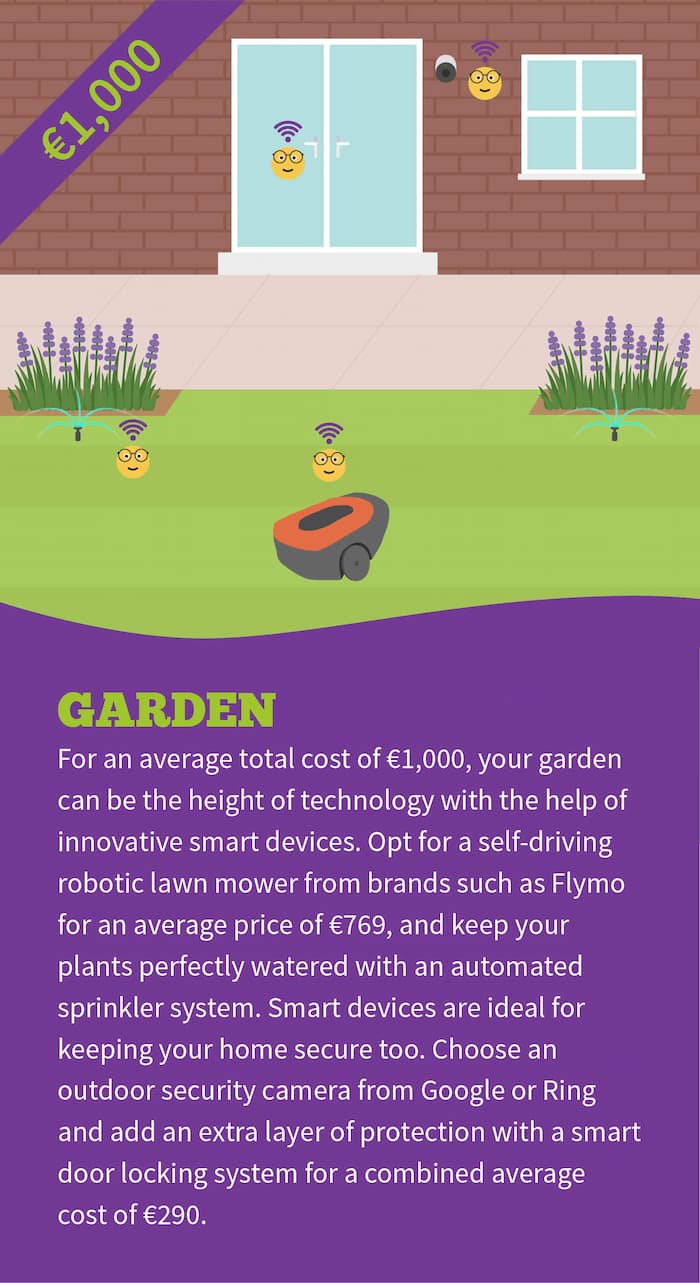 Interesting, it's not only the inside of your home that can now be automated. For those of us who hate garden chores, your lawn can look immaculate all year round with the help of a self-driving robotic lawn mower and an automated sprinkler system. Based on our research, this will set you back on average over €850. If security is more of a priority, doorbell cameras from Google, Ring and Goowls are now more popular than ever, while smart door locking systems are becoming increasingly desirable. However, this additional peace of mind is expensive. For a combined smart door locking and camera system, you are looking at as much as €367, although cheaper combinations are available.
So there you have it - our room-by-room breakdown of some of the most popular and desirable smart devices and applications for the home, and what they can cost to install and maintain. What smart devices do you have in your home? Would you look to install more? And do you think these devices represent good value for money? Let us know by joining our social media conversation using the hashtag #MySmartAbode.
First published by Ian O'Reilly