The Real-Life Cars of Super-Villains
Immerse yourself in the world of #VillainCars
Last updated: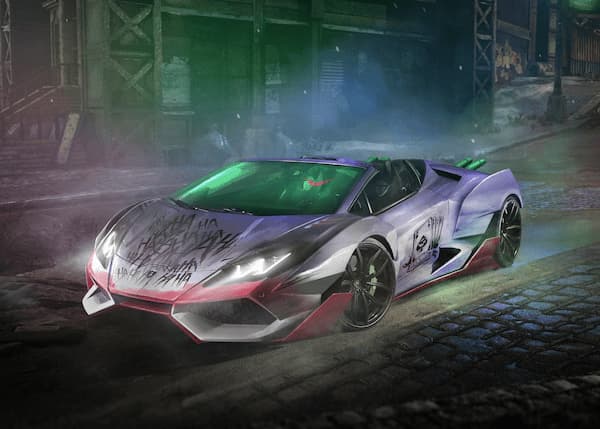 Finding your perfect car can take time, after all you want a vehicle that meets your needs. From a car for the whole family to fuel-efficient engines that keep car insurance costs down, we're all looking for something slightly different.
This got us thinking; imagine if you could create a personalised vehicle, built specifically with your needs in mind. What would your perfect tailored vehicle look like, what features would it have, and where would you go in it?
To give you some inspiration we have been looking at some of the most iconic super villains of all time, to create unique, stylish, and gadget friendly vehicles that perfectly match their personalities. Read on to immerse yourself in the world of #VillainCars
1. Thanos, Marvel Universe - Hummer
We may associate Thanos with travelling through galaxies using the space gem, but here on earth he could do with an awesome 4x4 that can take all terrain. There's only one car for it, the Hummer!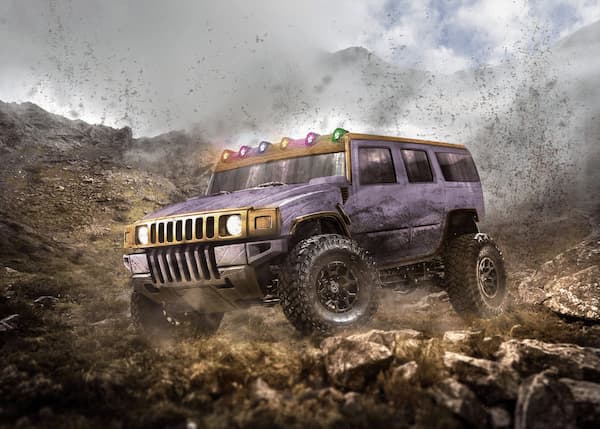 Originally, the Hummer was created to replace military jeeps, so it's a vehicle fit for war, which will help Thanos in his quest for the infinity stones and universal harmony.
With the infinity gauntlet and stones being such a big part of Thanos' character we thought it was only right to include them on the design. Gold rims and a jewelled windscreen take pride of place on the Hummer, with its famous grill matching his strange looking chin.
Raised by Asgardian King Odin and with what sounds remarkably like a British accent, a classy and unmistakably British vehicle is needed. There's only one brand for it, the Jaguar.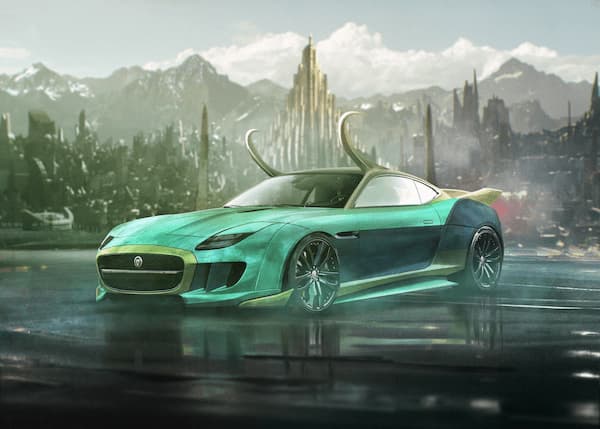 Known as 'The God of Mischief' Loki needs a car that is both quick and agile enough to escape those he has manipulated, so we have picked the F-type. With a max speed of 200mph and horsepower of 423kW, this is the model for him.
We have picked the famous Loki colours of green, black and gold, and the horns of his helmet are prominent on the vehicle's design, giving it a real Asgardian feel to it.
3. Joker, DC Universe - Lamborghini Huracan.
We all know The Joker as a calculating, psychopathic killer, but it's his self absorbed characteristics that make him stand out from the others, so he needs a car that stands out too. Being a fan of gadgets and a master inventor we feel the Lamborghini Huracan is the perfect match due to its popularity for custom tuning.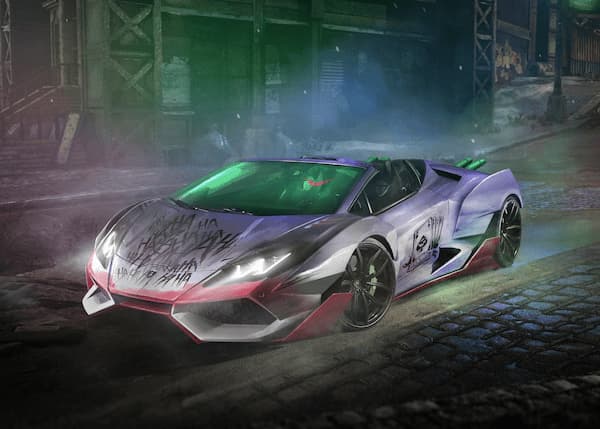 There's no denying a Lamborghini Huracan gets heads turning whilst on the roads with its famous shape and often flashy colours, but even this won't do for The Joker. So, we have modified the vehicle to feature his famous red mouth, green hair, white face, and purple suit. He's often laughing at his enemies expense, so we've included this, along with his pack of cards, to really make it his own.
Gellert Grindelwald is considered to be one of the most dangerous dark wizards of the wizarding world. What makes him so different is his classy and vintage appearance, going about his evil ways wearing a long traditional trench coat and cravat. In 1884, Henry Royce started a mechanical company, which we later know and love as Rolls Royce, Grindelwald was born in 1883 so it is no coincidence that it's the desired car for him.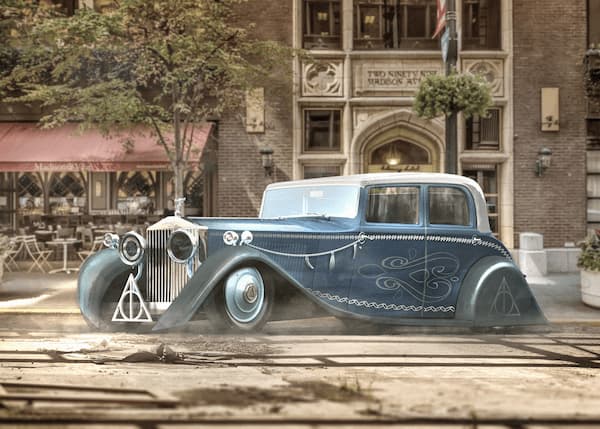 We've picked the classic Rolls Royce Phantom and modified it with a body kit to match his long trench coat. The pattern running alongside the vehicle matches the embroidery on his trousers, and of course, we had to include his vintage chain. Grindelwald is famous for his differentiating eye colour, which is portrayed on the headlights in the design.
5. Darth Vader, Star Wars - Range Rover
Of all Sith Lords, Darth Vader is the most iconic, with a level head and mysterious exterior. As such he needs a powerful 4x4 to travel across the volcanic terrain of Mustafar, whilst rocking up to the Death Star looking stylish. With this in mind the Range Rover Vogue is the ideal motor.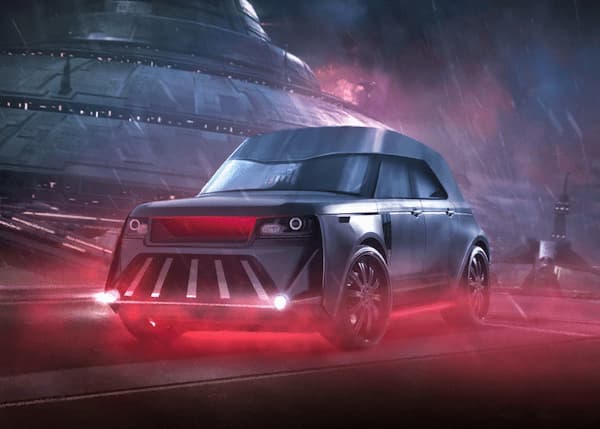 The Vogue is a powerful looking car when compared to other vehicles on the road, and as Vader was a Supreme Commander within the Imperial Army, this vehicle will help him lead other members of the Galactic Empire with his trusty Stormtroopers.
The all black exterior of the Range Rover is symbolic of Vader's identity during the initial movies. We don't often see behind the mask which is why we picked tinted windows to mask his true identity. The grill is reminiscent of the vents that help him to breathe, and the red beams portray his famous lightsaber.
Upon first appearance you may misjudge this clever and beautiful woman, who is in fact a lethal henchgirl for the joker. As such, she requires the perfect henchgirl car, this being the Fiat 500, with its stylish city car appearance, but pop the hood and you'll find a powerful engine.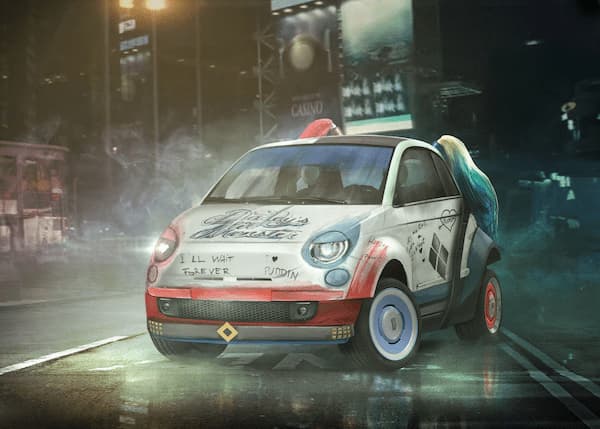 Over the years there have been many versions of Harley, just like the Fiat 500. In this version we have taken inspiration from the popular Suicide Squad Harley Quinn, with her tattoos on the bonnet and doors, smudged red and blue colours, and the iconic ponytails.
Cersei Lannister is a ruthless and ambitious Queen who needs to showcase her wealth in a beautiful car that many can only dream of having, for this reason an Aston Martin is the perfect car.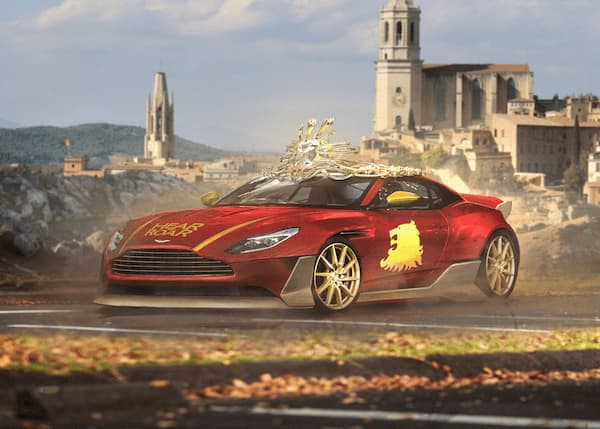 Throughout Aston Martin's history they have been through times of triumph and times of crisis, just like Cersei Lannister, but they always come up on top producing quality cars. You may be wondering, why the DB11? Well, this car marked a new chapter for Aston Martin with a twin-turbo 5.2-litre engine it is a powerful drive, with a fresh clean style.
We've used the House Lannister colours of red and gold along with the lions head and the motto 'Hear Me Roar', so there's no denying whose vehicle this is. The vehicle is finished with gold trimmings, fit for a queen.
8. Ocean Master, DC Universe - Bugatti Chiron
Ocean Master, known as Orm is a menacing pirate and half-brother to Aquaman. In early versions of his character Ocean Master relied on gadgets and equipment to fight enemies, and the Bugatti Chiron uses innovative technology to enhance performance and develop a sophisticated design.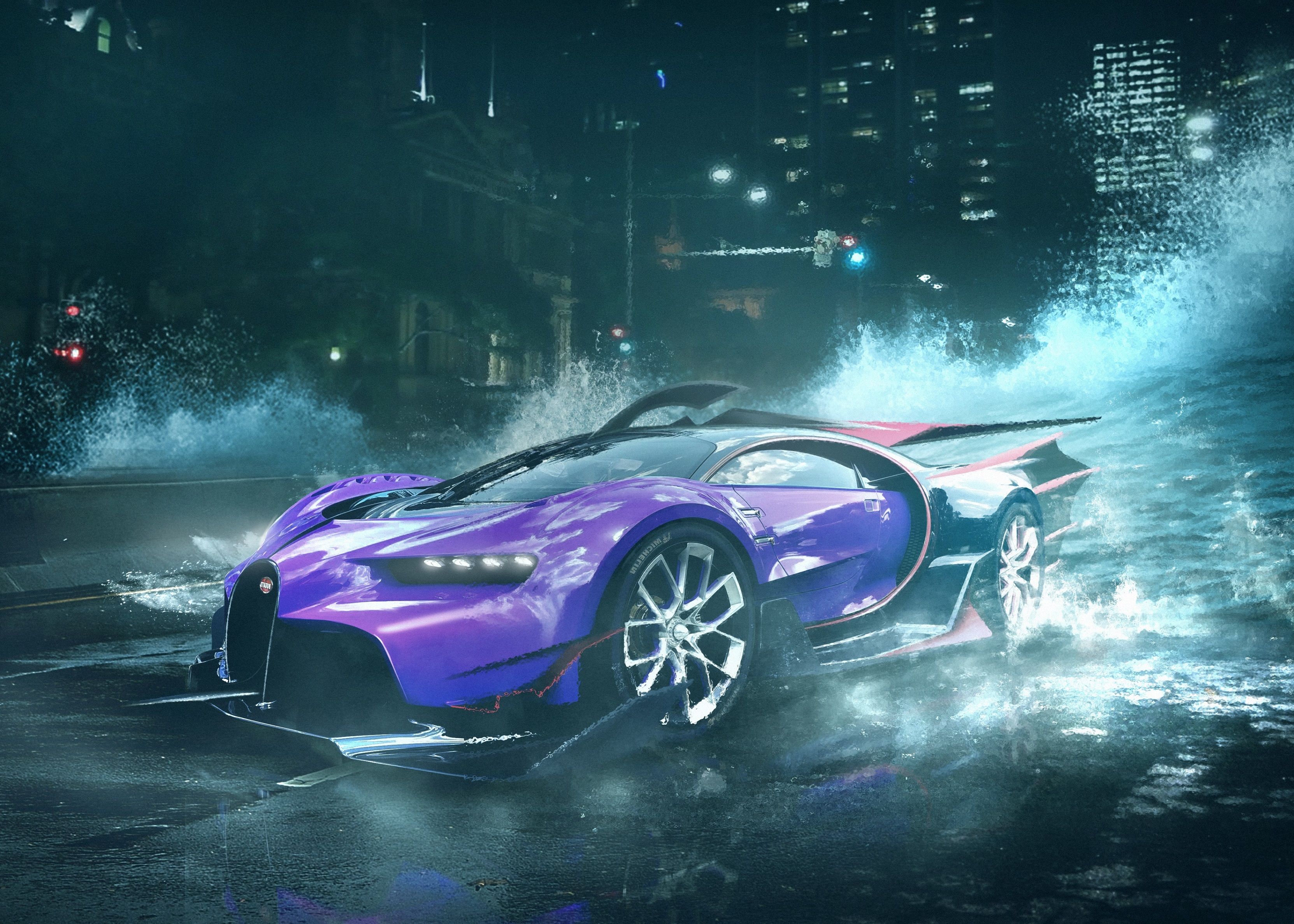 This car was chosen based on its look and feel, with a slimline, smooth finish we imagine it could flow through the water, whilst the door surround resembles gills. In our interpretation we have redesigned the spoiler to represent Ocean Masters mask. We went with purple for the main body, along with black and red for added features.
---
What would your dream villain car be? Let us know on Twitter using #VillainCars!
First published by