The Dream First Car For Irish Drivers
Learning To Drive
Last updated: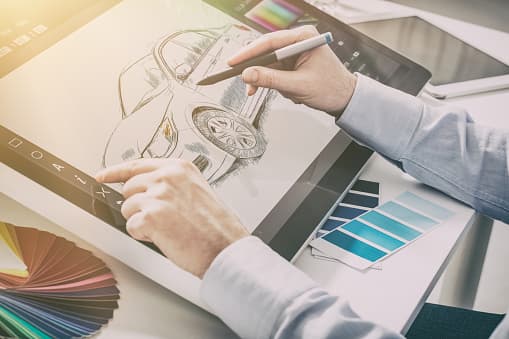 Do you remember your first car? Whether you inherited an old banger or forked out for a top of the range model, most of us remember our first motors with fondness. And plenty of us probably wished we could've changed a thing or two about them as well.
Here at Chill, we've been wondering what young drivers of today want and what more experienced drivers wished they'd had when it comes to that all-important first car. To find out, we surveyed 400 Irish drivers and created a spec for Ireland's dream first car.
Here's what we found.
Aesthetics
In 2020, it seems you can't go wrong with the classic look. Often associated with premium and luxury vehicles, black came out on top as the bodywork colour of choice for Irish drivers, with 25.75 per cent of respondents saying they would opt for this colour for their first car.
Age
The majority of people would go for a second-hand car for their first vehicle, with 56 per cent of respondents saying they'd choose a car between one and five years old. With new cars losing on average 40 per cent of their initial value within their first year, perhaps it isn't surprising that more inexperienced drivers don't want to invest in a brand new first car.
Size
Ireland's dream first car is pretty average when it comes to space and size. More than four in 10 (43.75 per cent) survey participants said they would like a four-seater. Meanwhile, fewer than one in three (31 per cent) said they would favour a microcar.
A decent amount of boot space is also a prerequisite, with 63.25 per cent reporting that they'd like a medium-sized boot.
Manual vs automatic
Despite an increase in the uptake of cars with automatic transmissions in recent years, it seems that the majority of drivers still prefer to get around the old fashioned way. Indeed, 58.25 per cent said they would like a manual gearbox in their first vehicle.
Fuel
Petrol ranked as the top choice when it comes to fuel, with 44.25 per cent of survey takers saying they would choose a petrol engine over a diesel or hybrid. More than one in five (22.7 per cent) respondents said they would aim to get a full tank with €30 to €35.
Despite the automotive industry putting greater focus on the environment in recent years, fewer than one in three participants (32 per cent) said they would consider environmental concerns to be an important factor when choosing a first car.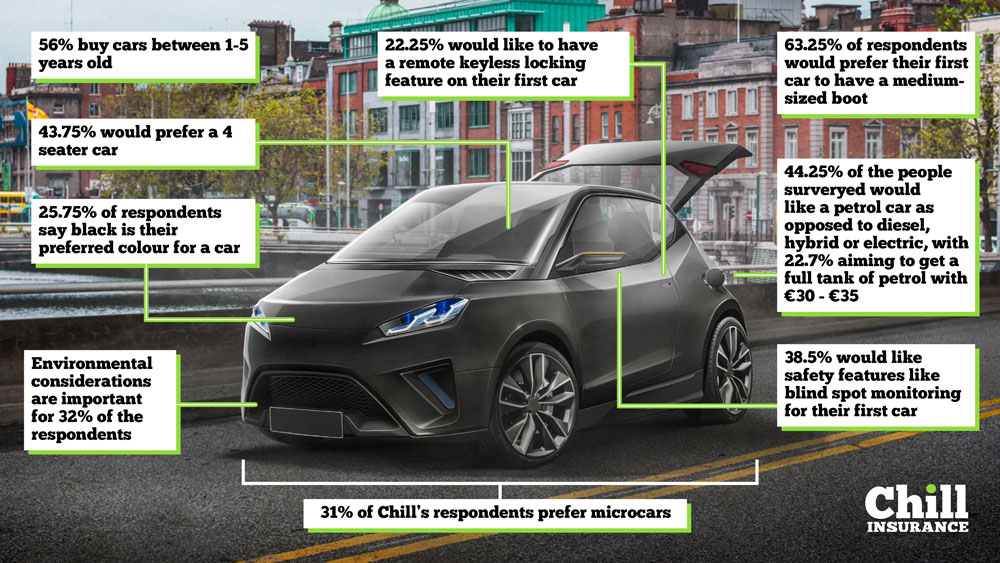 Features for safer and easier driving
New drivers seem to be tempted by technology that's designed to make driving safer and easier. Blind spot monitoring and other such safety features make the 'like to have' list for 38.5 per cent of respondents.
sought after feature for first time car owners too, with 50 per cent of respondents saying they would like this tech in their first motor.
Hill-start stress could be a thing of the past for some drivers, with 27.25 per cent saying they would want a first car with an automatic handbrake.
Remote keyless locking systems are on the wish list too. Whether people want to avoid hotwiring or are simply looking for the convenience of not having to rummage around for their keys to access their vehicle, 22.25 per cent of people would like a car with this technology.
Just under a third (30 per cent) of people would also like the convenience of a built-in satellite navigation system in their first car.
High-tech nice-to-haves
Over half (52.5 per cent) of respondents are keen to have Bluetooth connectivity, which can help users to make hands-free calls and play music among other things. On the subject of music, 31.25 per cent of those surveyed said the first car of their dreams would come with a high-end stereo system.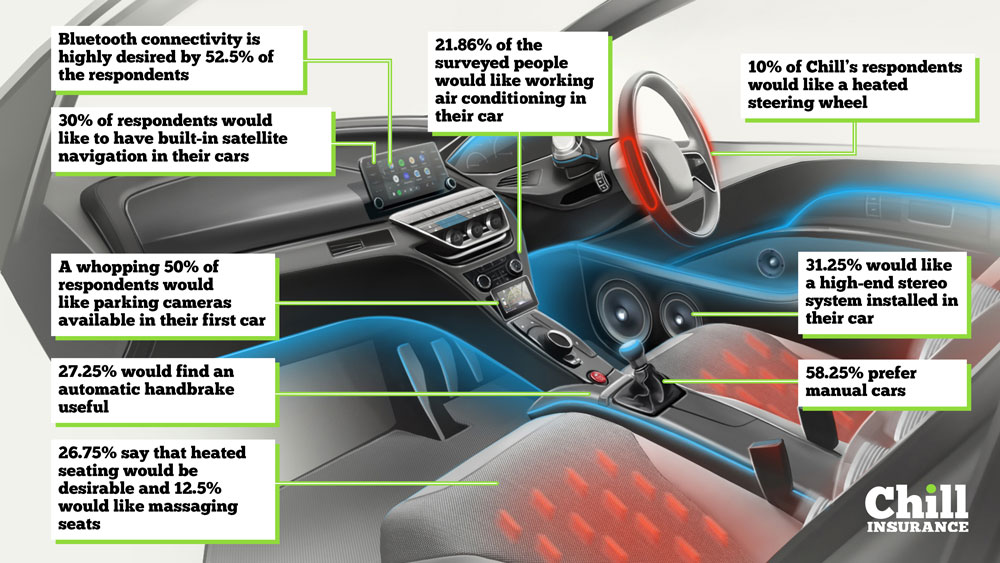 Taking comfort to the next level
Air conditioning has become a standard feature in most modern vehicles and perhaps due to this, only 21.86 per cent of people singled this out as something they'd look for when buying their dream first car.
A greater proportion (26.75 per cent) said they'd be interested in heated seating, while a nippy 10 per cent even went as far as putting a heated steering wheel on their shopping list.
Taking comfort levels to a whole new level, 12.5 per cent said they would like the first vehicle they own to come with massaging seats.
So, from second-hand models to pampering features, the dream first car for Irish drivers is an interesting mix of practical and indulgent.
What features would you like in the first car of your dreams? Let us know by joining in the conversation using the hashtag #DreamFirstCar.
First published by Ian O'Reilly