Breakdown Assistance
Do you have breakdown assist?
Published on by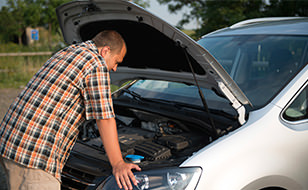 It's a dull morning. Those clouds in the sky don't look like they're going to part and you're running late for work. You put the key in the ignition and then nothing happens. Not a sound! You've guessed it – your car has broken down. How many of you has this happened to you?
As it so happens, this exact situation happened to me recently. I sat in my car on the side of the road, wondering what's next? How do I get myself out of this sticky situation? I tried starting the engine but to no avail. Next, I waited a few minutes, bit my lip and tried starting it again. But still no sign of life.
It's always horrible when your car breaks down. It's even worse when you're not sure what to do. But thankfully I had breakdown assistance cover as part of my car insurance policy, so I made the call to the Customer Service team. Within no time at all the experts arrived and hey presto – I was back on the road.
Here at Chill Insurance, we know that breakdowns can happen at any moment and when you least expect it - that's why we're always ready to give you a helping hand.
Nowadays breakdown assistance is one of the many benefits available as part of your insurance policy, but if it's not included you can add it to your policy for just €49 per year*. So if your car won't start because the battery has gone bust, you have a puncture that you just can't fix, or anything else in between, you'll be covered.
But does this count as a claim on your policy? This is something our agents hear all the time. Calling for breakdown assistance does not mean you are making a claim. It's quite the opposite.
So remember if you ever have a roadside hardship, call us straight away on 01 400 3400 or request a callback and we'll help get you up and running again.
*Policy includes 24 hour roadside recovery, journey completion and home start.
Modified Date: