Sun, Sea, Sand and Security!
Protect Your Home While Away
Last updated: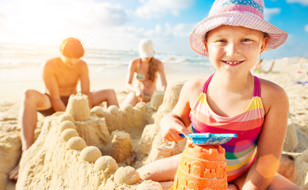 It's summer time and weather is fine! We have worked hard all year and now it's time for many of us to take that well deserved break. Whether you are jetting off to a tropical climate or taking a short break in Ireland it is important to make sure your valuables are safe, and for most of us, our most important possession is our home.
So what can we do to keep the bad guys away and make sure our property and belongings are protected? Here are a few tips I have come up with which will help.
---
Don't let post, newspapers and other deliveries build up.

Did you know your post can be held at your local sorting office? If you are lucky enough to be going away for an extended holiday it can even be redirected!

Do you get milk or groceries delivered to your door? Don't forget to cancel them! Got a friendly neighbour of friend that lives nearby? Get them to call by occasionally and gather any mail to give the impression that there is someone living the house. You might even be kind enough to reward them with a stick or rock from your trip away for their kind gesture, a small price to pay for peace of mind!

Close the curtains to avoid peeping Tom's from looking in!

You don't want passers by seeing your shiny plasma TV, all set up for Euro 2012 and your antique record collection, do you? Make sure to close all curtains and blinds before you set off. If you have valuable jewellery, be sure to lock it away in a safety deposit box.

Install timer switches

Make sure to invest in timer lights which switch on each evening, you will pick these up in any electrical store for under €5 and they are a great way to suggest that someone is in the house. You can even attach a timer switch to a radio or stereo for extra security.

A little gardening before you leave

Why not get a head start on your tan and cut the grass or weed the flower beds before leaving, again this will give the impression you are still at home.

Don't talk to strangers! (about your holidays)

I also recommend not discussing your holiday schedule with people you don't know such as someone you just bumped into in the nearby shop or chatty taxi driver on the way to the airport.

Neighbours ... should be there for one another

Ask a neighbour to park a car on your driveway and keep an eye on your home for the duration of your time away.

Is your home secure?

Have you got a monitored alarm? If so make sure it is properly connected and run a test by contacting your local provider before leaving. Also, make sure your window locks are in good working order as 30% of all burglars get in through the window.
As a final note, check your home insurance policy documentation to make sure your home and contents are covered should you be away for an extended period of time. If you have any questions or queries get in touch with me or any member of the Chill team. Happy holidays!
First published by Ian O'Reilly