Spotting A Clocked Car
A Guide To Recognising Potential Odometer Tampering
Published on by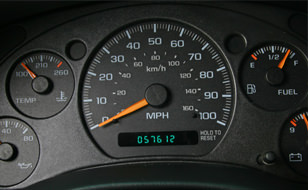 I recently began thinking about changing my current car over and getting a brand new mirth mobile. From a personal perspective the benefits of getting a new car included:
Potentially better fuel efficiency.
Potentially lower road tax.
Potentially lower car insurance.
Each of my friends I asked, or online search I carried out, for advice on buying a second hand car suggested different ones for me but there was one piece of advice that kept popping up. This was to make sure that, before I made any purchase, I arrange for the mileage of the car to be checked in advance of handing over any money.
After a bit of further research on my end it became apparent that the reason why this is a great advice is because of the rise in number of cars reported to have been clocked in Ireland. I was quite surprised to read that the estimated number of cars that were to reported to have been clocked, based on a sample of 50,000 used cars, stands at between 10-11%. This figure was provided by www.cartell.ie, one of Ireland's most recognised names in car history checking, in a recent article in the Irish Times.
Although Cartell.ie has gone on record to say that there has not been any noticeable recent surge in the number of clocked cars they still estimate that there has been a marked increase over the last number of years. The government recently took steps which made clocking of a vehicle illegal when Leo Varadkar, the Minister for Transport, introduced an amendment to section 14 of the 2014 road traffic act.
As the good guys of car insurance we have done some research on the topic and gathered together some facts about car clocking that might help put your mind at ease when it comes to buying your new car.
What Is Car Clocking?
Car clocking, or mileage recalibration, involves changing the mileage figure displayed on your odometer. This is usually done to lower the figure displayed on the dashboard. This is sometimes done if the mileage of the vehicle in question is higher than average which can affect the resale value of the vehicle.
Recognising A Car That Is Clocked
Recognising a car that has had its odometer changed can be difficult as the process itself has been made easier in part thanks to the onset of digital displays. James Foxall, writing for the telegraph, suggested that all that is required to "clock" the majority of modern cars is someone with the correct software, a computer and access to the on-board diagnostics port.
There are certain checks that you can arrange yourself to ensure that your potential new motor stands up to scrutiny.
Check the cars history via a recognised car history checker.
Get a recognised 3rd party mechanic to check the car.
Ask for all documentation related to vehicle so that you can get it checked by a recognised body.
Check for any wear and tear on the vehicle that doesn't seem consistent with a car that has the number of miles advertised. This can usually be done by the 3rd party mechanic.
A simple check on the steering wheel and driver's seat of the car will give you an idea if the car has been used more than the odometer might suggest. This method can be slightly subjective as you are basing your decision on what you think is over use on these specific parts.
Why You Need To Check
As we mentioned already it is now illegal to clock cars and but there are some other reasons why you need to check. Misleading mileage can give you the false impression that certain parts, such as timing belts, don't require a service or need to be replaced.
Reporting a Clocked Car
According to the national consumer agency, www.consumerhelp.ie, if you suspect that a car has been clocked you should report it to the Gardaí as soon as you can. They also have a contact section on their site that you can report any suspicions to as well. The statute of limitations on investigating any suspect cars, by the national consumer agency, is two years so if you do suspect anything make sure you report it as soon as possible.
---
Although clocking cars is now illegal don't let the figures and statistics make you distrustful of any car dealer when it comes to purchasing a second hand car. Doing these advanced checks can sometime help you uncover a hidden gem of a car that will be reliable for years to come.
Modified Date: