Space Saving Ideas For A Small Kitchen
Kitchen Design Ideas
Last updated: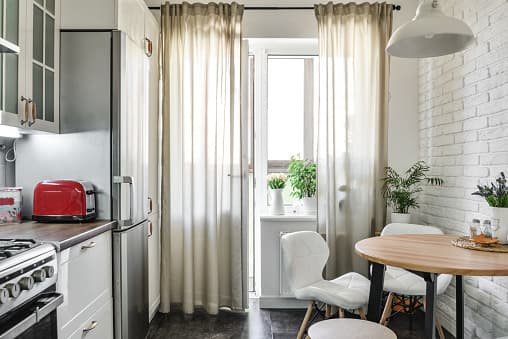 Whether living in a town house, apartment or cottage, you might be getting frustrated with the size of your kitchen and feeling that you don't have enough space. Each day we can spend many hours in the kitchen preparing food and a poor layout and design can be very annoying and make you feel unproductive. Thankfully, there are a few design tips that you can incorporate to improve the sense of space in your kitchen – and not all of them cost a lot.
Clear The Counters
Kitchen counters can often look cluttered and messy with spices, bottles and utensils taking up the space. For a neater kitchen, you might consider installing a rail unit just below eye level on the wall for hanging up utensils and common items you often look for such as cups and tea towels. See image below as an example.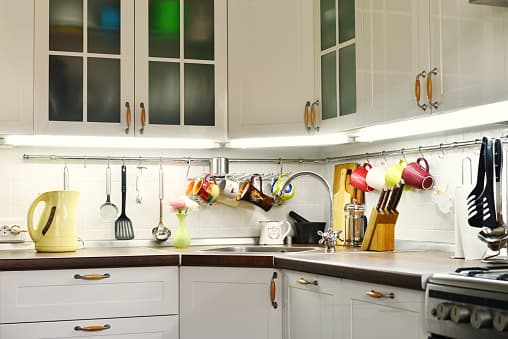 Many kitchens have too many pots and pans. Consider donating a few pots to charity or installing a hanging pot rail to free up some much needed space from the cupboards.
Use The Tops Of Your Cabinets
Often you can find space between the tops of your cabinets and your ceiling. If so, this is the perfect place to store pantry items. Invest in a few smart looking boxes to create that nice clean look.
Install A Magnetic Knife Rack
Get the most out of your kitchen with a magnetic knife rack and clear up some much needed space from your counter tops.
Look For Space Outside The Kitchen
Is there an option to place a pantry for storing dry food and non-perishables outside the main kitchen? Depending on the layout of your home, this is something that you should consider to free up space.
Over The Sink Cutting Board
If you are always looking for a clean space to cut up vegetables and meat, you might want to look at getting an over the sink cutting board. It's simple, cheap and can make the preparation of meals much easier.
Stick With The Same Brands
When updating your oven and microwave, we always recommend sticking with the same brands. If the units all look the same and have the same finish, it will create a much neater look in your kitchen.
Don't Forget About The Work Triangle
Designers often talk about the kitchen work triangle and this refers to how the sink, fridge and cooker should be positioned. If the three points are close to each other, you will find it easier to work in the kitchen and will waste less time walking around. The kitchen in photo below is set up perfectly.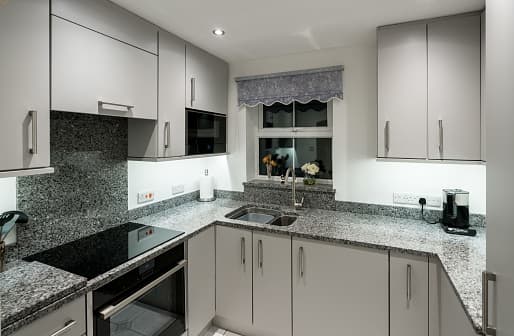 If you are updating your kitchen be sure to update your insurer. Chill will search always look for a great deal for your home insurance. Call us today on 014003400 or get a Quick Quote on this blog page.
First published by Ian O'Reilly