Is Travel Insurance Worth It?
Why You Should Have Holiday Insurance
Published on by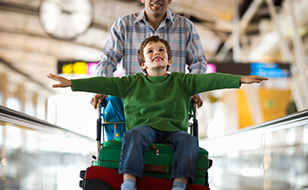 You have saved up for your trip, investigated your hotel and activities as well as budgeted for all the food and dink you are planning to have. But what about your travel insurance, have you made sure to get this sorted as well? It can sometimes be overlooked when you are arranging your travel but it is one of the most important aspects of your travel itinerary. We look at some reasons why having your travel insurance is as important as having your passport.
What It Covers

Aside from medical cover while travelling, your travel insurance also offers you protection in case your luggage or personal belongings are lost or stolen. Some travel insurance policies can also cover trip cancellation, personal liability cover, emergency dental treatment and finally funeral expenses in the event that it might be needed.Read your policy wording carefully as you might be able to add cover for your laptop, camera, tablet or smartphone.

Can't Fly

Catching your flight can sometimes be the most difficult part of your holiday. From falling ill before or missing your flight due to forgetting your passport, there are many reasons why people miss their flights. Not getting your flight can end up costing you more than just time though. Your travel insurance may allow you, under certain circumstances, to rearrange or cancel your trip. A basic package also covers you in case of some of the following: Family bereavement, Accident or illness, bad weather or strikes. Read our helpful FAQ's to learn more about travel cover.

Health Insurance

If you have taken out private health insurance recently it is always good to ensure that your provider covers you while you are abroad. If your health insurers don't provide cover then investing in travel insurance in case of a health emergency is best practice. Be sure to make the insurers aware of any pre-existing medical conditions that you might have while taking out the policy.

Plan Ahead

Are you going on an adventure holiday? Most of us would say not, but every holiday we go on could end up as an adventure if we don't have the proper cover for anything that you might encounter. Before you go on holiday, check with your insurance provider that you will be covered for any activities you might be planning to take part in.
---
Are you still unsure if you should get travel insurance ? We're here to clear up any grey areas you might have before you go on holidays. Feel free to call us on 1800 303 409, leave a comment below or contact us on @chill_insurance or Facebook.
Modified Date: