Getting Prepared For The NCT
Get Ready In Time For Your NCT
Last updated: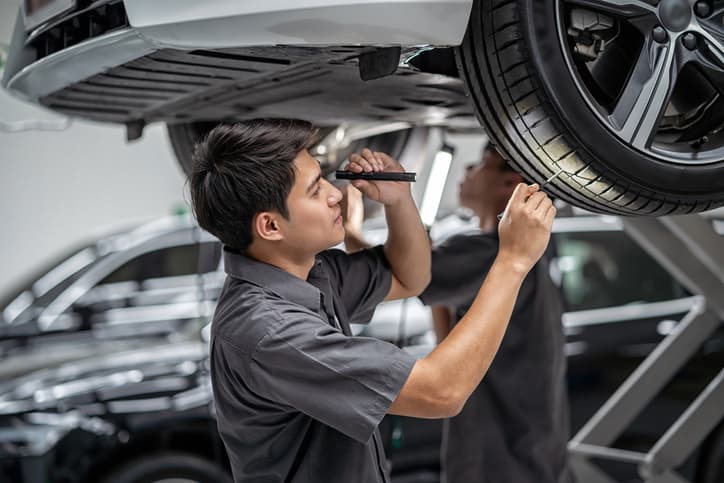 The National Car Test (NCT) was introduced in 2000 to ensure road safety in regards to vehicles being in sound working order. It is a statutory duty to ensure that your vehicle remains in a satisfactory road worthiness condition that complies with the relevant provisions of the Road Traffic Regulations at all times when used in a public place.
In Ireland, the testing system is run by the National Car Testing Service (NCTS). There are NCT Centres located throughout Ireland. All cars over four years must undergo an NCT, cars between 4 and 10 years old will then take the test every two years. For vehicles over 10 years old need an annual test which is a legal requirement.
PREPARING YOUR CAR FOR ITS NCT
Spic N' Span
Clean your car top to toe (including underneath). Ensure the lights, windows, mirrors and registration plates of your car are clean and undamaged.
Declutter
Remove all of your personal belongings from the car and boot i.e. air fresheners, fluffy dice and child seats as if they are fitted then the NCTS is required to check that they are correctly attached.
Lighten Up
Check all lights in the car work correctly; indicator bulbs, dipped and high beam headlights, parking lights front and rear, lighting of the rear number plate, fog lights and brake lights. There's no excuse for turning up for an NCT with a blown bulb. It's a simple fix and yet a common failure.
A simple tip is to ask a relative or friend to check them or do it yourself by looking in the reflection of a window. If you've a blown bulb, a trip down to the local garage will be needed.
Top-Up Fluids
Check all fluids are topped up properly; oil, engine coolant, brake fluid, power steering fluid and windscreen wash. Most of these are clearly labelled under the bonnet and easy to top up.
Warning, Warning
Put the engine on and check if any warning lights appear in the dashboard. If so, bring the car to a mechanic. Likewise, if there's been a knocking noise from the suspension or steering or pulling to one side get this checked before going for the NCT, as it will be picked up and could end up costing you the retest fee, plus the inconvenience of going back to the test centre again. Many cars fail because of issues with the front suspension.
Nice Wheels
One of the most common failures is from tyres being in bad condition. You need to ensure the following in regards to tyres: good pressure, all matching size, undamaged and check for the legal requirement across the middle is 1.6mm depth of the tyre all the way around.
Final Bits
Remove hubcaps so that the wheel nuts are visible. Check your wipers and replace the blades if necessary. Give your car a good run beforehand as well so the engine is up to operating temperature.
The Paperwork
It's highly important that you bring the car's documentation with you, such as the vehicle registration book, registration certificate, licensing certificate and the person that's presenting the car must show their ID, regardless of whether they are the registered owner of the vehicle such as passport and driving licence.
The Fee
According to the NCTS, the test costs €55 and a re-test where test equipment must be used to check the vehicle will cost €28.
THE MAIN REASONS FOR FAILING YOUR NCT
Suspension Failure
The most common reason for NCT failure is due to suspension failure. This can either be due to an imbalance or else the suspension being worn. If you're thinking about testing your car's suspension, it's important to have a professional mechanic take a look first as it's one of the more complicated car parts.
Lights
The NCT will always check both your headlights and brake lights to ensure that all is in order. Not only will they check the condition of the bulbs but they will also check the alignment of the headlights. This is a quick and easy fix for car owners and should be one of the first things you self check before bringing your car to the NCT.
Tyre Condition
In previous blogs, we have spoken about the importance of tyre conditions on fuel efficiency, but worn tyres are also one of the most common reasons for NCT failure. A quick inspection to ensure that there are no bulges, cuts or uneven wear, along with a check to make sure they are above the minimum depth of 1.6mm, could help improve the likelihood of passing your test.
Brake Pads
As they are a major component in terms of car safety, the brake pads should be something that is regularly checked, regardless of the NCT. In particular, if your vehicle is older it's more likely to need brake pad replacements due to wear and tear. If you're due for an NCT soon, you should have a mechanic take a look at your brake pads as this is a common reason for NCT failures.
Although we cannot guarantee that you will pass your NCT on the first try, we want to help ensure that your car is as ready as can be for its test. Along with information on car mechanics, we also offer a choice of different levels of car insurance.
An NCT certificate will be issued confirming your vehicle is roadworthy from the time the test was conducted with the expiry date on the certificate indicating when the next test is due.
We suggest arriving early to your appointment in case you miss it. Remember that there is no link for your NCT with the motor tax or insurance. The NCT can give drivers the opportunity to obtain lower car insurance quotes, so with that in mind why not call us today on 01 4003400 for a great car insurance quote.
With a valid NCT certificate, you can enjoy good value car insurance from Chill. Why not give us a call on 01 4003400 or get a Quick Quote on this blog page.
First published by Ian O'Reilly