Preparing For The NCT
Getting Your Car Ready
Published on by Fergal Lynch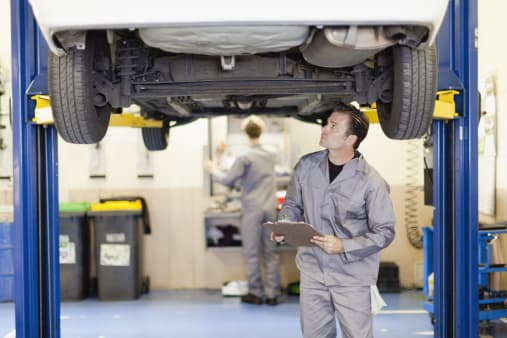 The National Car Test (NCT) was introduced in 2000 as a way of helping to ensure that the vehicles on Ireland's roads are in sound working order. It's your legal duty as a driver to make sure your vehicle remains in a roadworthy condition and is in full compliance with the provisions set out in the Road Traffic Regulations at all times when used in a public space.
The NCT in Ireland is run by the National Car Testing Service (NCTS) and there are 47 centres located throughout the country, so you should be able to find one near you. All cars over four years old are required to undergo an NCT. Vehicles aged between four and nine years must have these tests once every two years, while from 10 years, the tests are required annually. Only cars registered before 1st January 1980 are exempt from needing to get an NCT.
What will the testers look at?
Various parts of your car will be examined during the NCT, including the brakes, lights, exhaust emissions, steering and suspension, wheels and tyres, electrical systems, chassis and underbody, transmission, glass and mirrors, fuel system, and interiors.
To give you a fuller picture of what is inspected during an NCT, here is an example of a vehicle inspection report.
How do I book an NCT?
When your car is due an NCT test, you must contact the NCTS to arrange an appointment. You can do this online or by calling the NCT number on 01 413 5992. You will need to have your debit or credit card details to hand for NCT booking, as well as your vehicle registration number.
How do I get my car ready for its NCT?
Give it a clean
It's important to make sure that your vehicle is at least reasonably clean. It doesn't have to be sparkling, but it should look presentable. This is especially important under the body of the car. Pay attention to your windows, lights, mirrors and registration plates too, making sure they are clean and undamaged.
Declutter
Remove all of your personal belongings from the car and boot, including all personal possessions and valuables.
Check the lights
Take a look at all of your car's lights to make sure they're working properly. This includes your high beam and dipped headlights, indicators, front and rear parking lights, brake lights, fog lights and rear number plate lights. To make this as quick and easy as possible, it helps to get a friend or relative to stand outside your car and watch while you switch these lights on and off. If you discover that a bulb has blown, take a trip to your local garage to get it fixed before your NCT.
Top fluids up
Ensure all fluids are topped up properly, including engine coolant, oil, windscreen wash, power steering fluid and brake fluid.
Check for warning lights
If any warning lights appear on your dashboard when you turn your engine on, take your car to a garage to get it checked out. Also, if you notice any other problems while driving, like your steering pulling to one side or a knocking noise coming from your suspension, get your vehicle looked at before the NCT. This could save you the cost of a retest and the inconvenience of having to go back to the test centre.
Inspect your tyres
Tyres are a common cause of NCT failure. Ahead of your test, make sure the tyres on your vehicle are all the correct size, undamaged, have at least the legal minimum tread depth (1.6mm all the way around) and are inflated to the correct pressure.
Do some final prep
If your wheel nuts are obscured by hubcaps, remove your hubcaps before the test. Also, check your windscreen wipers and, if necessary, replace the blades. Finally, it's a good idea to give your car a good run before arriving at the centre to ensure the engine is up to normal operating temperature.
Arrive early
It's advisable to arrive at least 15 minutes before your allocated booking time, so give yourself plenty of time to get to the NCT centre.
What do I need for the NCT?
As well as making sure your car's ready for the NCT, think about what to bring to the centre. The NCT documents you will need include your vehicle registration book, licensing certificate or registration certificate, and ID in the form of a public services card or driving licence. Failure to provide a suitable form of ID will mean your car won't be issued with an NCT certificate at the time of the test.
How much does the NCT cost?
The full test (inclusive of VAT) costs €55, and a retest that requires test equipment to be used will cost €28. Both of these fees may be subject to change however, so visit the NCTS website to check if you're unsure. Retests that don't require the use of test equipment are free. For example, if you have to return for a visual inspection of your car to see if faulty windscreen wiper blades have been replaced, you won't be charged for this.
What happens if my car fails?
If you have a Minor Result, this means you have passed your test but minor faults have been noted. You are required to have these problems fixed and you will then have to present your vehicle for reinspection before you are issued with an NCT certificate.
If you get a Major Result (previously referred to as a Fail Refusal), you will have 30 days in which to have the relevant faults repaired and return for an NCT retest. If your car isn't presented within this time period, you will have to have a new test carried out from scratch.
A Dangerous Result means that a serious defect has been identified with your car that represents an immediate or direct risk to road safety. Because of this, your vehicle shouldn't be used on the road under any circumstances. The testers will place a sticker on your car stating that it has been deemed dangerous. If you are caught driving a car with a dangerous defect, you could incur penalty points on your licence and may end up in court. Your vehicle must be repaired and retested, and pass, before you will receive an NCT certificate.
What next if my car passes?
If your vehicle passes, you'll be given a certificate confirming that it's roadworthy. This certificate will specify the expiry date, indicating when your next NCT is due.
With a valid NCT certificate, you can enjoy good value car insurance from Chill. Why not give us a call on 01 4003400 or get a Quick Quote on this blog page.
Modified Date: