Planning For The Road
What You Should Have In An Emergency Car Kit
Published on by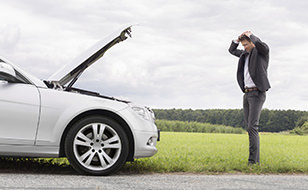 Over the last few months I have undertaken a great deal of driving due to family commitments as well as for some much needed rest and relaxation. Each time I set off it always struck me that I really need to get an emergency car kit packed with the essentials in case I ever need it. With so many different eventualities for what could be included in this kit, it is a fine balancing act to know what is and isn't needed.
Some quick research online helped narrow down the 6 essentials items needed for every motor emergency kit.
Spare Tyre With Working Car Jack And Wheel Brace

It goes without saying ensuring that these three are in your car and in working order is a priority for all car owners.

Jump leads

A good neighbour is one that will help you jump start your car but make sure you at least have the jumper cables or leads already. A basic set of cables should set you back anywhere between €15 to €30 on most websites.

Multi-tool

Some of the issues you might come across if you were to break down can be solved via the use of a good multi-tool. There are plenty available on the market but this list from www.lifehacker.com runs down the top 5 on the

Reflective Triangle / High Vis Jacket

If your car were to encounter an issue on the open road, that required you to pull over and exit the car for a period, then ensuring your safety should be paramount.Having a simple reflective triangle and high vis jacket in your car can mean that you are secure if you have to do any repairs on the side of the road.

USB Phone Charger

We all live on our phones which means that if we have to stay in our cars for a long period of time then the power level will start decreasing very quickly. A simple to USB charger which is fully charged can last you any where from three to six hours. This means that you should have enough battery to keep playing Candy Crush or Pet Rescue while waiting for rescue.
A quick tip is to avoid trying to connect to the internet if your signal is weak as this drains your battery.

Food

We're not suggesting that you are going to be stuck with your car for a long time but just in case you are feeling peckish it is always a good idea to have additional food in your car while going on a car journey.
Something simple and non perishable is always a good idea. Nuts, chocolate or energy bars are a great source of sustenance for any weary driver.
BONUS
Water

Although the chances of you encountering a severe drought in Ireland is minimal it is always wise to keep a bottle of water in your car if possible.

Breakdown Assist

Some insurers offer this as an add on. Make sure when you are taking out your cover that you check if this is an option along with windscreen protection.
Having any of the above in your car if you were to encounter a problem means that you will be fully prepared for anything you might face from a puncture or a ill-timed breakdown.
If you want to speak to a member of our team about your car insurance options such as addition breakdown assist or windscreen replacement we'd love to hear from you on 1890 30 20 20 or in the comments below.
Modified Date: