Our Top Car Parking Tips
Help Prevent a Dent
Last updated: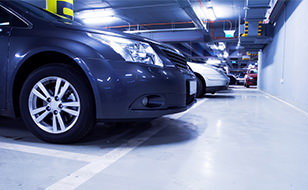 Have you ever spent ages selecting your parking spot, then carefully reversing the car before heading to the shops, only to return a couple of hours later to notice an ugly scratch on your motor that wasn't there before? It's absolutely infuriating!
What do you do if the culprit hasn't left a note? Make a claim or fork out for the repairs yourself? To help reduce the chances of your car getting scratched, scraped or dented we've put together some handy car parking advice for you to bear in mind.
There's no way to completely eliminate the threat of a dent, unless you take your car off the road or wrap it in cotton wool - neither of which are entirely practical, there are however, some sensible precautions that you can take to lower the chances of getting an unpleasant surprise in the car park.
Try not to park next to other cars if at all possible, even if this means walking a little bit further to the bank or the supermarket. If you can get an isolated spot five minutes from your destination, take it! If you do have to park alongside another car, try to park beside smaller vehicles with four doors – they've typically got shorter doors than larger cars or coupés. It's also not a great idea to squeeze into a narrow space if it can be avoided, you're asking for trouble.
One parking space you'll want to dodge is beside a trolley bay. It may seem inviting as you only have to worry about a car on one side, but often trolleys are left or returned by children who may not have full control over the direction they're going.
Another place to avoid parking your prized possession is in a poorly lit car park. Many multi-storey and underground car parks are guilty of inadequate lighting and it's here that accidents can happen. Folks reversing in or out of a space may misjudge distances or simply not see other cars due to the dark surroundings. Be particularly wary if you drive a dark coloured.
To get great value car insurance, just hit Get a Quote now or give us a call on 01 4003400 and see how much you could save!
First published by Ian O'Reilly