Motor Fleet Cover Explained
Everything You Need to Know
Last updated: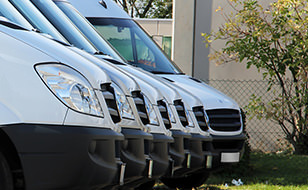 For many businesses big and small, the ability to move goods, services and people around the country and further afield is crucial. Whether it's shipping products, providing mobile services or meeting clients, your fleet of lorries, delivery vans and company cars are an integral part of the operation and help make things happen.
That's why it's so important you have motor fleet insurance, so you can get your vehicles back on the road as soon as possible with minimal disruption, just in case something happens.
That's where we come in. We make searching for motor fleet insurance a doddle and to help make things a little bit easier we've explained some of the most commonly asked questions, so you can get on with more important things like running your business.
Who should get cover?

We typically provide motor fleet cover to organisations which have a minimum of five vehicles and just like with your motor insurance policy, we can provide Comprehensive, Third Party Fire and Theft and Third Party Only. But don't worry, our friendly team will be able to advise on what's the best type of cover for your business.

What does cover include?

Comprehensive cover includes fire, accidental damage, as well as theft or attempted theft of your vehicle, as well as any Third Party personal injury or damaged property claims that are made against you. Whereas Third Party Fire and Theft covers your vehicles for fire and theft and Third Party injury or damage claims. Last, but by no means least Third Party Only covers any Third Party injuries and damages.

Is open drive available?

Yes. We also insure fleets of vehicles on an open drive basis, which means that anyone who has the policy holder's permission can drive the vehicle. This is available for those aged between 17-70 years old and restricted open drive can cover those between 23-70 years old or 25-70 years old.

There are some requirements, such as the person must hold a full clean driving licence. It is possible to cover someone who doesn't fit this criteria. Just give us a call and we'll see what we can do.
---
If you are looking for haulage or fleet insurance why not call us on 01 400 3400 where our helpful team are available to help you get the cover you need at a price that suits your company's budget.
First published by Ian O'Reilly