Make the most of your garden
Ideas for your home
Last updated: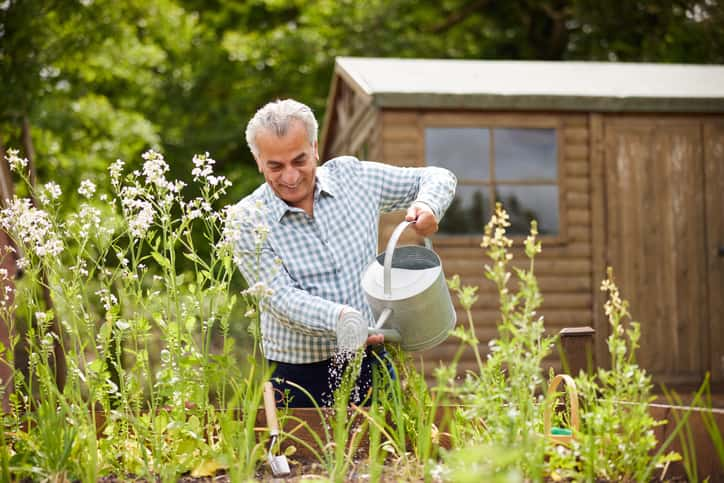 Your garden can be a great place for you. From using it to grow your own food, to adding value to your home, the opportunities are endless. We're here to give you some essential advice on both how to make the most of the space, and how to keep it as secure and private as possible while doing it.
Boost your property value
It's no secret that making improvements inside your home can increase the value of it - but what about the outside? Landscaping your garden can really help make your property more appealing, especially when it comes to selling up.
We've put together a selection of useful tips that could help you boost the value of your home.
1. Patio area
Having a patio area makes outdoor activities a lot easier and more enjoyable. A patio provides a solid surface on which you can place outdoor furniture, potted plants and accessories such as BBQs.
There are a variety of patio options to choose from. You could pave a small corner of your garden, perhaps picking an area that gets the most sunshine throughout the day. But if you want to go all out, you might decide to create a large patio space at different levels. Either way, having a patio is one way to improve the outside of your home.
2. Lighting
Including some lighting in your garden makes the area instantly more usable, and it's a great way to add extra value to your property.
You could fix wall-mounted lanterns to the side of your house or add upward-pointing spotlights into your flower beds. You could even install lights in the paving slabs of your patio so you can sit outside of an evening.
A well-lit garden is ideal for security reasons too. Keeping the outside of your property lit up throughout the night may even help you feel safer in your own home.
3. Flowers and plants
As obvious as it seems, beautifying your garden space with flowers and plants can give the area a serious uplift, and in turn, make your property more appealing. Simply spending some time adding beautiful blooms and leafy shrubbery is a quick, easy and relatively inexpensive way to not only make your home more attractive for you to enjoy, but also entice the interest of buyers if you want to sell up.
From hydrangeas and lavender, to roses and petunia, there is an almost endless list of plants and flowers that can add a variety of colours and texture to your outdoor space, so it's definitely worth a visit to your local garden centre for supplies if you're keen to improve the look and feel of this part of your home.
4. Lawn landscaping
If you want to bolster the value of your home, it might be a good idea to look into lawn landscaping.
If your property currently has no grass at all, don't panic. With a little work, it is possible to lay down turf to totally revamp the outside of your home. When it comes to turfing, it's important that you prepare the ground with the right materials first, taking into account potential drainage issues and what work needs doing to prevent this.
Alternatively, you could even ditch the real stuff and opt for artificial grass instead. Although an artificial lawn may seem appealing in terms of it being low maintenance, it might not be to everyone's taste.
5. Water feature
Adding a water feature is a relatively easy way to improve the aesthetic of your outdoor space in an instant. These garden features provide ornamental interest, as well as offering soothing sounds for you to enjoy while you're relaxing outside. Water features can even act as a habitat for wildlife, encouraging animals such as birds and squirrels to visit you on a daily basis.
The good news is, you needn't spend a fortune to introduce a water feature into your garden, and there are an array of different designs you can opt for.
6. Fencing
A well-maintained fence can significantly increase the value of your property, as well as making the space look more visually appealing. You could be waiting a long time for trees and shrubs to grow so fencing can be a quick fix to add some privacy to your garden. What's more, a secure fence is ideal for keeping pets in, as well as ensuring the safety of children while they play outdoors.
7. A garden office pod
To really up the value of your property, why not add an office pod to your outdoor space? A garden office pod provides a comfortable, modern area that you can use all year round. Unlike a home office or study, garden pods are completely detached from the rest of your home, making it a quiet, relaxing spot for you to enjoy with fewer distractions.
Aside from having practical benefits, office pods can be a super stylish addition to your garden too. Usually, they are built using premium materials and feature large windows, allowing the natural light to pour in.
8. Storage
An especially important element if your property doesn't have a garage, adding extra storage to your garden is a must. A shed is an obvious solution to this, as it provides you with somewhere to store just about anything, from your lawn mower to the kid's bikes.
When it comes to adding storage in your garden, you'll want to ensure that it provides you with a dry, safe and protective place to store your items. For example, you may want to consider asking a professional company to build you a bespoke shed using high quality materials and expert craftsmanship to ensure the fixture is properly installed and is guaranteed to withstand the outdoor elements.
Get gardening
Have you thought about growing our own vegetables? Your garden doesn't have to be big, you just need to be wise with your space. Here's how to get started, and the best plants to start with.
Grow what you eat
First of all, you need to think about what you'd like to grow, keep in mind that there's no point putting time and energy into growing something that you won't enjoy yourself.
Starting point
A great resource for any aspiring green fingered person is garden.ie. On this site you will find forums, events and shops that can help you get going. Once you get started, you will either love it or hate it so our tip is to start small and let that be your focus.
Pick of the crop
Choosing which vegetables to grow can be difficult. Try thinking about what you like to eat, what vegetables you use often or better yet growing what's expensive in shops but not to grow. Also think of vegetables that won't need too much space to grow or use up too much space.
The easiest foods to grow at home for beginners are:
Peas
Pea seeds can be directly sown into the ground any time between March and June and they will be ready to be picked from June to August depending on when you planted them. Your main task with growing peas is supporting their stems. But not to worry, it is a fairly straightforward process. All you must do is put up some chicken wire or netting between supports at each end of the row you plant. It's good to remember the more you pick, the more they will grow!
Onions
Growing onions at home is very easy. If you are looking to plant something that is low maintenance, onions are the way to go! Make sure your soil is well drained, then plant your onion bulbs in spring or autumn. In the later weeks of summer when the foliage dies back and turns yellow, you are left with beautiful home grown onions.
Tomatoes
A great addition to salads and sandwiches alike, tomatoes will always be used at home! A good way to grow tomatoes is with window boxes or hanging baskets outside your home. Tomatoes will require regular watering which is why we think they are great to keep in boxes as they are easier to keep an eye on.
Salad leaves
Buying a mix of salad seeds can leave you with different flavours and textures from different types of salad leaves which all grow in the same conditions. Sowing the seeds through the summer months will leave you with only a three to four week turnover before you are cutting leaves to add to your salads. And not to worry, the leaves will continue to grow back!
Spinach
Spinach is a popular superfood thanks to its excellent protein content. The best way to plant spinach is direct-sow into well drained soil. A few weeks after it is planted you will need to go back and remove any areas where you see clusters as they can end up competing against each other for the nutrients in the soil. Spinach can be planted year round and takes a little under two months for it to grow.
If space isn't on your side
Living in an apartment, or have no access to a garden? Well don't worry, as you can still grow your own veggies. Cherry tomatoes and herbs would probably be your best option as they can grow in hanging baskets or window boxes. Both of these are great for starting off.
Keep your garden private
Unless you live in the countryside or in a large property, many households across Ireland have gardens which are overlooked. During the warmer weather, it is great to relax outside but many people find it a little unsettling that they have very little privacy in their gardens. There are a few things that you can use to add a bit more privacy to your garden.
Pergola
A pergola is an outdoor structure which has four support columns, no walls with a roofing grid of rafters and beams. Pergolas are often freestanding and are favoured by residents because they can create a cool space in the garden away from the sun. Growing creepers through the open joists can add much needed privacy for a garden which is overlooked.
Trees, Shrubs and Hedges
The most natural way to improve privacy in your garden is with the use of trees, shrubs and hedges. Hedges are perfect to place along boundaries and can help to dampen sound too. It is important that you plant greenery that is easy to manage and doesn't block out the natural light coming into your garden.
Fencing
It can take a while for trees and shrubs to grow so fencing can be a quick fix to add some privacy to your garden. Fencing can sometimes look unsightly, but with the right paint they can look great. It is also recommended to use climbers on the fence to create a lush and visually appealing boundary between your garden and that of your neighbours.
There might be certain spots in your garden that are overlooked and a quick solution for this is to add trellises along the top of the boundary wall or fence. A cheap and cheerful way to improve the privacy in your garden might involve placing free-standing screens in front of the sitting area.
Garden parasol
If you only want a bit of privacy when you are enjoying the sun, then a simple parasol will do the job with your patio furniture. We recommend investing in a parasol with a rust resistant pole and base and with a durable polyester awning that will last long with exposure to the sun, wind and rain.
Sunken garden
A sunken garden can be a fantastic way to enjoy the outdoors without your neighbours peering in. This is no easy task and there are issues such as drainage which need to be considered so the use of an experienced landscaper would be highly recommended.
Keep your garden secure
Once you've got the perfect outdoor space, with vegetable growing and landscaping down to a T, you'll want to put everything in place to make sure your garden is completely secure. We like to think of ourselves as the good guys of home insurance, and that's why, when we're not busy comparing 14 insurers, we try to share tips on here that can keep your home secure, reduce the chances of a claim and maybe even lower your premium.
Make a gravel path
Adding a gravel path or loose stone to your driveway is a wonderful way to help deter a burglar as it will enable you to hear if somebody is approaching your front door. Not only that, but if you have a pet dog, the sound of somebody walking on a stone path will normally be enough to set them off barking and put off a would-be thief in the process.
Install lights
There's loads of different lights available which can be used to deter burglars from your garden. We recommend that you use halogen lights and a passive infrared sensor to ensure that any movement in your garden sets off the light. You'll also want to make sure the beam from the lights is kept away from your neighbours and any nearby roads.
Put locks on sheds
It's pretty shocking the number of people who keep expensive garden machinery such as lawnmowers, hedge trimmers and tools in a garden shed, yet don't keep them safely locked away. Our advice is, if you're going to buy tools, make sure you put aside some money to store them securely, just like you would with your bike lock. It's a good investment.
Keep your garden tidy
We advise that you try and keep all property either in your home or locked away in a garage or shed. Expensive items left in your garden will look inviting to a burglar and bulkier bits could be used to break into your property. So don't give thieves a helping hand, make sure that nothing is on view in your garden.
Buy some prickly plants
This tip is not just for the green fingered amongst us. By planting prickly vegetation like Rosa Rugosa, Holly or Hawthorn on your fences, you'll be able to create a very effective and natural boundary to keep burglars out.
First published by Ian O'Reilly