Looking for a Used Car?
Tips to Drive Away a Bargain
Published on by Hassan Juma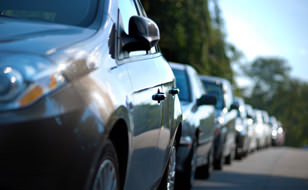 By all accounts the Irish second-hand car market is booming at the moment, with the Irish Times reporting that 41,000 sets of car keys exchanged hands between private individuals in January 2013 compared to just 17,000 sold by car dealerships. This trend is reflected throughout Europe too and whilst there are many possible reasons, one thing is for sure; looking for a used car can be a daunting experience.
With this is mind we thought we'd try and lighten the load with some tips to make looking for a second-hand car that bit easier and make sure you drive away a bargain, not a banger.
View the car in daylight

We advise that you make an appointment to view the car during daylight. This will let you take a much closer look at the vehicle and help you spot if there are any tell-tale signs you should be aware of. Equally, avoid viewings if it's raining as this will make imperfections more difficult to spot.

Check the log book has the owner's name on it

If you're going to purchase a car make sure that the name on the log book is the person who is selling it. Ask to see an official form of ID from the seller to make sure that all the paperwork is in order. If there's a discrepancy this should set alarm bells ringing.

Look at the headlights

You can tell a lot abut a car from its headlights. At a viewing pay really close attention to see if the headlights are both the same or if one is brighter than the other. If there's any difference this can indicate the car has been in a crash and undergone repair work you should be aware of.

Get a professional to inspect the car

The best piece of advice we can give you is to get a professional to give the car the once over before parting with any cash. If you know a mechanic or somebody from a garage they may be able to help you out, otherwise we'd recommend you pay a professional for their time. It'll be money well-spent in the long run.
Modified Date: