Improve The Privacy Of Your Garden
Tips For Overlooked Gardens
Published on by Fergal Lynch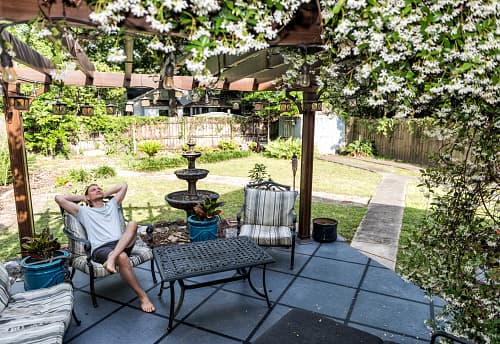 Unless you live in the countryside or in a large property, many households across Ireland have gardens which are overlooked. During the warmer weather, it is great to relax outside but many people find it a little unsettling that they have very little privacy in their gardens. There are a few things that you can do though to add a bit more privacy to your garden.
Pergola
A pergola is an outdoor structure which has four support columns, no walls with a roofing grid of rafters and beams. Pergolas are often freestanding and are favoured by residents because they can create a cool space in the garden away from the sun. Growing creepers through the open joists can add much needed privacy for a garden which is overlooked.
Trees, Shrubs and Hedges
The most natural way to improve privacy in your garden is with the use of trees, shrubs and hedges. Hedges are perfect to place along boundaries and can help to dampen sound too. It is important that you plant greenery that is easy to manage and doesn't block out the natural light coming into your garden.
Fencing
It can take a while for trees and shrubs to grow so fencing can be a quick fix to add some privacy to your garden. Fencing can sometimes look unsightly but with the right paint they can look great. It is also recommended to use climbers on the fence to create a lush and visually appealing boundary between your garden and that of your neighbours.
There might be certain spots in your garden that are overlooked and a quick solution for this is to add trellises along the top of the boundary wall or fence. A cheap and cheerful way to improve the privacy in your garden might involve placing free-standing screens in front of the sitting area.
Garden Parasol
If you only want a bit of privacy when you are enjoying the sun then a simple parasol will do the job with your patio furniture. We recommend investing in a parasol with a rust resistant pole and base and with a durable polyester awning that will last long with exposure to the sun, wind and rain.
Sunken Garden
A sunken garden can be a fantastic way to enjoy the outdoors without your neighbours peering in. This is no easy task and there are issues such as drainage which need to be considered so the use of an experienced landscaper would be highly recommended.
It may be necessary to just have small area of the garden which is lower down. Don't forget to consider natural light as it may not be worth the effort and cost if the garden will be in the shade. Further privacy can be enjoyed with hedges and other shrubbery. If you are investing in outdoor furniture, make sure to update your home insurance and the value of your contents cover. Call Chill today on 014003400 if you are looking for a great home insurance quote. You can also get a Quick Quote on this page.
Modified Date: