How to Start Gardening
Tips for Growing Your Own Vegetables
Published on by Sinead Greene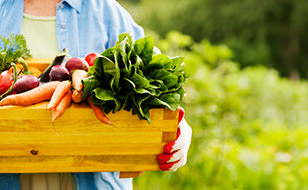 Have you thought about growing our own vegetables? Times are tough, I'm sure you've thought of many ways to cut costs as much as possible. But have you considered how much money you might save if you choose to start planting vegetables and fruit that you can use yourself? Your garden doesn't have to be big, you just need to be wise with your space. In today's blog we will discuss the gardening tips you'll need to grow your own.
Grow What You Eat

First of all, you need to think about what you'd like to grow, keep in mind that there's no point putting time and energy into growing something that you won't enjoy yourself.

Starting Point

Over the Christmas I had an in-depth conversation with a family friend about how he has started to grow his own vegetables and fruit, some of which I didn't think were possible with our Irish weather. He had some simple advice on how to succeed. He suggested that you can learn from others who share your passion. A great resource for any aspiring green fingered person is www.giyinternational.org. On this site you will find forums, events and shops that can help you get going. Once you get started, you will either love it or hate it so our tip is to start small and let that be your focus.

Pick Of The Crop

Choosing which vegetables to grow can be difficult. Try thinking about what you like to eat, what vegetables you use often or better yet growing what's expensive in shops but not to grow. Also think of vegetables that won't need too much space to grow or use up too much space.
Onions, garlic and potatoes are great to grow. For most of these all you need is just one bulb to be planted and in return will grow into several of that specific vegetable. That's a great return on investment and it also helps you save some money.

If Space Isn't On Your Side

Living in an apartment or have no access to a garden? Well don't worry as you can still grow your own veggies. Cherry tomatoes and herbs would probably be your best option as they can grow in hanging baskets or window boxes. Both of these are great for starting off. www.giyinternational.org has a list of where like minded people who might be able to direct you towards allotments or gardens that you might be able to use.
Before you know it you'll be saving money and your garden will look great. Another benefit is that you will be able to use your produce in different ways such as baking. Just remember that not everyone appreciates fruit or vegetables as gifts so make sure you are tactical when gifting your produce.
If you are looking for a quote on home insurance, give us a call today on 1890 30 20 20.
Happy Gardening!
Modified Date: