How To Replace A Lost Driving License
Steps To Get A New Licence
Last updated: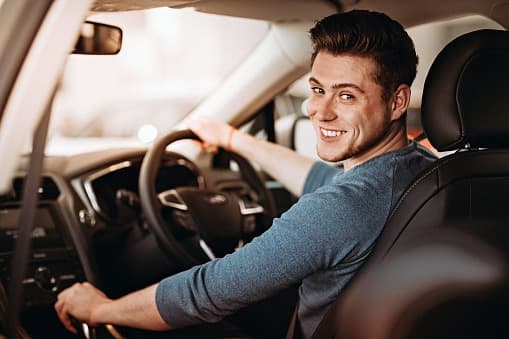 Losing your driving licence can be frustrating. Perhaps you've tried to think back to when and where you had it last, but just can't seem to remember how it was misplaced. Or you might know exactly how and where it was lost, but can't do anything to get it back. Once you've determined that it definitely is lost, how do you go about getting a replacement?
You need to apply for a replacement licence in person at your local National Driver Licence Service (NDLS) using a D401 form. You can find the nearest centre to you using the information on the NDLS website.
You won't need to provide photographs, however you may need to bring some documents with you to confirm your address and identity. You may also need to provide evidence of your personal public service (PPS) number. You can do this with a passport, a bank statement with your name and address on or using your public services card (PSC). The PSC is the easiest way to confirm your identity, as this can be used to confirm:
Your physical identity
Your PPS number
Your address
Your residency status (your place of birth)
If you don't have your PSC card for any reason, these things will all need to be confirmed using various documents. A passport acts as photographic identification and you can provide a utility bill or bank statement as evidence of your address. To prove your residency entitlement, you'd need to offer a birth certificate or an Irish passport. Finally, your PPS number can be verified using a payslip or P60/P45 form.
You will also need to bring a completed D401 application form. These can be picked up from an NDLS centre, a local driving test centre or Garda station. You need to pay especially close attention to Section 15, which looks at lost driving licences. The application needs to be signed or stamped by a Garda as confirmation that your licence has been lost. This is so that other people cannot use your licence for identity fraud. As the form needs to be stamped, it means that you won't be able to go to the NDLS and submit an application there and then.
Additional information may be needed, such as a medical report form. This is the case if:
You are applying for a new driving licence that comes under the categories C, C1, D, D1, CE, C1E, DE or D1E
You will be 70 years old or older on the start date of your new licence
You have any disabilities that need to be disclosed.
If any of the above apply to you, a registered medical professional should carry out an examination and complete the form with you.
Once you've got your stamped and signed application form and your proof of identity documents ready, you can go to the nearest NDLS centre to complete the application and submit it for a replacement licence.
Please be aware that despite the COVID-19 pandemic, you still need to apply in person - this cannot be done online - and waiting times may be longer.
Do I need to report a lost driving licence?
When you apply for a replacement licence, the Garda will need to sign the part of the application form for missing licences, so you don't need to report it separately. You also won't need to alert your car insurance provider as your driver number always stays the same, even when your licence is changed or replaced.
How much is it to replace a lost driving licence?
A replacement driving licence will cost €35 and will be valid for 10 years. For motorists over the age of 70, this fee isn't payable and so a new licence won't cost anything.
How long does it take to get a replacement driving licence?
Once you've applied for a replacement licence at your nearest NDLS centre, it should be processed within around five to nine working days. Once it's been processed and your new licence is ready, it will be posted to you and you can expect to receive it within two to five days. This means your licence could take up to two weeks to arrive.
How to get a replacement provisional driving licence
Provisional driving licences in Ireland are now known as learner permits. If you're learning to drive, you can apply for a replacement learner permit in the same way as above, however, instead of filling out a D401 form, you need to fill out a D201. You still need to have the form signed by a Garda and will need to pay the €35 fee for a replacement.
Can I drive while waiting for my licence?
When driving in Ireland, you must carry either your driving licence or learner permit with you at all times. This rule is laid out in the official Rules of the Road book by the Road Safety Authority (RSA). If you're stopped by the Garda Síochána and cannot produce your licence on the spot, you'll be asked to bring your licence to your local Garda station within 10 days.
If you're a professional driver, for example you work as a bus or lorry driver, there is a grace period of 15 days after you've submitted the application for your replacement licence. This means that you may continue to drive without a licence if you submitted your D401 form within the last 15 days, provided that you can prove to a Garda why you cannot produce your licence if stopped.
WHAT TO DO IF YOU BELIEVE YOUR LICENCE HAS BEEN STOLEN
If you think your licence has been stolen, the first thing you should do is report it to the Garda. The details on your driving licence can be used to access all kinds of personal data, so it's vital the Garda know so they can prevent anything happening.
After that, you should follow the same steps as you would for replacing a lost driving licence.
WHAT TO DO IF YOU HAVE A DAMAGED DRIVING LICENCE
If your driving licence gets damaged, and the key information on it is no longer visible, you'll need to apply for a replacement. Damaged licences are now longer valid if your image or details can't be seen, and you'll effectively be driving around with a useless card in your pocket.
Once you've applied for a new driving licence, the old one should be destroyed to prevent anyone accessing the information it contains.
First published by Ian O'Reilly