How To Blur Your House On Google Street View
WHAT TO KNOW BEFORE SUBMITTING YOUR REQUEST
Last updated: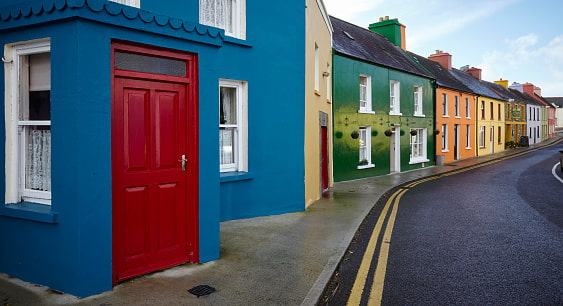 There may be different reasons why you may want to blur your house on Google Maps. If you have made your mind up and want to restrict how people view your property online, click here and you'll be brought down to the section to go through the steps.
Google Street View offers a first-person look of our surroundings and the service has been available in Ireland since September 2010. Through Street View, people can explore the world virtually and use it as a handy tool to help with navigation.
WHY ARE SOME HOUSES BLURRED ON GOOGLE MAPS?
Browsing through Street View, you may have noticed that some houses are blurred out. Google have a process in place which allows homeowners to blur out their entire property. Faces and license plates are blurred out automatically.
If privacy is important for you, you may be thinking about submitting a request to blur your house on Google Maps. Homeowners may put in these requests for the simple reason that they don't want strangers looking at their property. It is possible to go back and view historic Street View imagery and see how a house has changed over time. That might be of concern to some homeowners who have invested significant sums in upgrading their home.
In addition to limiting views of how your property has changed over time, you may not want to share details on the different cars on your property or even the place where delivery drivers leave parcels.
Homeowners may also be concerned that burglars will try and scope out their home online. An empty drive-way might indicate to a potential thief that the home is unoccupied during the day. Potential thieves might also look out for other security vulnerabilities like easy access to upper windows or even the absence of security lighting or a house alarm.
Those living in a corner house with low boundary walls might also be concerned about the ability of potential thieves to look into their back gardens and check out if bicycles are locked or if there are other valuable items of interest.
ARE THERE ANY DRAWBACKS ON BLURRING YOUR HOME ON GOOGLE MAPS?
If you intend on selling your home in the future, you might want to consider that potential buyers will inevitably look for your home on Google Street View. Househunters will often click into Street View to get an overall feel for a property that gives a more realistic view of the surroundings when compared to the polished-up photos from an estate agent. Could your house sale be at a disadvantage if potential buyers can't view it online?
The other thing to consider before putting in a request to blur out your house is that it might raise more questions and actually bring more attention to your property. Potential thieves might become curious and ask what is it that the homeowner is trying to hide.
If you want to blur your home on Google Maps, here are the simple steps below to follow. The process only takes a couple of days after submitting your request. The main point to remember is that the blurring process is permanent and it's not possible to reverse if you change your mind in the future.
Go to Google Maps and search for your home address
Switch into Street View mode on your phone by clicking on the small 'Street View' image that is visible on the bottom left of the map. If you are on a computer, simply drag the small Pegman shaped icon (found at bottom right of your screen) onto the map in front of your house.
Click on the three white dots in the grey box at the top of the map beside your address and select 'Report a problem'
One the next page, centre the red box on your home.
Under the heading, Request blurring, ensure to select the option 'My home'
Add in further details in the box supplied to identify your home - you might mention the colour of the door or the make of car that is in the drive-way.
Make sure to include your email address and click 'Submit' at the bottom of the page.
If you are interested in protecting your home in case of theft or anything worse, please get a home insurance quote on this page and see how much you can save by switching over to Chill.
First published by Ian O'Reilly