How Much Does A Downstairs Toilet Cost?
Home Renovation Tips
Last updated: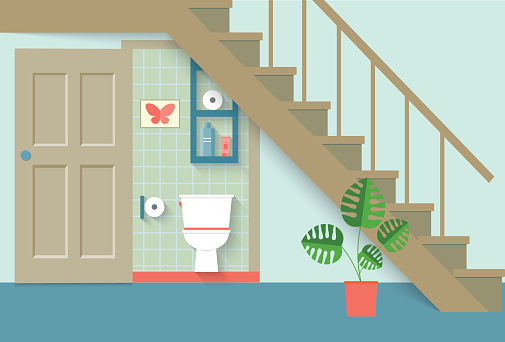 When it comes to selling a house, homeowners are often tempted to install additional fixtures and fittings with a view to potentially increasing the value of the property. A feature that's often added is a downstairs toilet, as it can not only make the house more desirable to future buyers, but it's also likely to be a useful addition to the people who currently own the home.
There are many practical reasons for adding a downstairs toilet or water closet (WC) to your home. For example, if an older or less mobile person lives in the house, it could be a benefit to have a downstairs toilet as it will take away the need to get upstairs. It would also be a useful addition if there are a lot of people in the house, as it means there won't be as much of a queue to use the toilet. You may even be considering making an extensive set of changes to your home as an alternative to moving house. However, bear in mind that installing a downstairs toilet could mean you lose some storage space.
Providing there's an empty room downstairs or a suitably sized cloakroom under the stairs, it should be possible to install a toilet, making the space into a small washroom. But if you're making the change as an investment, it's important to check that the cost of adding a downstairs toilet to your home will be offset by the potential value it could add to your property.
How Much To Install A Downstairs Toilet?
More goes into fitting a downstairs toilet than simply buying the toilet and connecting it to a waste water pipe. Before doing anything, you need to check that you're allowed to install another toilet in your home. It's not always necessary to request planning permission for bathrooms, but it would be advisable to contact your local council to be on the safe side. For example, the works would need to comply with council regulations relating such as plumbing, drainage and ventilation. There may also be restrictions if your home is a listed building.
The best way to pick a qualified and registered plumber or builder to complete the works is to get a recommendation from friends or family. It's good practice to check that the company is registered with the Companies Registration Office and that they are on the Register of Builders. Ask the tradesperson if the work is guaranteed and if they have a public liability insurance certificate.
The total cost for installing a downstairs WC with toilet, basin, plumbing work and labour is likely to be somewhere between €2,000 and €4,000, but this is based on the types of materials you decide to use and access to drainage. Of course, you'll need to pick a toilet with a matching basin, but you'll need to consider how it will impact the rest of the room it's being fitted into. As well as the toilet and basin, this includes new flooring, plaster to cover up the pipes, a bathroom extractor fan and a privacy window if there's a clear window in the door or the wall. You can save money by painting the walls and using lino on the ground instead of tiles.
Another important factor to consider if you're fitting a downstairs toilet in your home is the cost of installation from a local tradesman. A good proportion of the cost for a downstairs washroom can go on paying someone to fit the toilet and carry out any necessary alterations to the room it's going in. However, this can be worthwhile to ensure that the job is being done properly. Alternatively, you could choose to fit the toilet yourself, but it depends on how confident you are doing this.
Does A Downstairs Toilet Add Value?
If you don't see a specific need for an additional toilet situated downstairs, you might be contemplating installing one in the hope of increasing the sell-on value of your home.
Exactly how much value a downstairs bathroom will add to your property will depend on a whole range of factors, including the type of home you have, your location and the conditions in the property market when you come to sell. Depending on the quality of the work, the addition of a downstairs loo may result in an increase in the total value of the property of between 1% and 4%.
Once the new toilet has been installed, you will need to update your home insurance policy to increase the value of your buildings cover.
First published by Ian O'Reilly