Happy St. Patrick's Day
We Hope You Have a Great Time
Published on by Sinead Greene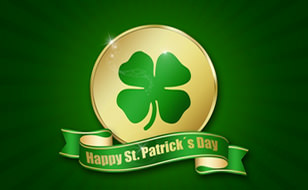 It's St. Patrick's Day this Sunday! We know you probably have an action-packed weekend ahead of you, so we'll keep this post short and sweet.
For millions of people around the globe the 17th of March is an opportunity to celebrate the very best of Irish culture, be part of the craic, wear something green and maybe even have a pint or two of the black stuff (apparently 13 million pints of Guinness are enjoyed every Paddy's Day).
But this year's celebrations of Ireland's patron saint looks set to be even bigger and better than ever before thanks to The Gathering, as well as 8,000 people from around the world taking part in the Dublin parade.
With so many exciting events to choose from, we thought that we'd try and make your life as easy as possible by putting together links to some of the best loved festivals taking place this weekend. Simply click on the area closest to you for more information:
If you can't make it down to a parade, you'll be able to follow all the St. Patrick's Day pomp and pageantry on Instagram. Just check out the #stpatricksday hashtag over on Statigram.
Wherever you are, we hope that you have a fantastic day.
Lá Fhéile Pádraig!
Modified Date: