How To Scrap Your Car In Ireland
Everything You Need To Know
Last updated: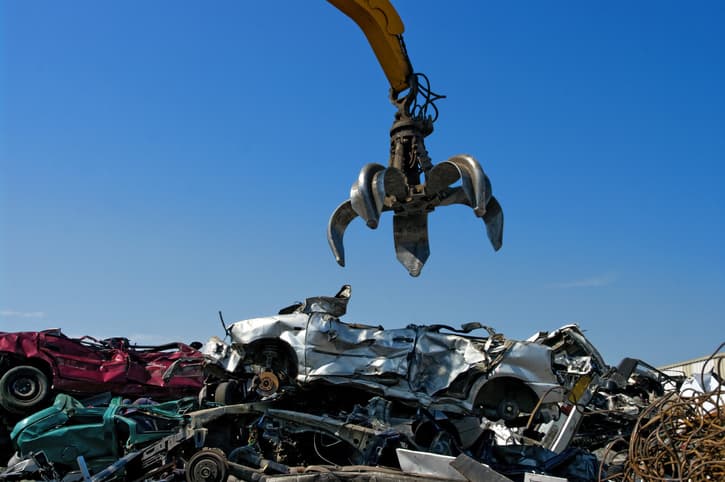 If your car has come to the end of its life, and there's no money to be made in reselling it, you could find your best option is scrapping it. There are many car recycling centres throughout Ireland that would be happy to take your old car off your hands, before turning it into materials to be used in new products.
We show you everything you need to know about scrapping your car, including where to take it and how much it's likely to pay.
WHAT FORMS DO I NEED TO SIGN TO SCRAP MY CAR?
Before you take your car off to the scrapyard, you'll need to sign the form RF120. This is a road tax refund form, and if you have more than three months of road tax remaining, you can claim back the amount you've overpaid.
TELL YOUR INSURER BEFORE YOU SCRAP YOUR CAR
The next important thing to do is tell your car insurance provider. They'll stop your payments, and will give you the option to either transfer any remaining funds to cover your next vehicle, or claim your money back after any admin fees.
FIND A SCRAPYARD
There are many traditional scrap yards throughout Ireland that you can call to arrange scrappage. However, there are also online options such as Car Take Back, which will give you an instant quote and may even collect your old vehicle for you. This can make it easier than having to drive the car yourself, especially if it is beyond repair and potentially unsafe for the road.
HOW MUCH MONEY CAN I MAKE FOR SCRAPPING MY CAR?
Scrapping your car isn't a massive money making scheme, but it can be more profitable than trying to resell it if it's no longer working. The amount you might get for your car depends on the size, materials and a range of other factors, but scrap yards can pay anywhere from €100 – €125.
HOW TO SAFELY DISPOSE OF YOUR CAR
It's important to use licensed authorised treatment facilities when disposing of your car to make sure the hazardous materials in your vehicle don't damage the environment, or pose a risk to the health of the public. If you dispose of an end-of-life vehicle illegally, you are committing a criminal offence, and could be fined up to €100, so follow our top tips to make sure this doesn't happen.
Take Your Vehicle To An Authorised Facility
Online options are great, as we've mentioned, but if you're committed to disposing of your car in person then ensure that the facility is authorised, or else you won't receive a certificate of destruction, meaning you may remain registered as the vehicle's owner long after it's gone.
Ensure The Facility Provides The Necessary Services
Authorised end-of-life vehicle facilities must provide the following services:
Have a waste licence or permit
Meet the minimum technical requirements when it comes to the storage and treatment of the vehicles and their parts
Issue you with a certificate of destruction
Keep records of materials from the vehicle for the purpose of reuse or recycling, and report these to relevant authorities on an annual basis
An authorised facility will not charge you to dispose of your end-of-life vehicle provided you are the registered owner of the vehicle, and it is intact. Make sure you take the vehicle registration documents with you to the facility.
HOW TO SPOT ILLEGAL SCRAPPAGE COMPANIES
Unfortunately there are several companies across Ireland that won't scrap your car in a legal way. There are government regulations around how to dispose of waste materials and potentially hazardous substances, and if your scrappage firm doesn't abide by these you could be just as liable as them.
Ways to spot dodgy firms include checking out their website. If it looks out of date, or uses stock images, it might not be all it's cracked up to be. The same is true of the company's phone number. If it looks like a personal number, it might not be a real business, or if the number is badly constructed they could be setting you up for failure.
Finally, you should always be issued with a genuine Certificate of Destruction. If they try to give you something else, such as a Certificate of Disposal or something similar, they should not be trusted.
First published by Ian O'Reilly