Guard Your Gadgets
Keep them Safe this Summer
Last updated: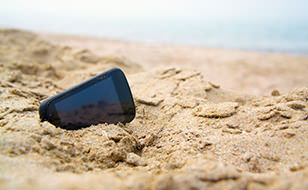 Around about 6,000 smartphones alone are stolen every year in Ireland, which can leave you out of pocket and out of contact. Typically, bank holiday weekends are when most phones get lost, damaged or stolen. So with the next bank holiday weekend just around the corner, it's a good time to consider getting cover for that beloved gadget you just can't live without!
As people relax and let their hair down over the long weekend, they become less vigilant about keeping their valuables safe and secure. Nightlife destinations such as pubs and nightclubs, as well as beaches, concerts and festivals are the main spots for 20 to 30 year olds to lose phones. It also helps to pay particular attention while on holiday, especially on transport, in airports as well as at tourist sight-seeing destinations.
We would also recommend that you get a protective cover for your gadget to help prevent cracked screens and other damage. It's a good idea to back up your contacts and other important information before travelling anywhere so that you are prepared should anything happen. To ward off any opportunistic thieves, it's best never to leave a smartphone (or any other valuables) on view in a vehicle, on public transport or on a table in a bar or restaurant.
When you consider the cost of replacing your gadget, being tied to a service contract as well as any unauthorised phone calls you may be liable for, it really is a great idea to get gadget cover – which starts from as little as €5.99* per month for a smartphone.
At Chill, we offer three levels of cover for your gadget so there's sure to be a policy that suits your needs. Our cover includes worldwide accidental damage and write-off, in addition to cover for liquid damage and accessories replacement. If your phone is lost or stolen, it can be replaced if covered on your policy, up to a value of €1,500 as well as any call costs that may arise.
So if you are planning to splash out on a new phone, laptop or tablet this summer, our advice is to consider gadget insurance as another must-have accessory so that you can get on with enjoying your new piece of kit without that niggling worry in the back of your mind. You can get covered right away by clicking Get a Quote now or by giving one of our friendly team a call on 01 4003400.
* Price based on Chill Gadget Insurance Essential level of cover for a Samsung Galaxy S3 including damage and write off cover. Prices correct as of 27/06/13 and are valid for 30 days.
First published by Ian O'Reilly