Getting on the Property Ladder
Tips to Get Your Perfect Place
Last updated: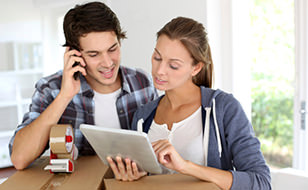 We all know the Irish property market has been pretty quiet over the last few years, but we're beginning to see more and more sets of keys change hands as house prices rise (in some parts of the country), confidence increases and access to mortgage finance improves.
I'm currently in the process of taking my first steps on the property ladder and I've learnt a lot during this time. In fact, there's been so much to take in, that I thought it would be a wise move to jot down some of the advice I wish that I'd been given before I started my house hunt.
Be snap happy

I'd recommend that you bring your smartphone to take some photos and a pen and paper to take notes when you're viewing a house. Try and jot down the features, key colours, as well as what you do and don't like about the property. This information will be great to use as a reference point when it comes to making an offer!

Understand the area

Really taking the time to understand the area is important and we suggest you get a feel for the place by visiting the area at different times of the day. You should also evaluate what amenities you need by your home, such as parks, green areas, shops, pubs, or public transport.

Cost of buying

Buying a home is expensive. Not only do you have to fork out to buy the property, but you need to consider all the other costs, such as the mortgage arrangement fee (if taking out a mortgage), legal expenses, stamp duty, as well as any removal costs, house repairs and furniture. As you can see the costs do quickly build-up, so remember to try and factor them all in.

Do your homework

When viewing a house ask lots of questions and if possible get answers in writing. You should find out how many viewings the property has had, what the current offer is, how long the property has been on the market, what the neighbours are like and why the homeowners moving. This information should be factored into any decision you make.
For most people buying a home is their biggest ever purchase, so it's really important that you make the right move. Once all the paperwork has been agreed you may like to speak to one of our friendly team about home insurance or mortgage protection cover. You can do this by hitting Get a Quote now or calling us on 01 4003400.
Good luck and happy house hunting!
First published by Fergal Lynch