Forget DIY
Try Growing It Yourself
Last updated: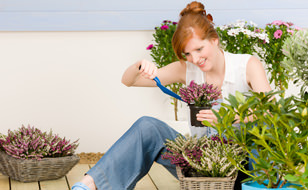 The sun has started to make an appearance (well nearly), which means that's our signal to venture out into the garden, unlock the shed, pull out the patio furniture and start enjoying the garden again!
If you're an avid gardener then you may have already sown your seeds and bulbs for the summer, ready to turn your garden into an oasis. If you're not that green fingered, but still enjoy a spot of horticulture, then we have some great tips to help you get the most out of your garden, patio or terrace this summer.
Bedding Plants

It seems that when the sun shines, garden centres pop up everywhere and most will have special offers on bedding and rockery plants. This is a great way to mix and match some wonderful colours for your garden such as marigolds, pansy's, geraniums, begonias and Busy Lizzies. Even if you're a novice gardener, this is a simple way make your garden look beautiful.

Hanging Baskets

Hanging baskets are a really quick and easy way to achieve instant colour in your garden. However, there's not much sense of achievement buying these ready-made and they tend to be on the expensive side. If you want to try something a bit unusual, how about planting strawberry plants in your hanging baskets? They love to grow long and wild and are one of the easiest fruit crops to grow.

Shrubs, bushes and climbers

Clematis is a very quick growing climber that will find its way up pretty much any fence or trellising. The beautiful flowers they produce along with a lovely fragrance will enhance any garden. Ask your garden centre for advice on which plants attract wildlife, such as butterflies and birds. Butterflies love buddleias and daisies, which grow easily in the Irish climate and they make a lovely addition to a garden without causing any damage.
In my mind there's nothing more satisfying than reaping the rewards of a beautiful garden. Watching your hard work transform into a vibrant display of colours is really enjoyable, and if the sun is shining, there may even be an opportunity to crack out the BBQ!
If you're about to start working on your garden, make sure that you're adequately covered. If you'd like one of our friendly team to help you find the right home insurance, hit Get a Quote or drop us a line on 01 4003400.
First published by Ian O'Reilly