Finding Warehouse Cover
Tips to Get the Right Policy
Last updated: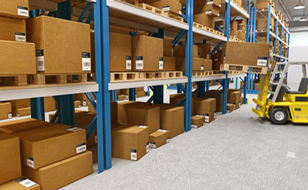 Warehouses aren't just buildings for storing goods. Oh no, with staff operating cranes, forklift trucks and machinery to move products they are a hive of activity. In fact, they can rightly claim to be the heart of many businesses and that is why it's so important to make sure you find the right warehouse insurance.
That's where our friendly team come in. We can advise you on the different types of cover available, and I've listed some common questions below that may make searching for warehouse cover that bit easier:
How much should I insure a warehouse for?

If you have a warehouse, assessing the valuation of the building is not always straightforward. To accurately insure a warehouse you need to include the cost of debris removal in the event of a fire, as well as factor in professional fees, such as architectural and rebuilding costs. This will give you the figure to insure your warehouse for.

Can I lower my premium?

All businesses are being more cost-conscious these days and there are some simple steps you can follow to lower your level of risk. You should ensure that the warehouse is in a good state of repair and has strong physical security. This includes making sure the buildings are alarmed, and that any CCTV cameras or fire alarms are all linked to central stations. You can reduce the risk further by having the electrics and wiring checked on a regular basis by a qualified electrician.

How long does it take to get a quote?

You can get a quote right away by giving us a call. All you'll have to do is answer some straightforward questions for our survey or if the premium is over €8,000 we'll send one of our dedicated experts round to carry out a full risk assessment of the property. This enables us to gather much more information and really understand your business. If we do undertake a risk assessment you'll receive a quote in approximately two weeks.
If you're looking for cover for your warehouse why not give one of our knowledgeable team a call on 01 4003400?
First published by Ian O'Reilly