Festival Survival Guide
Our Tips for a Fantastic Time!
Last updated: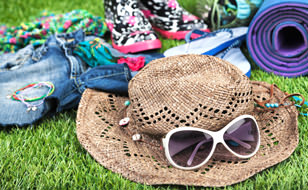 Over the last couple of weeks we've been busy listing the hottest music festivals at home and throughout Europe, so this week we thought that we'd share our ultimate festival survival guide. To put this guide together I've drawn upon the experience of some seasoned Chill festival-goers, so you can have a festival to remember. Our festival survival essentials are:
Test your tent

If you're going to be camping for the weekend, we recommend that you have a dry run and set your tent up at home before you leave. Make sure that you check your tent has all the right equipment, such as pegs and poles, or better still invest in a pop-up tent. When you arrive at the festival you should set-up camp in a dry area that's a good distance away from the music. You're probably not going to get a lot of sleep, but some rest is better than nothing.

Bring your winter wardrobe (or at least some of it)

If you're visiting an Irish festival it goes without saying that you'll need to raid both your winter and summer wardrobes! We recommend that you pack a rain poncho, lots of socks (you can never have too many), wellies and plenty of layers to keep you warm. It's always better to bring too much than end up shivering all night long. If you're going to a hotter climate, we'd still advise you to pack something to keep you warm, just in case you bring the weather with you.

Leave your valuables at home

Don't bring any unnecessary valuables with you. As a rule you should leave at home anything you don't want to get muddy, have drinks spilt on or left behind. Although, the chances of having your valuables damaged or stolen are pretty low, it's a risk you don't need to take. If you're going to bring a gadget to keep in touch with friends or capture magical moments on camera, we'd recommend you take out cover now.

Stock up on hand gel

Festivals are not exactly known for being the most hygienic of places, but there are some small steps you can take which can have a big impact and keep you comfortable. We'd strongly advise that you stock up on hand gel and baby-wipes. They'll become your new best friends and can help prevent the spread of any nasty germs and keep you feeling fresh for the festival.

Know the line-up

Last but by no means least; make sure you know when and where your favourite bands are playing. Some of the stages at the larger festivals can be very spread out, so you may need to miss an encore or two in order to get a good spot in plenty of time to see your musical heroes.
Before you head off to a festival this summer, it's worth taking out gadget insurance and if you're venturing further afield, have a look at travel insurance. The good news is you can get both types of cover from our website in just a couple of minutes by hitting Get a Quote now.
Chill, we'll take it from here.
First published by Fergal Lynch