February Road Safety
Driving Tips for the Month
Last updated: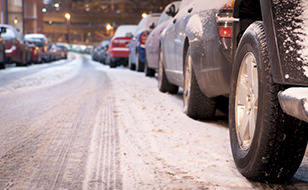 As the cold snap hits Irish soil, it's important to take care and drive safely during the month of February. It's important to be vigilant as harsh weather conditions can make roads hazardous. That's why we've put together some tips to keep you safe on Irish roads during the Chill-y season.
At Your Service

Not sure what that light flickering on the dash board means? It's always a good idea to get a mechanic to service your car once a year to keep it up to scratch. Get them to check the things you can't, like timing belts or the cooling system. If a timing belt breaks, the car will not start. Likewise, if the anti-freeze solution is weak, it can damage the car's cooling system. Getting your car serviced once a year can ensure that you don't encounter any nasty surprises that can be avoided.

Slow Down The Pace

It's easy to save money on fuel prices and be safe on the road by taking your foot off the accelerator. With increasingly bad weather conditions, putting the foot down can be a danger for you, your passengers and other road users around you. SLOW DOWN. When encountering wet or icy roads always remember to brake and steer smoothly to avoid the car sliding and skidding. Remember to keep your distance from other road users in case you need to break suddenly.

Keep The Heat Beating

With the low temperatures that inevitably strike, it's important to check that your heaters are in working order. The same goes for the demisters. We advise to turn on the front and rear demisters before traveling to prevent frosty windscreens. If they are giving you trouble, be sure to check in with your mechanic.

Test The Tyres

With Ireland known for having four seasons in a day, especially during the February, making sure you take extra precautions before you start on your daily commute means that you are prepared for any situations that may arise. ALWAYS keep an eye on your tyres. Make sure they have enough tread to tackle whatever weather February throws at you.

Light Up

When you are setting off on your drive we suggest using your dipped headlights during the day time. It's also important to check your headlights are working correctly at all times. Checking your lights as frequently as possible means you wouldn't be stuck when you set off on your drive.
---
At Chill safety is first on our list which is why we encourage everyone to check your car and take care whilst driving during the winter period.
We are always on hand to answer any questions you may have about your car insurance policy details in case you encounter a problem during your daily commute.
Our dedicated team are always on hand to help If you encounter a problem or you're looking for a quote.
So why not click on Get A Quote or give us a call on 01 4003400 to see what Chill can do for you.
First published by Fergal Lynch