Euro Cycle Challenge 2016
Mustard Seed Communities
Last updated: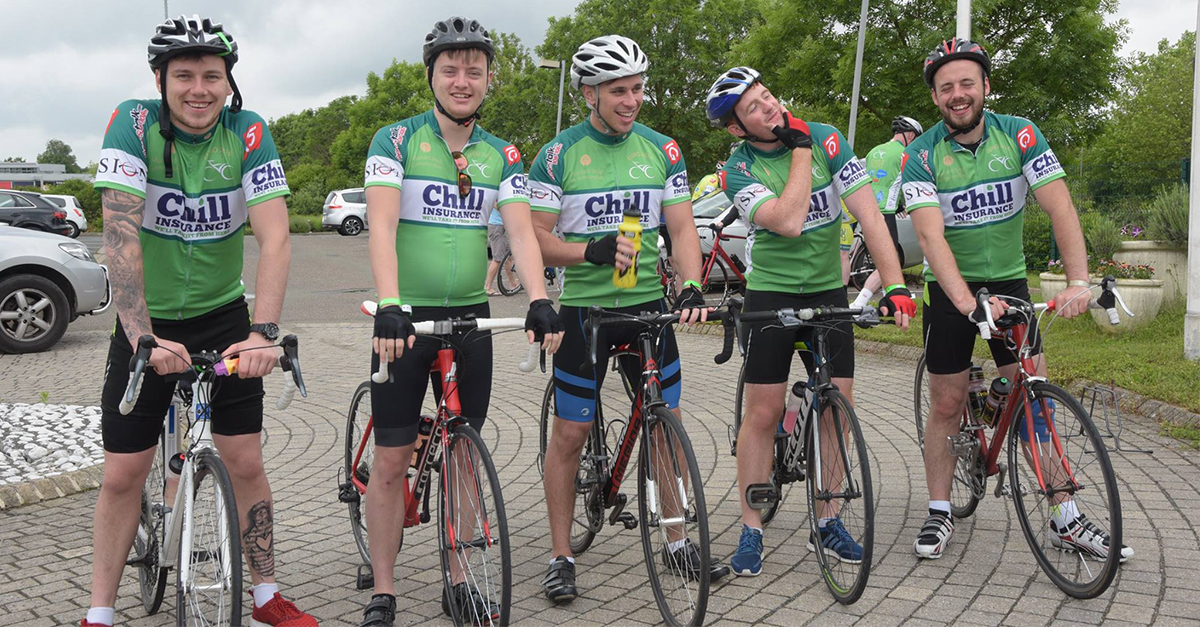 On June 10th 2016, 5 Chill Representatives, along with 75 other volunteers, began their travels from Dublin to Paris for the Mustard Seed Ireland Euro Cycle Challenge 2016. However, prior to this there was an awful lot of work to be done in order for them to successfully complete their task at hand.
Fundraising
The training involved was only a minor obstacle; the fundraising was where their effort really shined through. Each volunteer had a fundraising target in order for them to be eligible to travel to France and experience this once in a lifetime opportunity.
After each representative individually fundraised between their local clubs, friends and family, they decided that a Chill bake sale would be a fantastic opportunity to gather the remainder of their fundraising money. The bake sale saw a number of employees put in a huge amount of effort and some fantastic cakes were on display. The event was a great success and we were delighted to see one of our Euro Cycle representatives, Gavin Coone, walk away with first place (see below).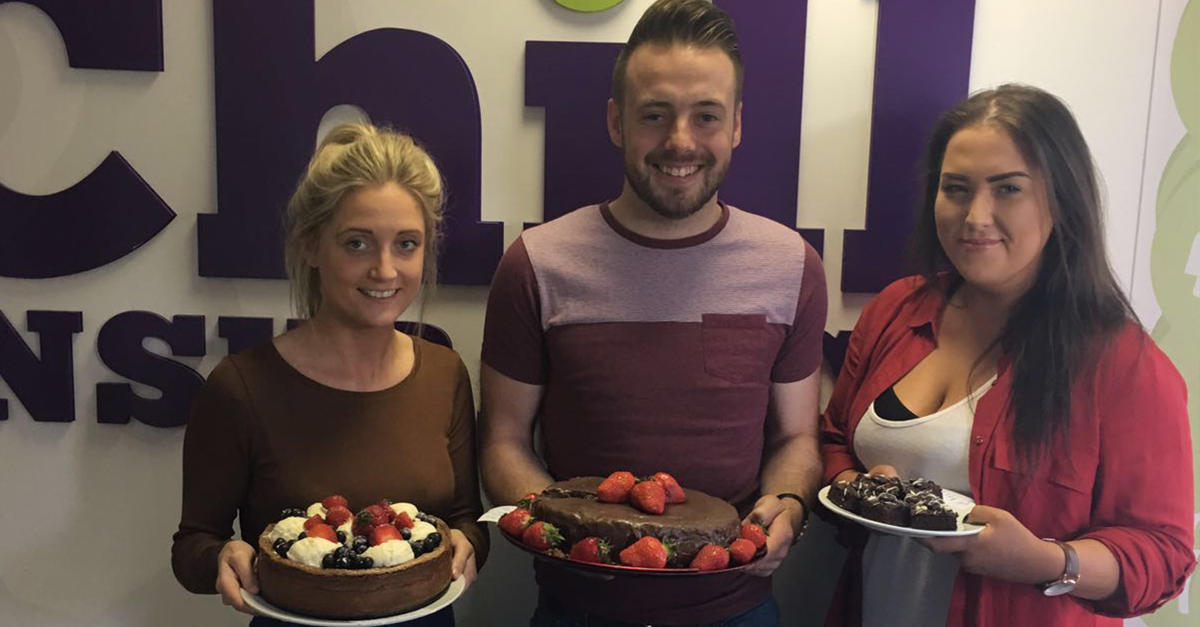 Day 1
After our Chill representatives reached their targets, reality sank in and it was time for them to begin the Mustard Seed Ireland Euro Cycle Challenge. Their first day involved a 120km cycle from Le Mans to Chartres and the cyclists powered through the first 60km in torrential rain. Jack Doughan, one of our reps had this to say about the first day:
"There was a lot of anxiety between all of us as we didn't know what to expect. The first day was also made a lot tougher by the terrible weather conditions, but the sights we saw from the small towns to the lovely countryside are something I'll never forget! "
After a long day, the cyclists had the evening to relax. Our representatives decided to go for a swim in the freezing cold outdoor pool, followed by a group dinner which was held every evening and really brought people together. Another one of our representatives Declan Woods said:
"The comradery was one of the best parts of the trip. On and off the bike everyone was extremely friendly and would help you with whatever you needed. Whether it was a push up a steep hill from the Bradóg volunteers or the sing songs at night, everyone was there for each other. "
Day 2
As the cyclists began their second and final day which saw them travel over 100km, the weather improved greatly and spirits were high knowing their next stop was Paris. Aaron Doyle had this to say about the beginning of day 2:
"We started off day 2 and thankfully the weather had improved a lot, so much that the jacket and leg warmers were not even needed! Beginning our initial 35km was easy in comparison to our first day from Le Mans, because most of the surface was flat. A quick stop off in a small village for a coffee and a bite to eat helped, before moving on to Versailles. "
After their stop, the cyclists pushed on another 40km to Versailles and assembled outside the Palace of Versailles to take a group photo and begin their final push into Paris. The final 10km saw a hill climb that proved to be a struggle for most cyclists, however the support staff were on hand to assist. Gavin Coone said:
"The final stretch into Paris was a struggle for most of us, as the finish was so close but yet so far! However, the support staff were unbelievable, from helping us up those steep hills, a motivational and literal push, or guiding us through the roads. "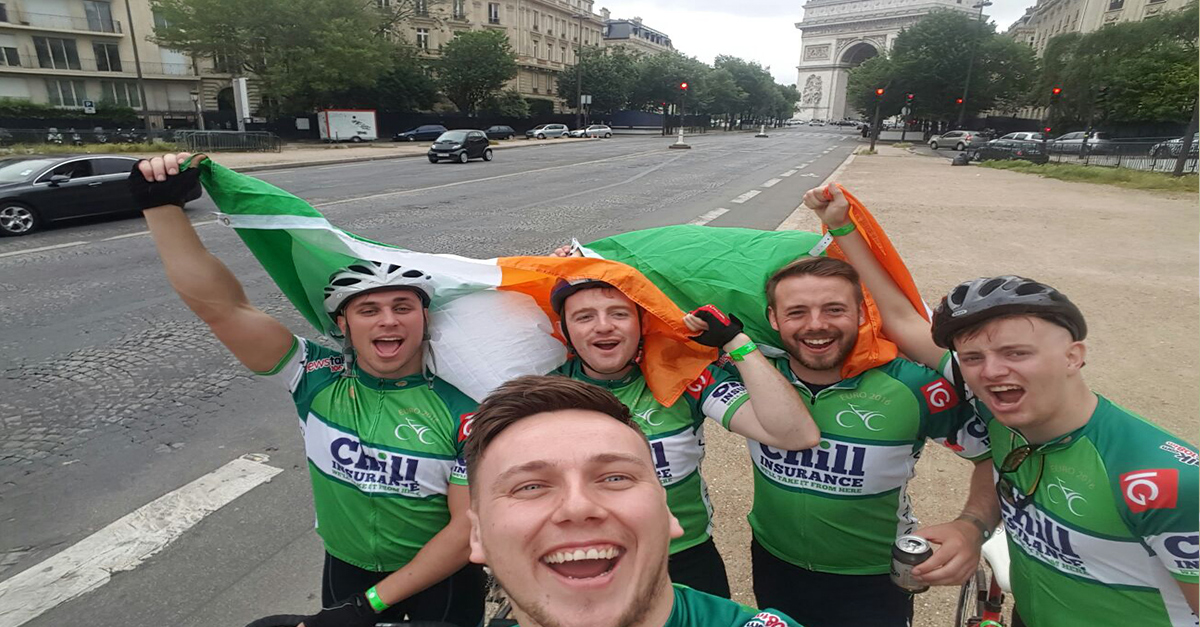 As the 80 cyclists climbed to the top of the treacherous hill, the Eiffel Tower was in sight and a sigh of relief was heard throughout the group. The support staff tightened the pack of cyclists and they all coasted down the Champs Elysees toward the Arc de Triumph and the Irish Embassy. Jack Doughan and Ciaran Quigley held the Tri-colour between them as they cycled down the famous road. Ciaran said:
"The cycle down the Champs Elysees was something I will always remember. We were greeted by the Irish Ambassador who welcomed us inside the embassy for a well deserved drink. I am delighted that I volunteered for this! Not only did I meet a lot of amazing people, but it was for a worthy cause and a fantastic charity. I am already looking forward to the reunion dinner! "
---
We were delighted to announce our new charity partner Mustard Seed Communities Ireland through the Euro Cycle Challenge 2016 and this partnership will continue in the future. A special thanks to everyone who was involved and to our 5 Chill representatives.
For more information on Mustard Seed Communities, you can visit their website page here. Be sure to check out their Facebook page to see some of the brilliant photos and videos from the trip!
First published by Ian O'Reilly