Driving Safely In Floods And Flooded Road Conditions
Keeping You Safe On The Road
Last updated: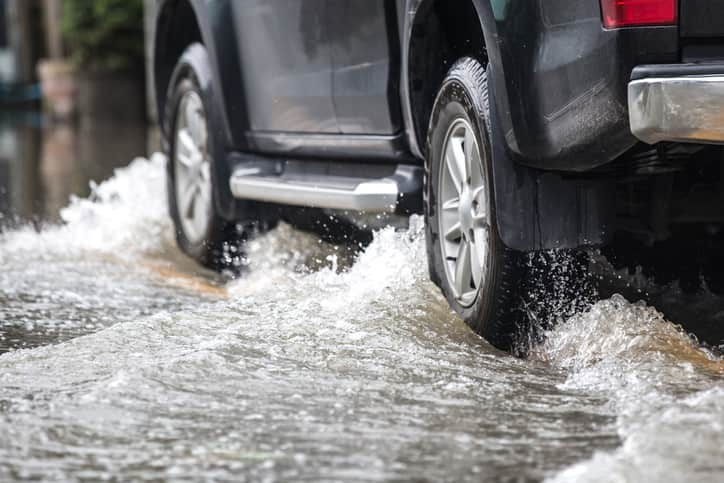 We all know the Irish weather can be wet, windy and unpredictable with glorious sunshine one moment and crashing thunder the next.
But sometimes it doesn't just rain, it pours, and if you get caught in a storm when you're driving it can cause all sorts of problems. The best advice is to avoid routes which are flooded, but sometimes you can be in your car and the heavens just open, causing drains to struggle and rivers to burst their banks. With this in mind, we thought we'd put together some pointers on staying safe, just in case you get caught in a flood.
Go slow
The feel and grip of the road changes when there's water on it. To have more control you should increase your
braking distance
between you and the car in front by lowering the speed you're travelling at and ensuring you have sufficient time to come to a safe stop when required.
Be cautious
Avoid driving through water if you can't judge how deep it is. Some water can look shallow, but may actually be quite deep, so it's better to play it safe, rather than risk water entering your car and damaging it.
Ramp up your revs
If you do have to drive through water, remember to use a low gear. This will help keep your revs high, give you more control and prevent water entering the exhaust pipe and wreaking havoc on your engine.
Keep your bonnet closed
When people break down one of the first things they tend to do is open the car bonnet. If it's raining heavily this can actually damage the electrics in a car, so we advise that you keep your bonnet down until help arrives.
Test your brakes
Water can make your brakes less responsive, so as soon as you leave a body of water you should test them out. You can do this by pressing lightly on them for a few seconds when it's safe to do so.

With colder and wetter weather on the horizon, now is the time to check that your car insurance policy includes breakdown assistance. If you'd like to speak with our friendly team, just hit Get a Quote or give us a call on 01 4003400
First published by Ian O'Reilly