Everything You Need To Know About Driving In Ireland
How Driving Differs in the Emerald Isle
Last updated: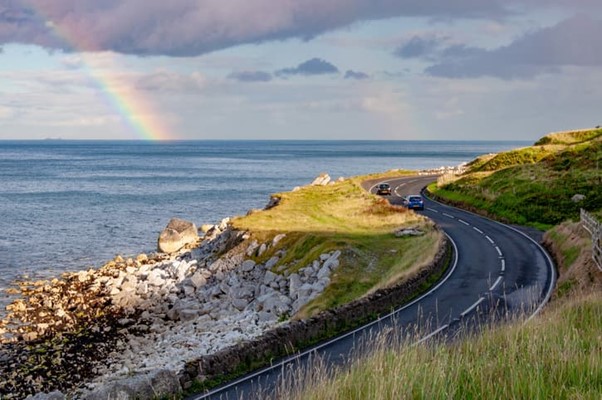 Visiting Ireland and exploring the beautiful sites and scenery it has to offer should be on anybody's bucket list. Our country has everything from coastal views and jaw-dropping mountains to quaint villages and lively cities. No matter what you're looking for in a holiday, you're bound to find it in Ireland.
When you do come to visit, there may be some things you're unsure about and driving could be one of them. If you're already an Irish resident, share this with visiting friends and relatives so they can get to grips with driving in Ireland too.
Basic Driving Requirements You Need To Drive In Ireland
Before we get onto the specifics of driving, like speed limits and mobile phone laws, it's important to understand who can actually drive in Ireland and what requirements you must meet.
First, visitors who wish to drive must be aged 17 or over and should hold a full, valid driving licence. If you don't have a valid UK or EU licence, you can apply for an international driving permit that will allow you to temporarily drive in Ireland if you wish to. The same rules apply for those with a driving licence by an EEA member state (Iceland, Liechtenstein or Norway).
Secondly, should you have either a valid licence or an international permit, you can drive in Ireland for up to one year. This applies to visitors from the following countries (this is not a comprehensive list, so other countries may be included):
Australia
Guernsey
Isle of Man
Japan
Jersey
South Africa
Republic of Korea (South Korea)
Switzerland
New Zealand
UK
If you have a national driving licence (or an international permit) that wasn't issued by the UK, EU, EEA or the countries above but is from your own country, you can also drive in Ireland as a visitor for up to one year.
When driving in Ireland, car insurance is a must for travelling in your own vehicle or as a named driver on another vehicle and you must always carry your licence or permit with you.
Drivers from any country with an international driving permit (and no valid licence) will also require a Green Card. This acts as proof of valid car insurance and is needed for any vehicles, including trailers, caravans and cars. As of August 2021, any registered vehicles from the UK don't require a Green Card, as long as you have valid car insurance and a full licence.
Finally, you don't need to put a GB sticker on your car when driving in Ireland.
The Rules of the Road in Ireland
Now you understand the rules around licences and insurance, it's time to understand more about the rules of the actual roads. Below, discover more about which side of the road to drive on, speed limits, road signs, seat belt rules, and more.
Drive on the Left
Just like in the UK, you must drive on the left in Ireland. This will likely differ to your own country if you're visiting Ireland from the USA, Canada, China, Russia, Japan, a European country, and many more. This might be daunting at first if you're not used to it. To make it easier, remember to keep to the left and overtake on the right.
Speed Limits
Ireland uses the metric system, which means their speed limits are in kilometres per hour (km/h). This may be confusing if your own country uses miles per hour (mph) as a standard speed limit. Generally, this is just the UK, the US and some smaller islands, including the Caribbean and British Overseas Territories like Anguilla, Cayman Islands, Turks and Caicos and Montserrat.
Each road will be labelled with a speed limit sign that you must adhere to when driving in Ireland, but if in doubt, stick to 50km/h in built-up areas, 80km/h on single non-national open roads, 100km/h on national roads (prefixed with an 'N') and 120km/h on motorways (prefixed with an 'M').
Road Signs
While your sat-nav will help you to travel easily around Ireland, it's also important to understand what the road signs will look like so you can navigate yourself, should you need to. Road signs generally show the name of a place and the distance in kilometres. You may also notice that they're in both English and Irish.
Road signs that are warning you of something, such as a windy road, an upcoming roundabout, a crossroads of a narrow road, will be a yellow diamond shape, with the warning text or symbol shown in black. There are lots of road signs for a variety of warnings, so it may be worth researching these before you travel.
Seat Belt Laws
Seatbelts must be worn at all times by anyone travelling in a car. It's the responsibility of the driver to ensure that all passengers under the age of 17 are wearing their seatbelt. The fine in Ireland for not wearing one is €120, as well as 3 points on your license.
Mobile Phones when Driving
A mobile phone cannot be used at any time while driving in Ireland. The only exception is when you're calling the emergency services. It's not just an offence to be on the phone while driving but also to hold your phone in your hand.
This means it's also illegal to send a text, scroll social media or switch songs using your phone. You also cannot hold your phone on another part of your body while driving, such as talking with the device between your shoulder and ear.
The fine for driving while using your mobile phone is €60 and at least two points on your licence. Such laws have become more common across the world recently, but if your own country has more lax mobile-phone-usage laws, you shouldn't use your phone while driving at any time when visiting Ireland.
Drinking & Driving
Most countries impose a no drinking and driving rule, and Ireland is no different. You should avoid drinking and driving at all, and if you're stopped by the Garda, they can conduct a breath test that will show how much alcohol is in your system. The legal limit for drivers is 50mg per 100ml of blood. This is reduced to 20mg per 100ml of blood for bus, coach, HGV or public service drivers. This is also the case for drivers that have held their licence for less than two years, so you should be more vigilant if this applies to you.
Toll Roads and Bridges
There are some toll roads and bridges in Ireland. This means that you must pay a small fee (usually in cash) every time you cross the bridge or go through the toll. For this reason, it's a good idea to keep a small amount of cash in your car in case the toll doesn't accept cards. You will be given some advance warning for a toll road, so keep an eye out for road signs.
Who has Right of Way?
Right of way can be confusing when you're driving on the side of the road you're not used to. Right of way should be given to vehicles approaching on the main road at uncontrolled junctions. This means that when you approach a junction and you wish to pull out, either to the right or left, you must wait for a safe gap before pulling onto the main road.
As a general rule, right of way should also be given to those coming from the right. This means, at a roundabout, you must only pull out when there's a safe space to do so and you must give way at a junction to other cars trying to pull in or cyclists/pedestrians trying to cross.
If in doubt, right of way should be given to the right.
Petrol Stations
Fuel stations that stock petrol and diesel are dotted all over Ireland so you'll be sure to find somewhere to fill up your vehicle. The prices can vary at each station, but they will usually be displayed on a screen upon approaching the forecourt. Some stations will also have electric charging points for you to charge your electric vehicle, if you have one.
Emergency Contact Number
Countries across the world have different emergency contact numbers. In Ireland, it's the same as the UK, so dial 999 or 112 in an emergency to get through to the police, ambulance service or fire brigade.
We hope this guide has covered everything you'll need to know about driving in Ireland. Enjoy your trip and use your car to see all the beautiful sites this country has to offer.
First published by Ian O'Reilly