Christmas Markets in Europe
Get Your Dose of Festive Cheer
Last updated: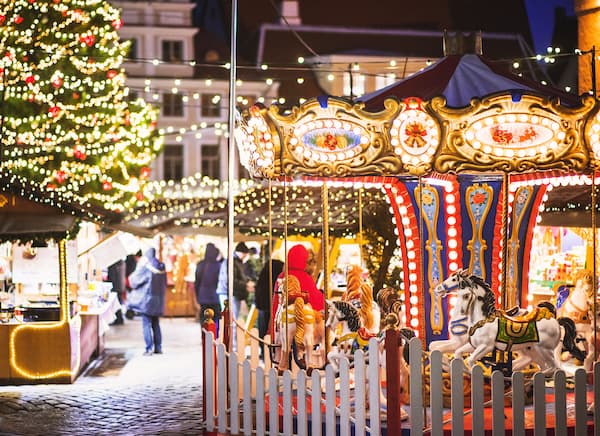 There's no better way to get into the Christmas spirit than visiting a Christmas market. We have compiled a list of some of the best in Europe, complete with fairy lights, hot chocolate and Santa's Grotto!
Vienna
The festive period is a great time to visit Vienna. There are over 20 winter markets scattered across the city in December, with stalls selling a selection of Christmas decorations, handcrafted goods and warm food. The Viennese Dream Christmas Market is one of the best that the city has to offer. The market is located in the square outside the City Hall, which is a beautiful backdrop, particularly when it is lit up at night.
Manchester
The Manchester Christmas Market was first set up in 1999 and has continued to grow ever since. There are now nine different markets across the city, including The Ice Village; which opened this year. The Ice Village includes an ice skating rink, Santa's Grotto and the Ice Bar, where you can warm up with some mulled wine or hot chocolate! Flying from Dublin to Manchester takes just over an hour and fares are usually very affordable, making it a great option for a day trip.
Nuremberg
The Nuremberg Christmas market is more traditional than some of the others we have mentioned. Most of the products being sold are locally handmade, giving you the perfect opportunity to get unique Christmas presents for your friends and family. There is also a variety of local delicacies for you to enjoy such as sweet gingerbread and the renowned Nuremberg grilled sausages.:
Copenhagen
The Tivoli Gardens is one of Copenhagen's main Christmas markets. Each year this amusement park is decorated with thousands of glittering fairy lights, which looks spectacular at night. With stalls, amusement rides and performances in the Tivoli Concert Hall, this Christmas market offers lots to do for both young and old alike. If you can't make it before Christmas, consider visiting around New Year as the gardens put on several nights of impressive firework displays between Christmas and New Year
Galway
For those looking for a Christmas market at home, Galway's Continental Christmas Market is a popular choice, with 350,000 people visiting it last year. This year the market will also have amusement rides such as a ferris wheel and carousels. The market is held in Eyre Square from 16th of November to the 22nd of December.
Whether you're heading for Manchester's ice skating rink or Copenhagen's sparkling Christmas lights, protect your weekend trip with our great value travel insurance. Get a Quick Quote here and you could have your policy within minutes!
First published by Ian O'Reilly