Viral Christmas Car Décor to Avoid This Festive Period
TikTok Trends to Stay Away From
Last updated: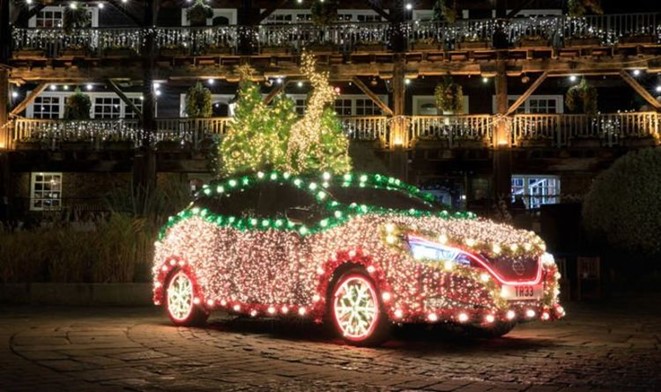 From festive DIY hacks to gift inspiration, TikTok is a great place to go for ideas, particularly around Christmas time. One of the trends that seems to grow in popularity every year is decorating your car, with searches for "Car Christmas Decorations" soaring up by 209% in the past month, so you can spread festive cheer wherever you travel.
However, it is always important to be mindful of your presence on the road. So as car insurance experts, Chill warns of the trends you might want to avoid.
TikTok Christmas car decor trends to avoid
1. Wrapping LED lights around the exterior of your vehicle
It may look fun and certainly embodies the bright spirits we associate with this time of year, but covering your car in LEDs is not a trend you should partake in. Amassing 2.4 million views and over 433k likes, TikTok creator, @slickedandslow, shows their extravagant Christmas car decor.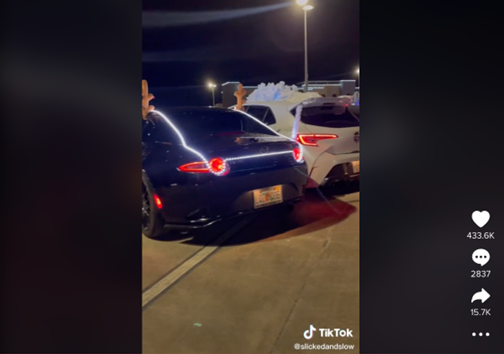 Image credit: TikTok/@slickedandslow
Chill recommends that this trend should be avoided as having extra lights around your vehicle can be distracting to other drivers on the road. This can be highly dangerous. Also, altering the exterior of your car can be classed as a modification which in some instances can void your insurance and invalidate your cover.
2. Adding tinsel and lights around your windscreen
Another trend taking TikTok by storm is adding tinsel and fairy lights across your front dashboard, as seen by creator @idelettevanvuuren.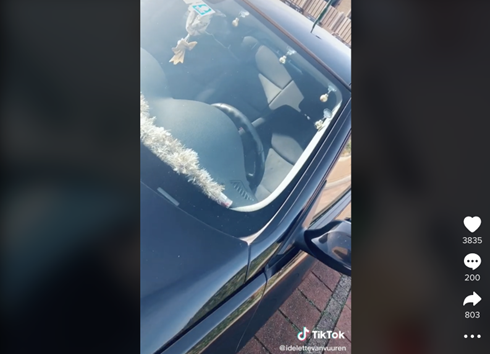 Image credit: TikTok/@idelettevanvuuren
It may look festive but adding anything to your car that can affect or restrict visibility can be incredibly hazardous. With 72k views and over 3800 likes, this video is clearly receiving a lot of attention. But it is important not to copy this trend as driving with restricted vision can be classed as careless driving and result in a fine of up to €5,000.
3. Adding fairy lights to your car interior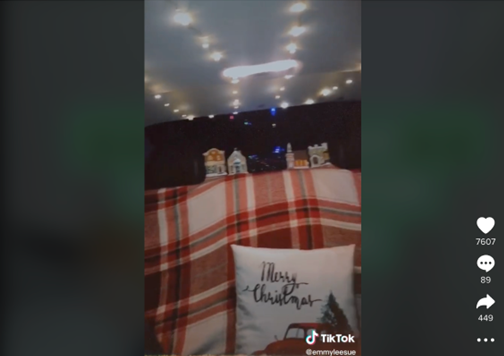 Image credit: TikTok/@idelettevanvuuren
The third most popular festive car decor trend is adding fairy lights or LEDs to your vehicle's interior, the video by @emmyleesue has received nearly 72k views and over 7600 likes. However, experts express their concerns. It has been noted that the lights can distract other drivers and impair your view of the rear window screen, potentially affecting your ability to drive safely.
Expert warns against Christmas car decor that could void your insurance or land you a fine
Despite the TikTok Christmas car decor popularity, experts at Chill advise that any additions to your vehicle that can impact visibility or others on the road must be avoided. "You must always drive with the utmost care and vigilance, especially during the winter months when more adverse weather conditions are excepted. Adding anything to your vehicle that could hinder or block your line of sight or distract others on the road, can be very dangerous. If you are found with things such as added LEDs inside your car or large Christmas decorations added to your windscreens this could be classed as 'careless driving.' An offence that could land you a fine of up to €5,000.
Whilst every car insurance policy is different, most do not cover modifications. Especially if you have not made your insurer aware. Adding various objects to your car exterior such as lights can count as a modification and therefore make your insurance void. This is not only illegal but will mean you are no longer covered if the worst was to happen."
How to decorate your car safely
So, what about the ways you can add some festive cheer to your vehicle without putting yourself or others at risk? We've found several creative ways to get into the holiday spirit safely.
Adding a winter /festive scented car air freshener - many brands offer Christmas scented car air fresheners around this time of year.
Adding Christmas stickers to your vehicle - although you should ensure the stickers can be removed with ease when January rolls around (so you don't damage or leave any residue on your car), this is a fun way to decorate that doesn't distract others
Festive car mats - from red gingham patterns to classic Christmas characters, you can shop a variety of car mats for your footwell that are decorative, yet safe
Whether you decorate your car this Christmas or choose to save the decorations for your home, be sure to always drive safe, taking extra care in the winter months.
First published by Ian O'Reilly