Everything You Need To Know About Disabled Driver's Car Insurance
Driving Without Limits
Last updated: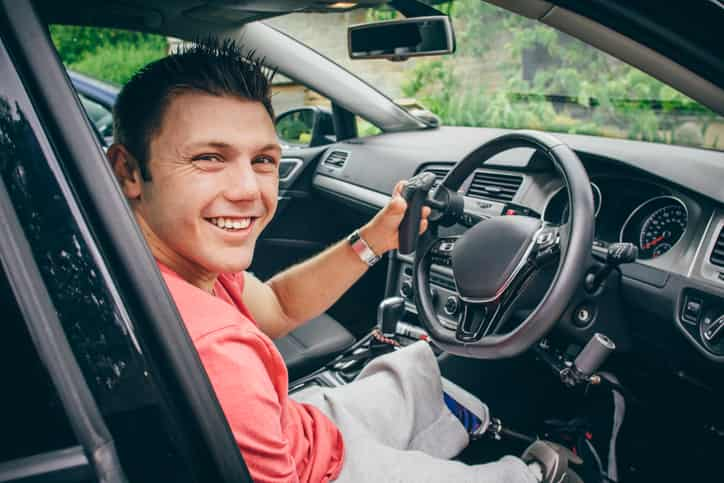 If you have a physical or sensory impairment, you may find it difficult to maintain your independence. Doing everyday things such as filling a car up with petrol or checking your tyre pressure can be very burdensome and sometimes impossible. It can also be more expensive to maintain an independent lifestyle as homes and cars may need to be modified and full-time carers could be required.
Under the Equal Status Acts, it is illegal for insurers to refuse cover to a person because of their disability. It is also illegal for insurers to charge higher premiums because of a disability.
So now that you've determined you can get car insurance as a disabled driver, here are some additional benefits you might qualify for.
What long term disability benefits are available to disabled drivers?
There are lots of long term disability benefits available to disabled drivers in Ireland to help them maintain their independence as much as possible.
For drivers without a disability, car modifications will increase premiums, but insurers understand that some modifications are a necessity for disabled drivers. The Disabled Driver and Disabled Passenger scheme allows a certain amount of tax to be paid back to the car owner.
Vehicle Registration Tax and Value Added Tax can be claimed back to a driver or a passenger with a disability and a valid Primary Medical Certificate (PMC). A PMC is available to people with severe and permanent disabilities, which could include loss of use in both hands, arms or legs, or loss of use in one arm or leg and very limited movement in the other.
As a driver on this scheme, you could earn back €10,000 if your vehicle has been modified, or €16,000 as a passenger, dependent on the vehicle having an engine size of 6,000cc or below. This could include a refund of Vehicle Registration Tax, a refund of Value Added Tax on the purchase of a vehicle and a refund of Value Added Tax on the cost of modifying the vehicle.
Your vehicle will qualify if it has been adapted or modified to assist the driver or passenger(s). For example, the driver might need hand controls instead of foot pedals or the passenger might need a swivel seat. Vehicles that belong to charitable organisations can also qualify if they have an integrated ramp, automated lift or other modifications to assist people with disabilities.
Do I qualify for a fuel grant?
If you qualify for tax relief on the above scheme, you'll also qualify for a fuel grant. This allows you to claim back some of your annual fuel usage. The rates are:
€0.59 per litre of petrol
€0.48 per litre of diesel
0.10 per litre of liquefied petroleum gas
You can claim a maximum of 2,730 litres per year. For a standard petrol car that does 35 miles per gallon, this equates to around 21,000 miles per annum.
Where can disabled drivers park?
Being able to park in a disabled spot will be a relief for people who are blind or have severe physical limitations. A European Parking Card (also known as a Disabled Person's Parking Permit or a Blue Badge) costs €35 every two years and is available to people living in Ireland with certain disabilities. The card isn't registered to the car so it could be used in someone else's vehicle too.
People who are PMC holders or registered blind are automatically eligible for a pass. If you don't meet this criteria, you can still apply. The Department of Transport defines a disabled person as 'A person with a permanent condition or disability that severely restricts their ability to walk', so you could be accepted for other health problems or if you struggle to walk unassisted. When you apply, a medical practitioner must complete the medical section of the application form in which they will describe your level of mobility.
With a permit, you can park in any disabled space, usually identifiable by the wheelchair symbol on the road. You still cannot park on double yellow lines and you cannot block loading bays or bus lanes. You'll find that the spaces are located near amenities such as shops, work, banks etc. You'll also find that multi-storey car parks have disabled spaces near to the lifts.
You can apply for a parking permit through the Disabled Drivers Association of Ireland. The cards are valid in any EU country so take it with you if you go on holiday.
WHAT OTHER FACTORS SHOULD YOU CONSIDER WHEN LOOKING FOR CAR INSURANCE FOR DISABLED DRIVERS?
Once you think you've found a car insurance policy and an insurance provider that suits you, there are further factors to consider to make sure the policy includes everything you need it to.
Vehicles for disabled people might be fitted with expensive technology and modifications that standard cars may not have, such as hoists, ramps or hand controls. If your car were stolen or vandalised, would a replacement vehicle have the same modifications, enabling you to continue to drive? Make sure you value your vehicle whilst considering the costs to replace any modifications.
You might want to add a carer or family member as a named driver so they are able to drive your car too. Chill can search the market for you to ensure and find a policy that works with you.
Finally, you need to inform the National Driver Licence Service (NDLS) of any notifiable medical conditions or changes in your medical conditions. Failure to do so could void your insurance. A full list of conditions the NDLS needs to be made aware of can be found here.
Driving can be daunting for someone with physical limitations. But luckily, there are many benefits available to you as a disabled driver so you can continue to go about your life with as little difficulty as possible.
First published by Ian O'Reilly