Buying A Used Car
What To Look For When Buying A Used Car
Last updated: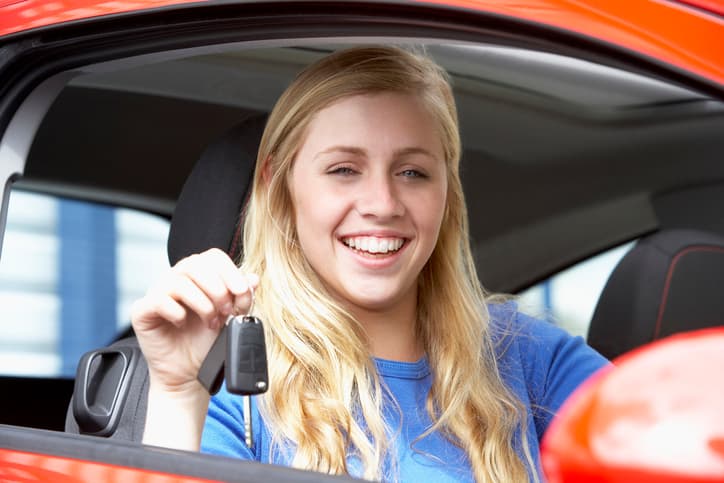 From interior inspections to money matters, we have all the information you need to buy a used car confidently.
There are lots of benefits to buying a used car instead of a new one, particularly if you find a good offer. But many people might worry about getting a second hand vehicle. What if there's something wrong with it? Does it matter that it has done quite a lot of mileage?
Here at Chill, we know a thing or two about helping our customers get a great deal on their insurance cover, and so we want to provide you with some tips on how to get a great deal on your vehicle too. Here are some things to look out for when buying a used car, from how to avoid a second-hand disaster, to useful financial tips for making sure your money goes a long way.
How To Choose A Used Car
Firstly, you should do some general research. Have a look at all the makes and models of car out there so you can narrow it down to a few you can comfortably afford. Think about the features you want the car to have too. For example, you may want a five door car instead of a three door, or you may prefer a petrol engine over a diesel one. Here are some features we think you should consider:
Engine size
Number of doors/seats
Cruise control.
Start/stop engine
Sat nav
Heated seats
Air conditioning
Tyre pressure sensors
Bluetooth connectivity
You may also want some high-end, tech essentials like a reverse camera, parking sensors, keyless entry and automatic high beams.
A vehicle with all of these will cost more than one without, so really think about how much you need each one, or whether you can live without it.
Once you've narrowed down your options to a particular number of doors, engine size or other features, you'll find there are a limited number of cars to pick from. When you've decided on the make and model for you, you can start shopping.
What To Inspect When Buying A Used Car
Once you've found a vehicle that you'd like to buy, there are certain things you should inspect to ensure the car is worth the purchase price and to make sure there isn't anything wrong with it.
You should ask the seller for the vehicle's documentation, which will give you some helpful information about the car's accident and insurance history. It will also allow you to check the odometer of the vehicle, giving you the exact miles that have been driven.
Before you think about test driving the vehicle, you should give it a thorough interior and exterior inspection.
The Interior Inspection Should Include The Following
When checking the interior of the car, you should carry out a thorough inspection of these things:
Seatbelts
Seats
Electronic devices, such as windows, sat nav, radio or heating/air conditioning
Mileage (that it tallies with recent NCT documentation)
When checking the interior, have a good look around the inside of the car and not only make sure it's clean and neat, but examine the gear stick, steering wheel, driver's seat and pedals carefully and look for excessive wear. Does the wear on these areas look consistent to the amount of miles the car has done? Look for signs that the odometer has been interfered with or adjusted.
Test the seat belts by pulling them fully out and letting them retract back in. They should retract at a smooth and relatively quick pace. If they are slow, get stuck or don't retract at all then this is a sign of excessive wear and they may not support you in case of an emergency. Lift the carpets in the boot of the car; check for the spare tyre and its condition, the wheel brace and jack, and for signs of rust or damage in the floor of the boot. If possible, look under the carpets and mats inside the car to make sure the mats are not covering any hidden horrors!
The Exterior Inspection Should Include The Following
The exterior inspection should be more in depth and may take longer, but every check is important to ensure the car is working correctly and is safe to drive. Make sure you inspect these areas:
Under The Bonnet
Ask about service history, cam belt changes and make sure the oil and water levels are well topped up. The oil should be a golden colour and free from debris, if it's not, it could indicate neglect.
Check the top of the engine, (you may need to unclip the engine cover to do this but don't be afraid, you are potentially investing a lot of money into buying this car, its your right to inspect all of it) and underneath the engine oil cap for a white, thick substance which could indicate a damaged head gasket and often-irreparable engine damage.
Finally check the battery terminals and connection points for rust and corrosion. You should also be able to spot whether the battery is new, so ask why and when. Inspect the tray on which the battery sits to make sure it's in good condition, free from rust and secure.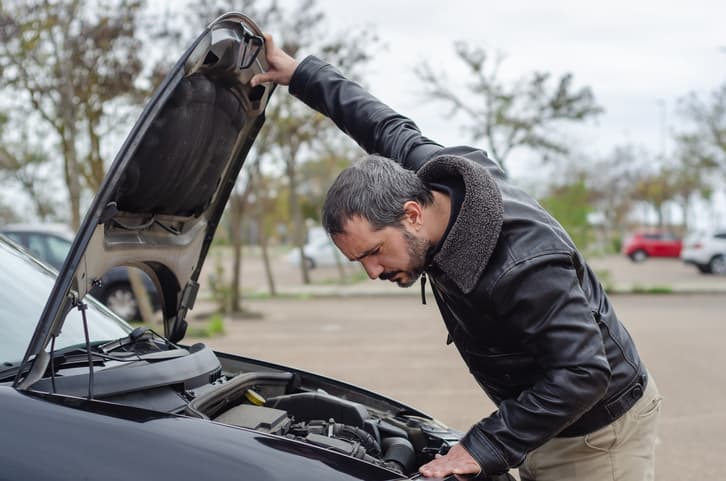 Body Work and Exterior
You should kneel on the floor and check that the front wheels are directly in front of the rear wheels. This shows the suspension is intact and means it's less likely that the vehicle has been involved in a collision. You should check over each panel for scratches or dents, and inspect the windscreen for small chips.
Make sure all panels on the body work line up and that it is in good condition. Check for irregularities in the paint work or speckling, as this would often indicate that a panel has been replaced and the car could have been in a crash. Inspect the rubber window seals for specks of paint which can also indicate a re-spray, and make sure all doors, windows, boot and bonnet open and close smoothly.
Then, examine each tyre individually, checking the tread depth is a minimum of 1.6mm, and check there is a spare. Over inflation, under inflation and tracking issues can result in uneven tyre wear. You don't want to have to pay anything from €60-100 per tyre to replace them immediately after you have bought the car.
Windows and Lights
Check the serial numbers on all the windows, including front and rear windscreens, to make sure they all match. Inconsistency in the window serial numbers can mean that one was replaced. This is a common issue and at some time or another we all may have to replace a window or windscreen from a chip or break, but ensure that not all of the windows have been replaced.
The same goes for the headlights. Check for different brand names or manufacturers, again a sure sign if one of them has been replaced, posing the question why? Perhaps it was in a collision? A head-on collision that needed new headlights will force the question of what other damage has occurred under the bonnet: the engine may have been shunted back or the radiator damaged if it was a high impact collision.
Finally, you need to test all the lights. You may need to ask the salesperson or the owner of the vehicle to get in and turn the lights on and off. You should also ask them to put their foot on the brake so you can check the back brake lights are working.
The exterior inspection should also include checking the oil level and the timing belt. This usually has to be replaced every 60-100,000 miles and can be quite expensive, costing around €500.
Tips To Make Buying A Used Car Easier
Once you've carried out the interior and exterior inspections, there are three tips we recommend following to ensure the car you choose is the best option for you:
View The Car In Daylight
We advise that you make an appointment to view the car during daylight. This will let you take a much closer look at the vehicle and help you spot if there are any tell-tale signs you should be aware of. Equally, avoid viewings if it's raining as this will make imperfections more difficult to spot.
Check The Log Book Has The Owner's Name On It
If you're going to purchase a car make sure that the name on the log book is the person who is selling it. Ask to see an official form of ID from the seller to make sure that all the paperwork is in order. If there's a discrepancy, this should set alarm bells ringing.
Get A Professional To Inspect The Car
The best piece of advice we can give you is to get a professional to give the car the once over before parting with any cash. If you know a mechanic or somebody from a garage, they may be able to help you out. Otherwise, we'd recommend you pay a professional for their time. It'll be money well-spent in the long run.
Can You Test Drive A Car Without Buying?
You should never purchase a car without giving it a test drive. The test drive allows you to get a feel of the car and you don't have to buy it just because you've driven it.
While on your test drive, it's important to check that the car responds to your movements so ensure that the brakes, acceleration and steering are working correctly. You should also keep an eye on the temperature gauge that shows you how hot the engine is getting. An overheating engine could be a sign of a coolant leak.
If you are driving a stick shift car, another important thing you need to do is check that the gears shift comfortably and smoothly as a new gearbox can be costly to replace.
Finally, try to test drive the vehicle on a route that you are comfortable with, allowing you to focus more on the car because of your familiarity with the roads.
How Should I Pay For A Used Car?
A very important thing to remember when buying a second hand car privately is to use online check facilities to make sure the car has no outstanding finance. With the onset of the economic crisis, people were often unable to repay any finance agreements on cars they bought during the boom. Selling a car with outstanding finance is illegal and you will be held responsible for the repayments if you buy it. www.motorcheck.ie offers a quick and easy facility to check this, along with www.cartell.ie and www.hpifirst.ie.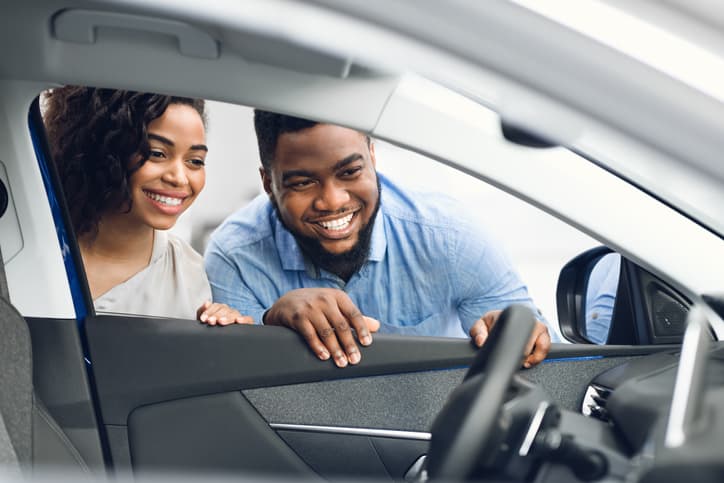 Without stating the obvious, check motor tax and NCT. If there is no NCT, ask why, and if it failed, ask why.
If you buy a car from a garage or car dealer, then you are protected by the Sale of Goods and Supply of Services Act 1980. This means that any terms and conditions set out with the dealer will have to be honoured by them.
However, if you were to purchase a car from a private seller, you must ensure that you are completely satisfied with the vehicle before you pay the seller.
Finally, we recommend that no matter what method of payment you decide to use, whether it be cheque, online banking or even cash, always remember to get a signed and dated receipt.
Tax and Insurance On Used Cars
With the new tax brackets that came into effect in the revision of the 2012 budget, cars that were registered in 2008 and older still have to pay the higher rate of tax (still dependant on the engine size of the car), while newer cars can enjoy cheaper tax rates starting from €307 per year for a 1.1-1.2 litre engine.
Remember, car tax, insurance and NCT are legal requirements so it's important you factor in these costs when buying a car.
When buying your car, make sure to consider what your car insurance could cost you. We get inundated with calls from young male drivers looking for insurance quotes on cars they have already purchased, only to find out that they cannot afford the premium. Be mindful that you need a reliable car that won't break down and cost you a fortune on repairs, yet is small enough and sensible enough to get the best deal on insurance premiums.
Should I Pay Cash For A Used Car?
If you do choose to pay for your new vehicle with cash, make sure that you have a signed receipt from the seller, whether this is a dealership or a private sale. It should contain the date of the purchase, what you've purchased from them, the addresses of both the seller and the buyer and signatures.
If there are any disputes, for example about the condition of the vehicle, the receipt is proof of when you bought it and who you bought it from.
At the end of the day, the car or dealership you go with is entirely up to you. So is your car insurance decision. But here at Chill, we pride ourselves on making your life a whole lot easier by searching for the best policy for you. So if you are looking for a new cover or have any questions, just give one of our friendly team members a call on 01 4003400 or get a quick quote above.
First published by Ian O'Reilly