Buying a Car
Old Versus New
Published on by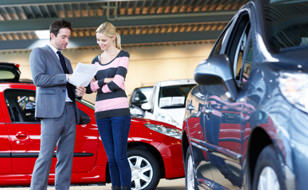 It's not always the safest option to buy an old car for a few hundred euro as it could be riddled with problems and cost you more in the long run. On the flip side, do you choose a brand new one? This in turn has many benefits but the cost is significantly higher.
With everyone having to watch their spending now more than ever since the contraction of the economic climate, we look at a few tips for you to watch out for when buying a new or second hand car to ensure you aren't sold a lemon and get the best deals!
---
Second Hand Cars
The second hand car market can hold great value today with many people having to downgrade their existing car or sell the second family car so they only pay running costs for one.
There are loads of great online facilities to search through when looking for a second hand car such as www.carzone.ie, and www.cbg.ie. Both of which make it easy to set your budget and requirements.
However, as we all know with cars, a cheap deal is often too good to be true. So if you decide to check out a used car, here are a few tips to help you make the right decision:
Body work and exterior
Make sure all panels on the body work line up and that it is in good condition. Check for irregularities in the paint work or speckling, as this would often indicate that a panel has been replaced and the car could have been in a crash. Inspect the rubber window seals for specks of paint which can also indicate a re-spray, and make sure all door, windows, boot and bonnet open and close smoothly.
Check for uneven tyre wear. Over inflation, under inflation and tracking issues can result in uneven tyre wear. You don't want to have to pay anything from €60-100 per tyre to replace them immediately after you have bought the car.
Windows and lights
Check the serial numbers on all the windows, including front and rear windscreens, to make sure they all match. Inconsistency in the window serial numbers can mean that one was replaced. This is a common issue and at sometime or another we all may have to replace a window or windscreen from a chip or break, but ensure that not all of the windows have been replaced.
The same goes for the headlights. Check for different brand names or manufacturers, again a sure sign if one of them has been replaced, posing the question why? Perhaps it was in a collision? A head on collision that needed new headlights will force the question of what other damage has occurred under the bonnet, the engine may have been shunted back or the radiator damaged if it was a high impact collision.
Interior
Have a good look around the inside of the car and not only make sure it's clean and neat, but examine the gear stick, steering wheel, drivers seat and peddles carefully and look for excessive wear. Does the wear on these areas look consistent to the amount of miles the car has done? Look for signs that the odometer has been interfered with or adjusted.
Test the seat belts by pulling them fully out and letting them retract back in. They should retract at a smooth and relatively quick pace. If they are slow, get stuck or don't retract at all then this is a sign of excessive wear and they may not support you in case of an emergency. Lift the carpets in the boot of the car; check for the spare tyre and its condition, the wheel brace and jack, and for signs of rust or damage in the floor of the boot. If possible, look under the carpets and mats inside the car to make sure the mats are not covering any hidden horrors!
Under the bonnet
Ask about service history, cam belt changes and make sure the oil and water levels are well topped up. The oil should be a golden colour and free from debris, if it's not, it could indicate neglect.
Check the top of the engine, (you may need to unclip the engine cover to do this but don't be afraid, you are potentially investing a lot of money into buying this car, its your right to inspect all of it) and underneath the engine oil cap for a white, thick substance which could indicate a damaged head gasket and often-irreparable engine damage.
Finally check the battery terminals and connection points for rust and corrosion. You should also be able to spot whether the battery is new, so ask why and when. Inspect the tray on which the battery sits to make sure it's in good condition, free from rust and secure.
HPI and outstanding finance
A very important thing to remember when buying a second hand car privately is to use online check facilities to make sure the car has no outstanding finance. With the onset of the economic crisis, people were often unable to repay any finance agreements on cars they bought during the boom. Selling a car with outstanding finance is illegal and you will be held responsible for the repayments if you buy it. www.motorcheck.ie offers a quick and easy facility to check this, along with www.cartell.ie and www.hpifirst.ie.
Without stating the obvious, check motor tax and NCT. If there is no NCT ask why, and if it failed, ask why.
---
New Cars
If you decide to push the boat out and purchase a brand new car from a manufacturer, you can avail of fantastic deals from many of the largest car dealers in the country. New car sales in January 2012 were just over 21,000 which was a 1.5% increase from January 2011. We take a quick look at the current offers and what to keep and eye out for!
Renault
Currently if you order a brand new car from any official Renault dealer, you can avail of a trade booster which is essentially a trade in amount. This amount can vary depending on the car being traded in and the model being bought. For example a brand new Clio (3 door) with a retail price of €12,990 gives a trade boost of €2000, giving a total price from €10,990 and free 5 year unlimited mileage warranty. That offers great peace of mind motoring for a brand new car.
Kia
Kia continue to offer their 7 year warranty on all new cars, which far outweighs any other warranty offer from other manufacturers in the country. The exact terms and conditions vary between models so be sure to check this before you buy! General wear and tear is not covered under the 7 year warranty, and items such as audio and batteries are limited to 3 and 2 years respectively with paintwork only being covered by 5 years.
Toyota
The Japanese car giants continued to be the top selling car brand in 2012 so far, and have now proudly aligned themselves as a sponsor of Olympic hopeful Katie Taylor. Toyota's strong selling point at the moment is their 4.9% APR on selected new car models until May 2012. Trade in and part exchange is available and subject to the car being traded in.
---
Tax and Insurance
With the new tax brackets that came into affect in the revision of the 2012 budget, cars that were registered in 2008 and older still have to pay the higher rate of tax (still dependant on the engine size of the car), newer cars can enjoy cheaper tax rates starting from €307 per year for a 1.1-1.2 litre engine.
Remember, car tax, insurance and NCT are legal requirements so it's important you factor in these costs when buying a car.
When buying your car, make sure to consider what your car insurance could cost you. We get inundated with calls from young male drivers looking for insurance quotes on cars they have already purchased, only to find out that they cannot afford the premium. Be mindful that you need a reliable car that won't break down and cost you a fortune on repairs, yet is small enough and sensible enough to get the best deal on insurance premiums.
We all want you to enjoy safe motoring, so if you follow the handy tips outlined here, hopefully we can help make your motoring and car buying experience as painless as possible.
Have you got any tips on buying an old or new vehicle?
Modified Date: