Boosting Your Property Value: Landscaping Your Garden
Ideas For Your Home
Published on by Fergal Lynch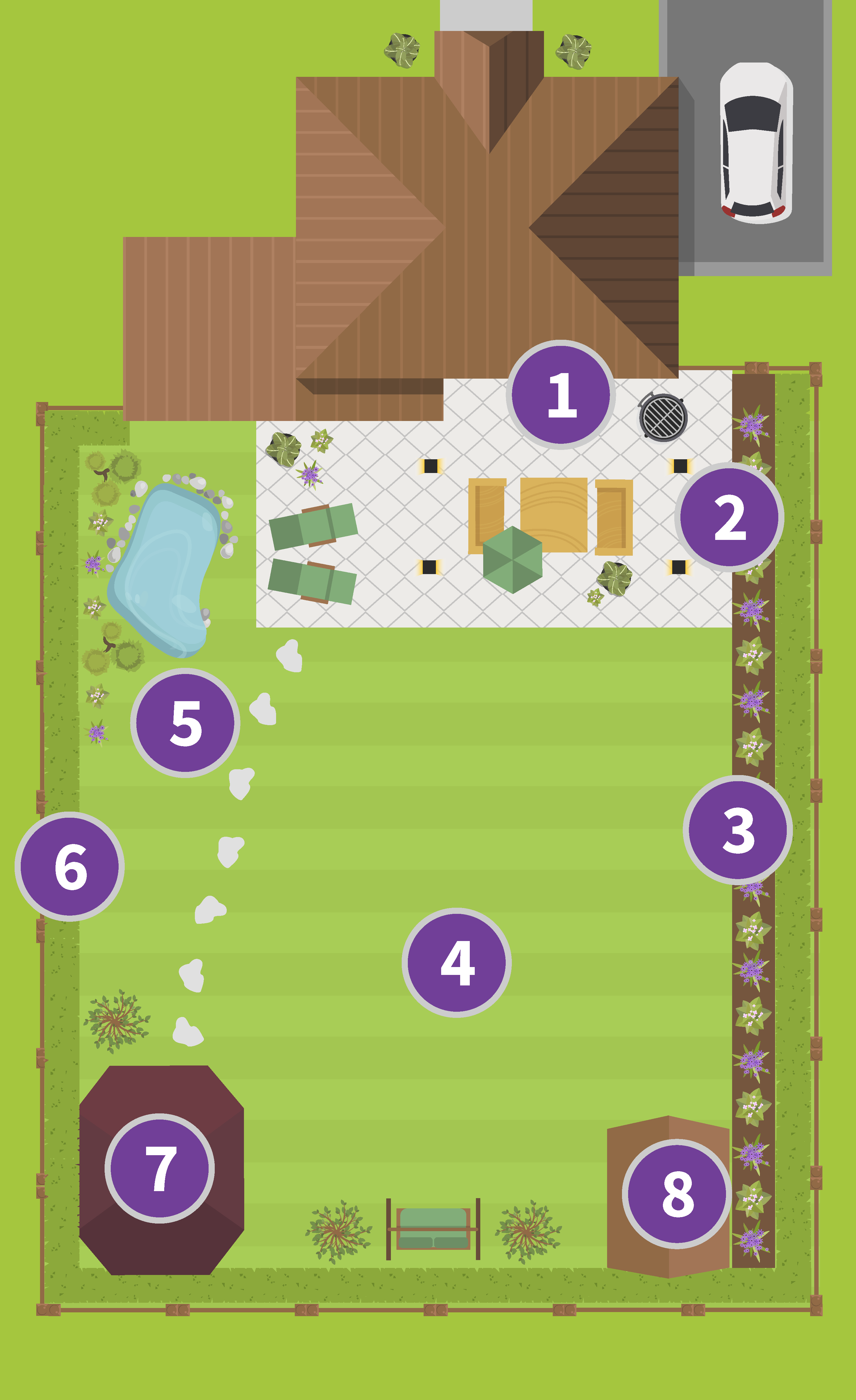 It's no secret that making improvements inside your home can increase the value of it - but what about the outside? Landscaping your garden can really help make your property more appealing, especially when it comes to selling up.
As part of our #GenerationGarden campaign, we conducted a survey to find out what people look for in terms of outdoors space, using the results to put together a selection of useful tips that could help you boost the value of your home.
1. Patio area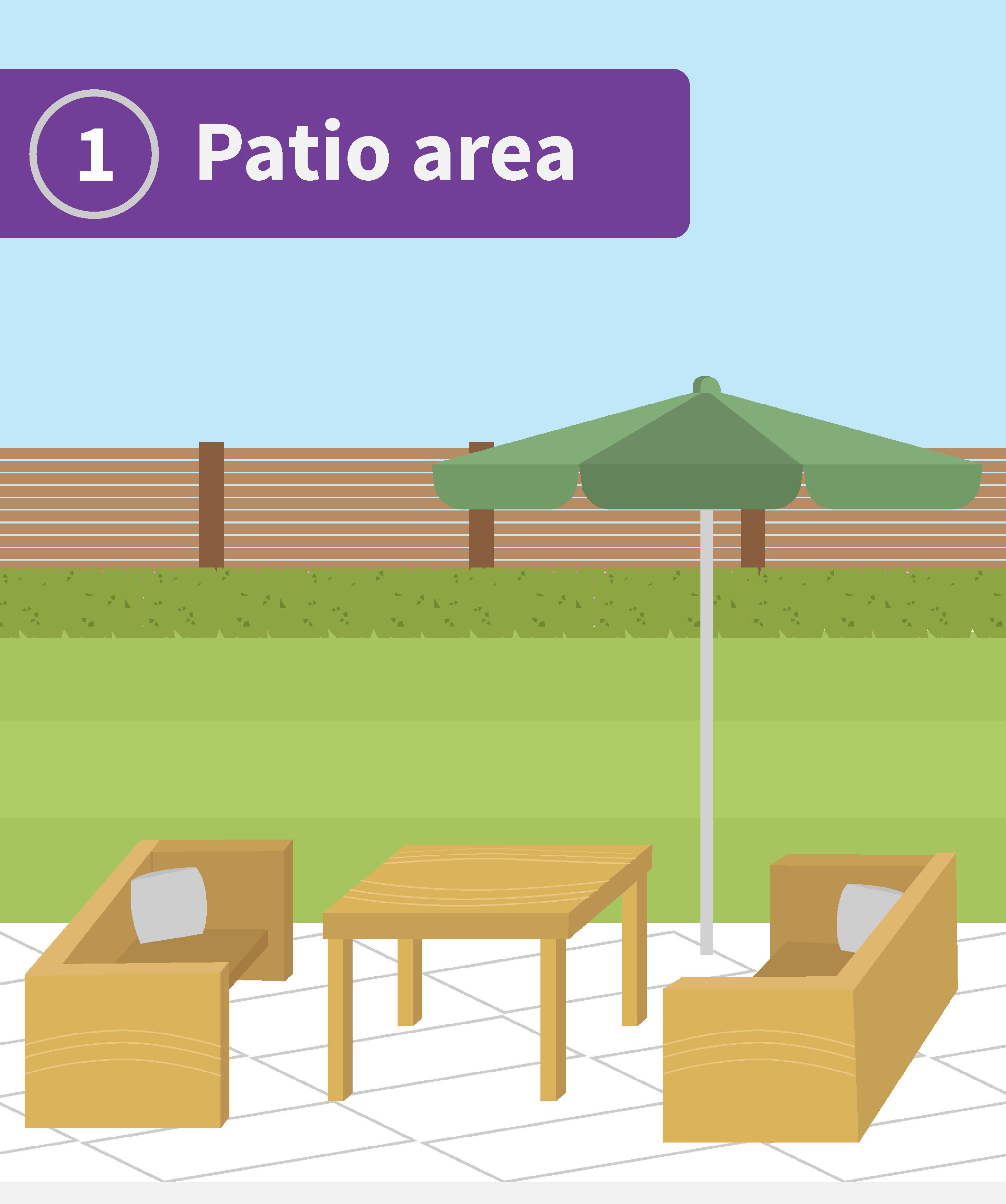 When asked about the reasons why they would want a property with a garden, 64% of our survey respondents said to sit outdoors in their spare time, while 49% said they'd use the outdoor space for hosting parties. With that in mind, having a patio area makes these activities a lot easier and more enjoyable. A patio provides a solid surface on which you can place outdoor furniture, potted plants and accessories such as BBQs.
Over a third (35%) of our survey respondents said they would look for patio flooring in a garden. This garden feature is practical for just about anyone, especially families with children, so if you're keen for your home to appeal to a wide range of potential buyers, it's worth considering adding a patio area.
There are a variety of patio options to choose from. You could pave a small corner of your garden, perhaps picking an area that gets the most sunshine throughout the day. But if you want to go all out, you might decide to create a large patio space at different levels. Either way, having a patio is one way to improve the outside of your home.
2. Lighting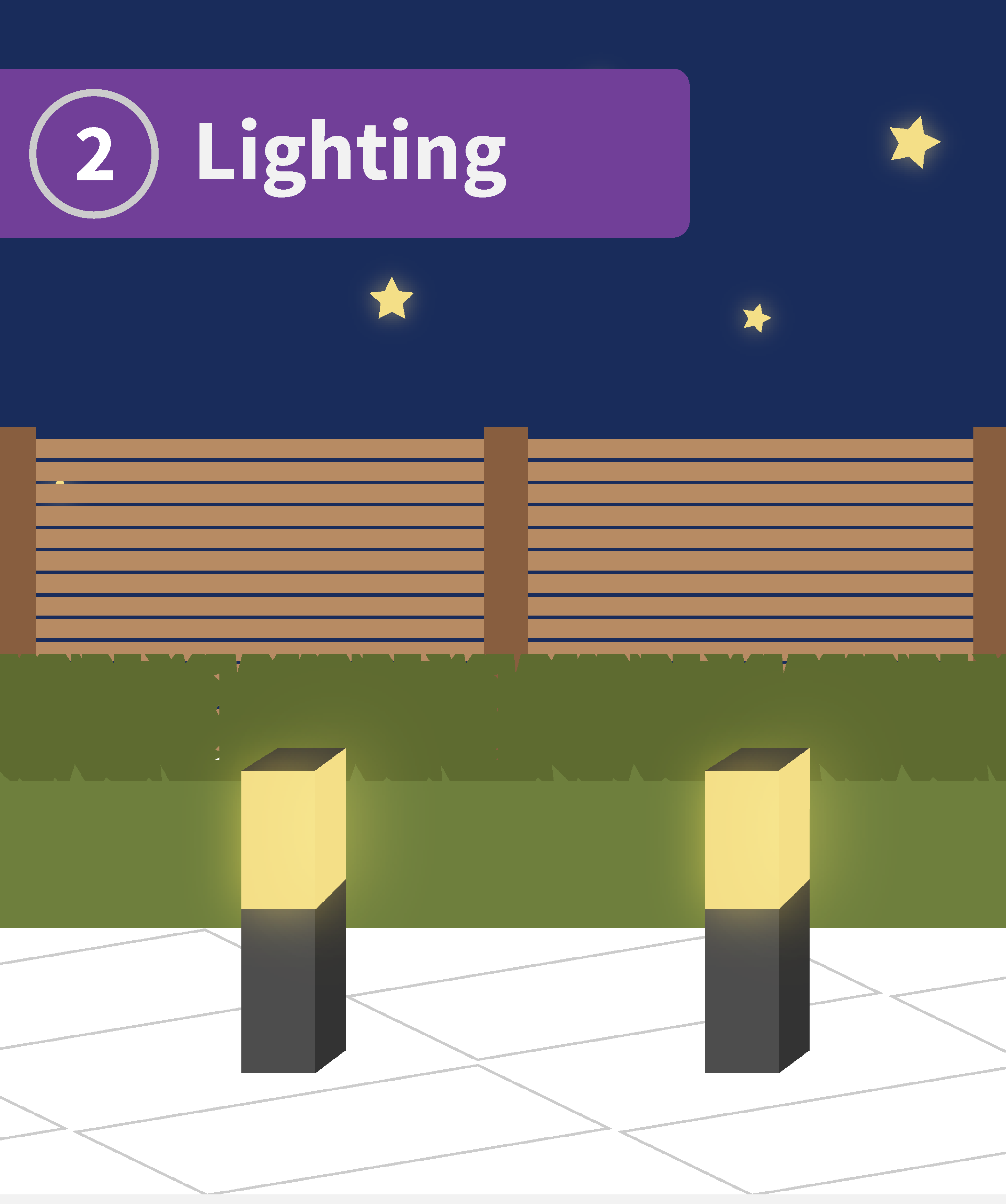 Gardens provide a lot of use during the day, but once the sun goes down, it can be difficult to continue to make the most of this space into the night. Including some lighting in your garden makes the area instantly more usable, and it's a great way to add extra value to your property.
When it comes to lighting, there are many options to choose from. For instance, you could fix wall-mounted lanterns to the side of your house or add upward-pointing spotlights into your flower beds. You could even install lights in the paving slabs of your patio so you can sit outside of an evening. Having a well-lit garden is extremely practical, and it's something that could really help boost the worth of your home.
Aside from being decorative and practical from an enjoyment aspect, a well-lit garden is ideal for security reasons too. Keeping the outside of your property lit up throughout the night may even help you feel safer in your own home.
3. Flowers and plants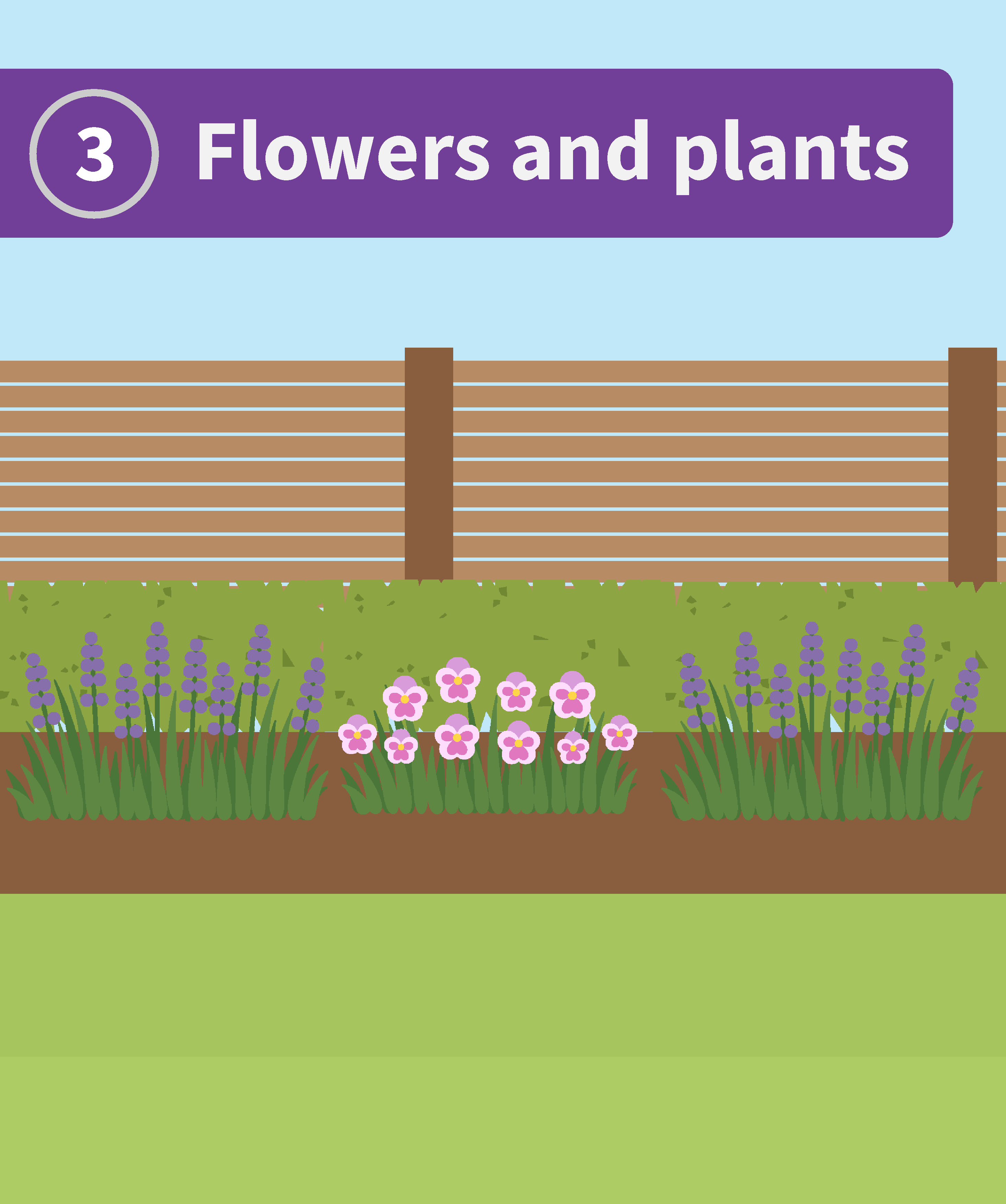 As obvious as it seems, beautifying your garden space with flowers and plants can give the area a serious uplift, and in turn, make your property more appealing. Simply spending some time adding beautiful blooms and leafy shrubbery is a quick, easy and relatively inexpensive way to not only make your home more attractive for you to enjoy, but also entice the interest of buyers if you wanted to sell up.
Flowers and plants have the potential to make your outdoor area more aesthetically pleasing, and there are many different ways in which you can do this. For example, you could choose to add potted plants and hanging baskets - an ideal solution if your garden is a little on the smaller side. If you have the spare square footage, you could dig out flower beds - a feature that 62% of our survey respondents said they would look for in a garden.
From hydrangeas and lavender, to roses and petunia, there is an almost endless list of plants and flowers that can add a variety of colours and texture to your outdoor space, so it's definitely worth a visit to your local garden centre for supplies if you're keen to improve the look and feel of this part of your home.
4. Lawn landscaping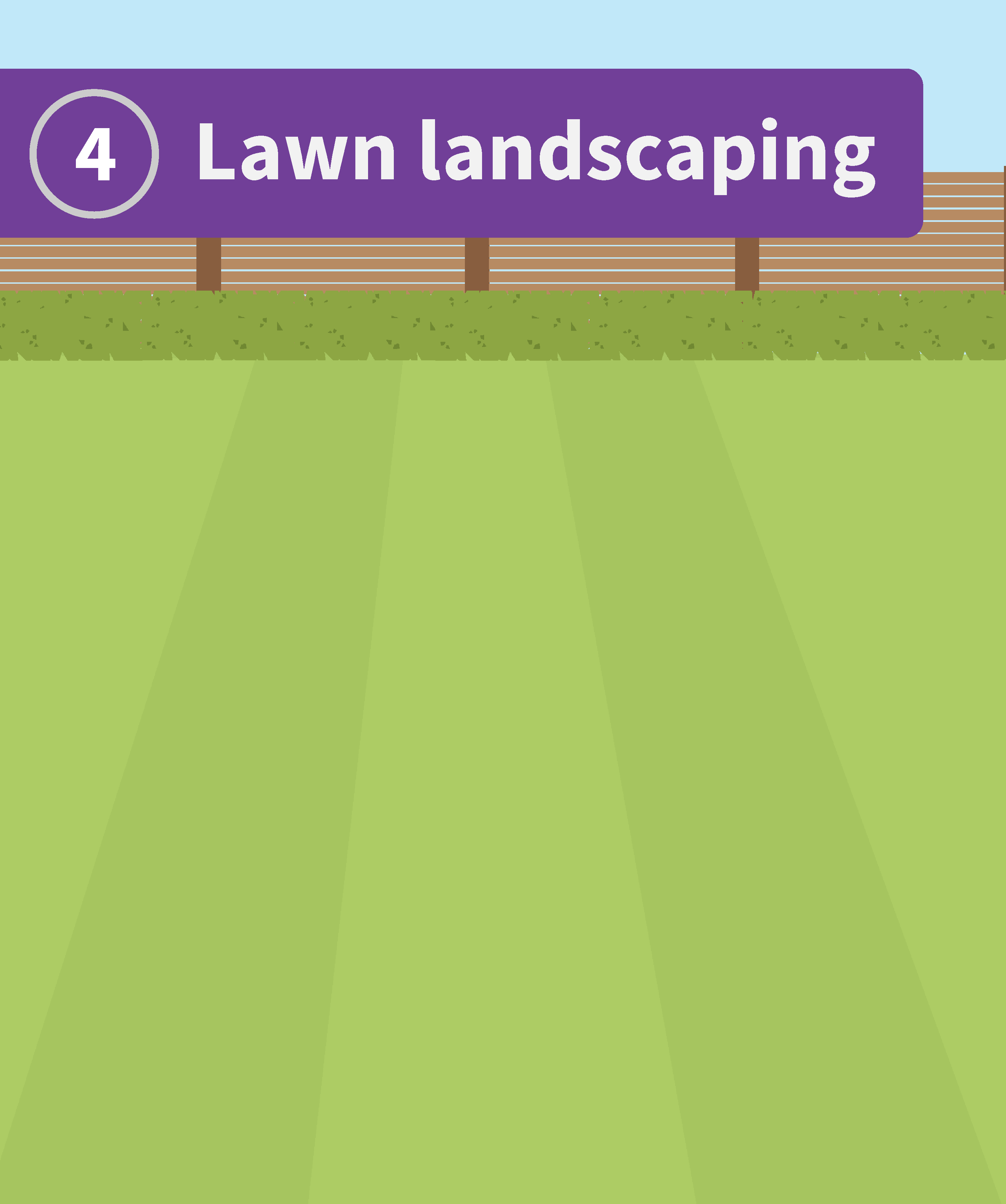 According to our survey, the majority (70%) of respondents said that grass space was a feature that they would look for in a garden, while nearly half (41%) of those asked said they would actually be put off a property if it didn't have a lawn area at all. This data shows that grass really matters, so if you want to bolster the value of your home, it might be a good idea to look into lawn landscaping.
If your property currently has no grass at all, don't panic. With a little work, it is possible to lay down turf to totally revamp the outside of your home. When it comes to turfing, it's important that you prepare the ground with the right materials first, taking into account potential drainage issues and what work needs doing to prevent this. You will also want to ensure the turf is high quality and understand how to care for it correctly. While you could do this work yourself, you may want to enlist the help of an expert to make sure it's done properly.
Alternatively, you could even ditch the real stuff and opt for artificial grass instead. Although an artificial lawn may seem appealing in terms of it being low maintenance, it might not be to everyone's taste. Interestingly, our survey showed that 24% of people said this type of grass could discourage them from a property, so you might want to think twice before deciding on what type of lawn to go for.
5. Water feature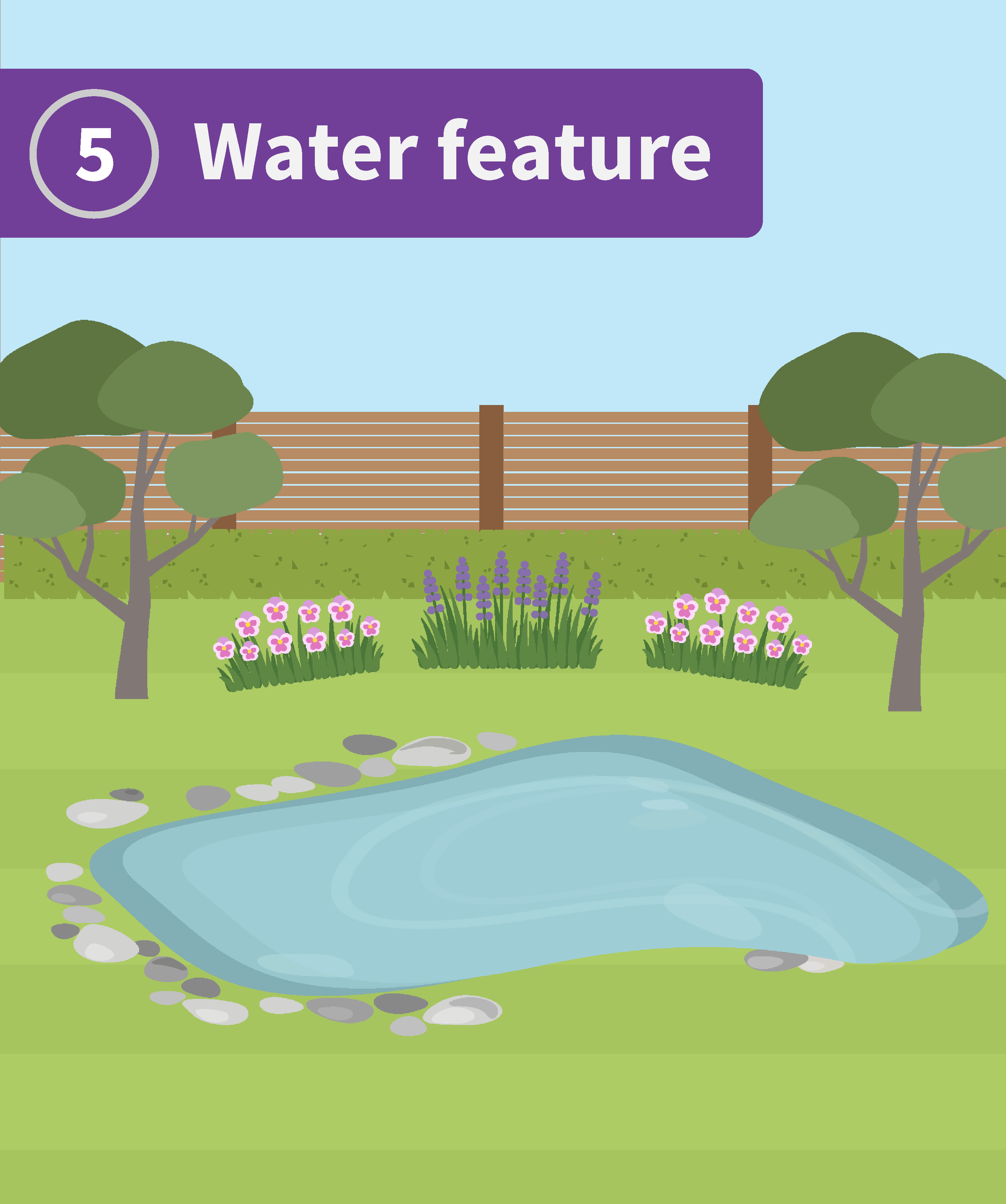 Adding a water feature is a relatively easy way to improve the aesthetic of your outdoor space in an instant. These garden features provide ornamental interest, as well as offering soothing sounds for you to enjoy while you're relaxing outside. Water features can even act as a habitat for wildlife, encouraging animals such as birds and squirrels to visit you on a daily basis.
The good news is, you needn't spend a fortune to introduce a water feature into your garden, and there are an array of different designs you can opt for. For example, you could go for something simple such as a wooden or stone water bowl, or you could choose something more impressive, like a pond or fountain.
While 31% of our respondents said they would look for a water feature in a garden, 18% said they would be put off by one. It's important to realise that water features are not to everyone's taste, so it's worth keeping that in mind if you're thinking about installing one in your space.
6. Fencing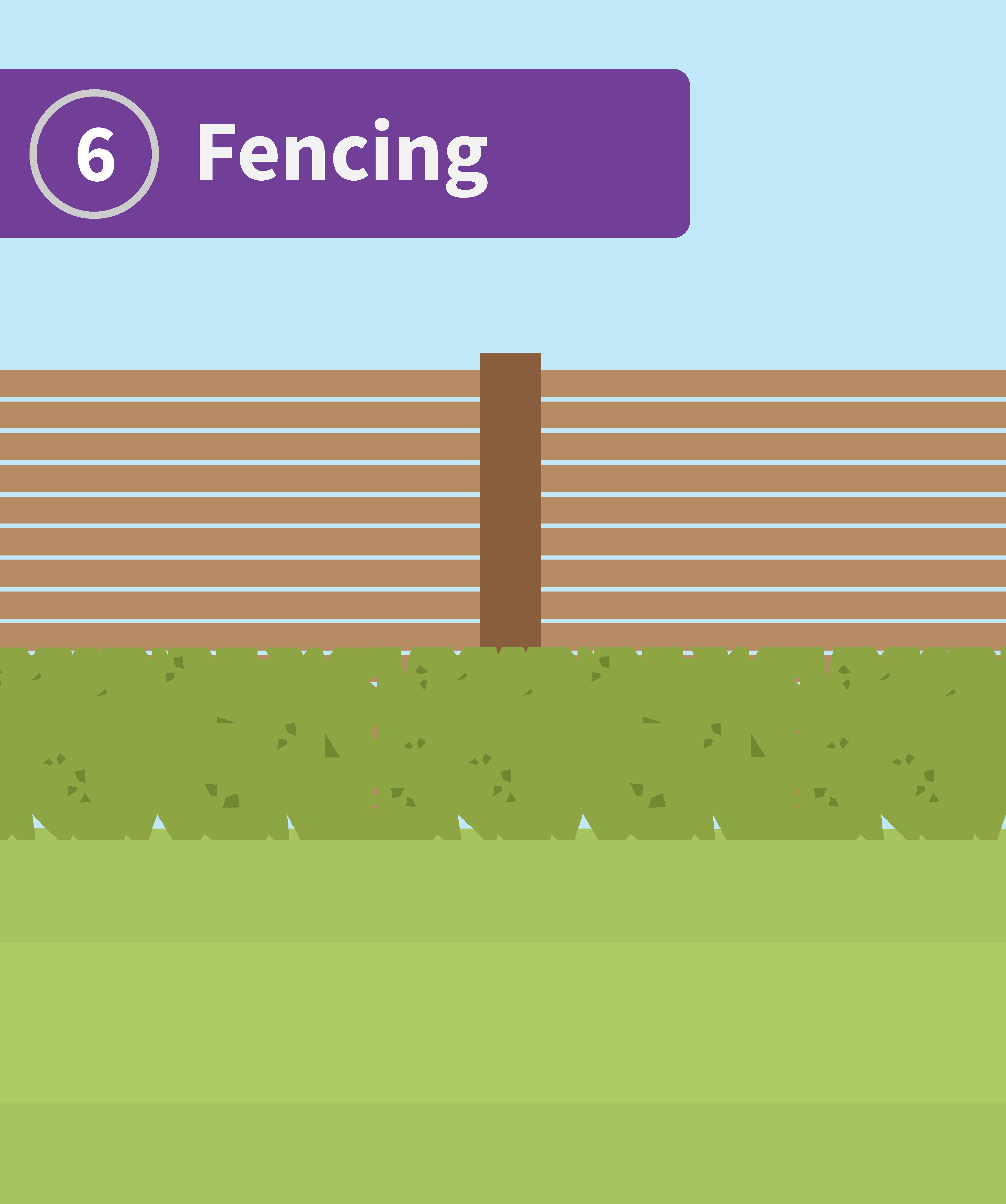 A well-maintained fence can significantly increase the value of your property, as well as making the space look more visually appealing. You could be waiting a long time for trees and shrubs to grow so fencing can be a quick fix to add some privacy to your garden. What's more, a secure fence is ideal for keeping pets in, as well as ensuring the safety of children while they play outdoors.
If you're keen to update the fencing around your home, you could simply smarten up what you've already got by adding a lick of new paint or stain, or you could choose to replace it. If you decide to go for new fencing, make sure you choose high quality materials, and choose a fence style and height that's right for your property.
By all means, you could install your fencing yourself - but it could end up being a big job, especially if you have a large garden. So that the fencing is properly fitted into the ground, it might be a good idea to hire a professional to do it for you.
7. A garden office pod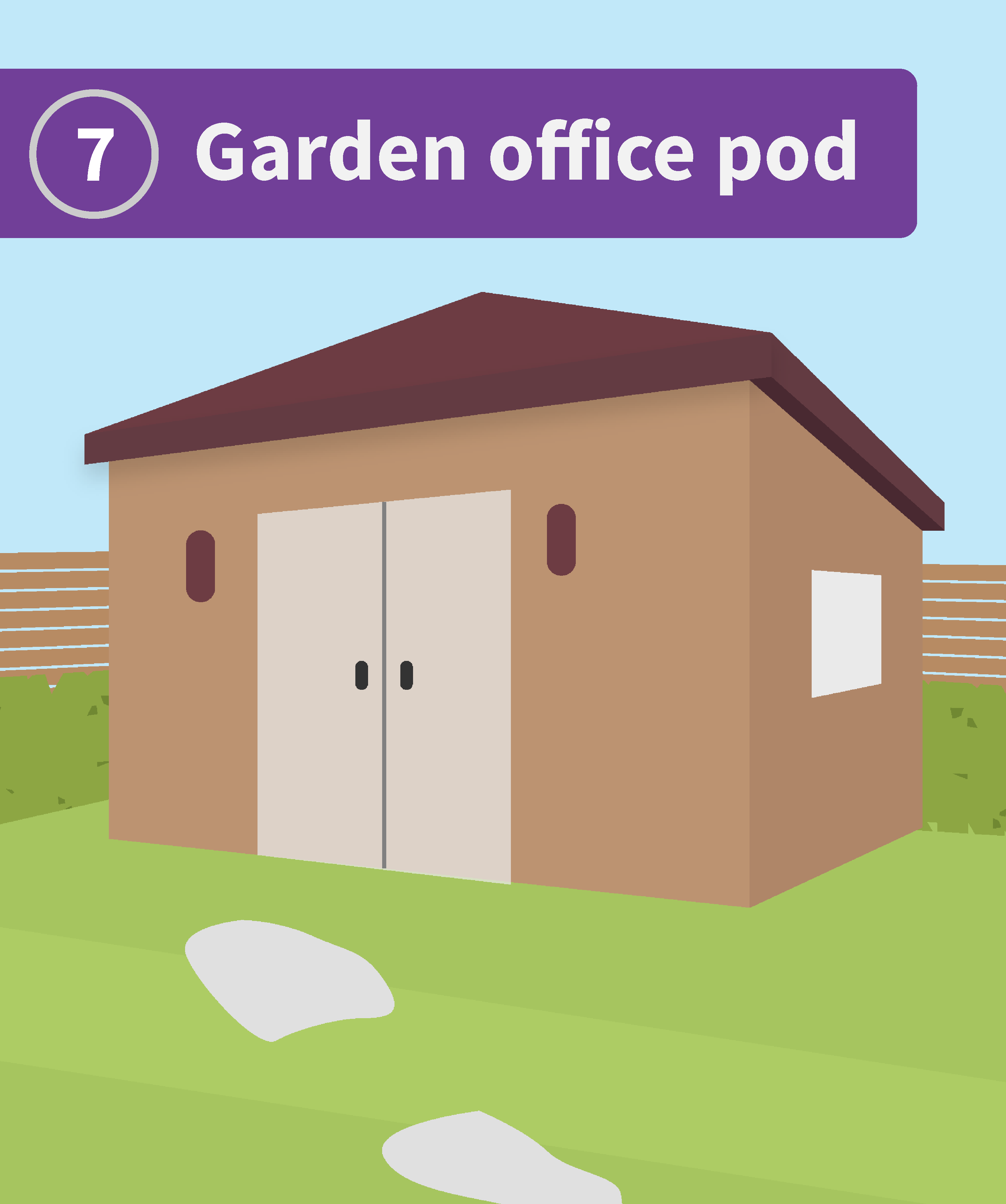 To really up the value of your property, why not add an office pod to your outdoor space? A garden office pod provides a comfortable, modern area that you can use all year round. Unlike a home office or study, garden pods are completely detached from the rest of your home, making it a quiet, relaxing spot for you to enjoy with fewer distractions.
Aside from having practical benefits, office pods can be a super stylish addition to your garden too. Usually, they are built using premium materials and feature large windows, allowing the natural light to pour in. In most cases, you should find that you're able to customise your pod, giving you the chance to pick everything from cladding, to window designs, to the flooring inside.
While a garden office pod is extremely beneficial to you, it can also significantly increase the value of your property - especially if you choose to add useful internal features such as lighting, heating and electrical sockets. In fact, according to our survey, 65% of respondents said they would pay more for a property that has a garden pod.
8. Storage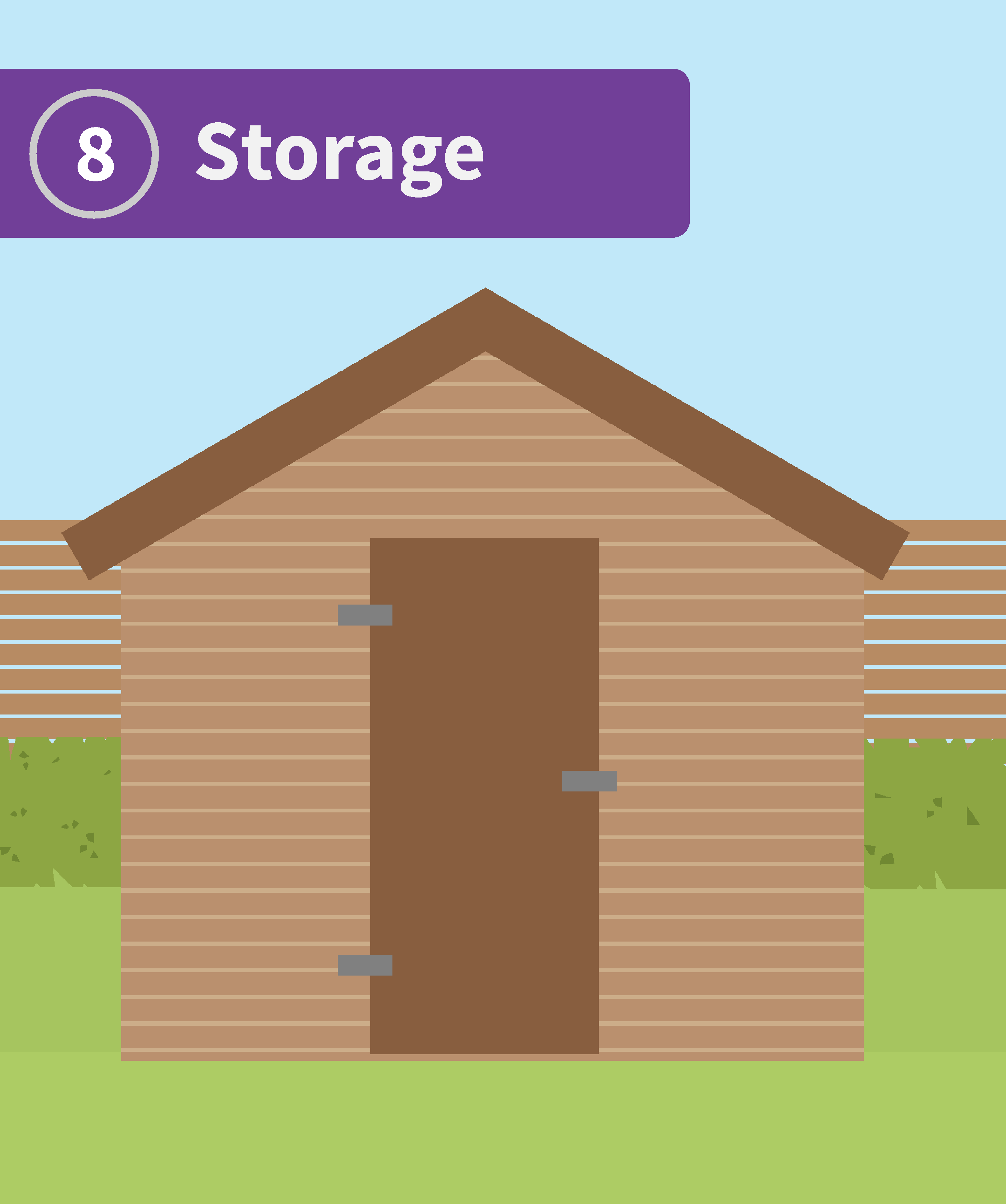 An especially important element if your property doesn't have a garage, adding extra storage to your garden is a must. A shed is an obvious solution to this, as it provides you with somewhere to store just about anything, from your lawn mower to the kid's bikes. In fact, over a fifth (21%) of those surveyed said that storage space is a reason why they would want a garden on their property, so it's worth considering to make your home more appealing.
When it comes to adding storage in your garden, you'll want to ensure that it provides you with a dry, safe and protective place to store your items. For example, you may want to consider asking a professional company to build you a bespoke shed using high quality materials and expert craftsmanship to ensure the fixture is properly installed and is guaranteed to withstand the outdoor elements.
It's a good idea to consider the size of your storage too. If you're limited on outdoor space, try not to overwhelm the area with a big shed. Instead, you may want to go for a more compact design and customise the inside with shelving to make the most of the space both inside and outside.
#GenerationGarden
Modified Date: