Blunders Before You Board
Five Airport Faux Pas
Last updated: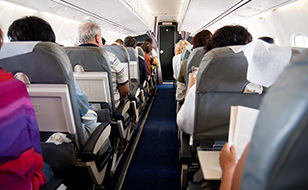 If you are yet to jet off this summer, bear in mind that we are now smack, bang in the middle of the holiday season and airport traffic is continuing to grow. So to spare you any airport anguish, we've assembled a collection of classic blunders for you to check out before you check-in.
Don't be late

Rather an obvious one to begin with, but you will undoubtedly spot more than a few frenzied travellers when you arrive at the airport – hopefully you won't be one of them! The general rule of thumb is to turn up at check-in 90 minutes before your flight is due to depart, and if you're parking a car, add another 30 minutes.

Last gasp cash

If you tend to do your holidaying around continental Europe and the Mediterranean, you could be forgiven for forgetting that sometimes you have to change currency when you go abroad! However, it can prove costly to come to this realisation after you arrive at the airport. The currency exchange provided in airports can be painfully expensive and leave you with a bad taste in your mouth – not ideal the way to start your holiday.

Check-in charges

Another hurdle to jump before you even get on the plane is the check-in. Some airlines provide self service kiosks or a good old fashioned face-to-face service, but as a general rule, we'd advise that where possible, you check-in and print boarding passes before you get to the airport. This is of paramount importance if you are travelling on a budget airline – which will mercilessly punish those who forget. It's not uncommon to see check-in charges exceed the price of the flight itself!

Weigh-in

If possible, you should weigh your bag before you get to the airport to make sure that it doesn't exceed your luggage allowance. The allowance afforded to each passenger can vary from one airline to the next, but when it comes to exceeding your limit, a more common theme emerges – the charges can be extortionate. It also pays to bear in mind that if you are over you limit on the way out, it's more than likely that you will be on the way back too!

Musical chairs

Finally, if you've elected to travel with an airline that does not assign seating, you should make sure you get to your gate early if you'd like to sit together. Head directly to your gate after check-in if you want to give yourself the best chance of getting the seats you want.
One major mistake that you do not want to make is travelling without insurance. If you would like to speak to a member of our friendly team about great value travel cover, give us a call today on 01 4003400.
First published by Fergal Lynch