The Big Freeze
Tips to See You Through
Last updated: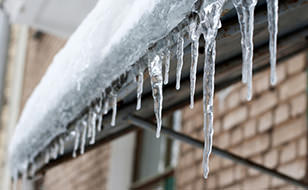 The days are well and truly getting shorter as we head into the winter months and it's been reported that we could be facing a serious cold snap this year. To make sure you are prepared to face the elements this season, we've come up with a host of handy tips to keep you safe on the roads and warm in your homes – we've got you covered!
Hints to heat your home

Nowadays, many people find it difficult – not to mention costly – to keep their house warm during the winter months. However there are a few simple steps you can take to make sure your home is ready to take on the cold and keep your heating costs to a minimum.
Close all of your windows properly. A simple one to start off, but it's imperative that the heat you pay for stays inside your home. You might even like to get your hands on some window caulk or plastic to keep them air tight.
Only heat the rooms you use. There's no point paying to heat your spare room if the only occupant is your DVD collection and your summer clothes! It's also a good idea to close doors inside the house to keep the hot air in and the cold out. You can even try stuffing a towel at the bottom of the door to stop the heat escaping.
A heavy set of curtains can really help retain the heat and can save you money in the long run. But don't forget to open them during the day to let in as much sunlight as possible.

Slow in the snow

The roads can be a dangerous place during a cold snap, whether you've been driving for 3 months or 30 years it's important to be extra careful. Of course the easiest way to avoid any accidents during a cold spell is to wait for conditions to improve before taking the car out. It may sound inconvenient but it beats doing damage to your car in an accident. Try to make the weather forecast part of your daily routine – awareness of the conditions will help you to be more prepared.
Take it slow. Remember to decrease you speed to reflect the conditions and leave yourself plenty of room to stop – at least three times more space than usual is a good place to start. When you do have to brake, do so gently and in plenty of time. Sudden or sharp application of brakes can cause your car to slide on the slippery surface.
If you are unfortunate enough to end up in an accident, remember its often other out of control vehicles that pose the greatest threat – so stay well off the roadway when calling for help.
If you're looking for great value car insurance or home insurance this winter, just hit Get a Quote now, we'll be happy to help!
First published by