Best for Business
Ireland is Good for Business and So Are We
Last updated: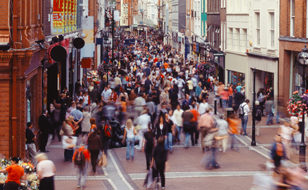 We at Chill like to think that Ireland is a great place to do business in and it seems that we are not the only ones that think this. US financial magazine Forbes has released their annual list of countries they see as being best for business. In the magazines eight annual rankings, Ireland tops the list moving up from sixth position in 2012. Forbes ranks 145 countries on 11 different factors such as property rights, innovation, taxes, technology, freedom (personal, trade and monetary), and stock market performance.
Ireland's Social appeal

Kurt Badenausen the senior editor at Forbes, explaining Ireland's ranking, suggested that, "despite Ireland's well documented economic troubles it still maintains an extremely pro-business environment". This pro-business ethos has seen the likes of Twitter, Google, Facebook and Linkedin set up offices here in Ireland over the last number of years.
But it's not just Multinationals who are investing here. Chill is a 100% Irish owned company that has invested significantly in technology and people. We now have 240 people employed at our ofiices in Sandyford and Cork. A clear signal that we have confidence in Ireland as a great place to do business.

Irish Success

We think there are many examples of Irish companies and Irish people who contribute on a daily basis to the continued growth and development of the Irish economy and often go unnoticed. We would like to shout about all those Irish companies and people who go about their daily business with such vigour. The recent Websummit was an example of what is possible if we put our minds to something and allow ourselves to think whats possible!
We like to think that Chill are one of many Irish companies leading the charge to get Ireland going again. We are comitted to providing solutions to SME companies for all their Insurance needs.
When your business has an insurance question you can speak to us in Chill and we'll take it from there!

Experience

Our experienced business team are always on hand to assist with your business insurance needs. We provide insurance for all shapes and sizes of businesses and talk to a number of insurance companies to make sure we get the best deal for you and your company.
To find out what we offer you and your business why not visit our dedicated business insurance page to get a quote or call us now on 01 4003400 to speak with a member of our business insurance team to see how we can get you covered at the right price.
First published by Fergal Lynch