Become a Great Driver!
Advice for Young Drivers
Last updated: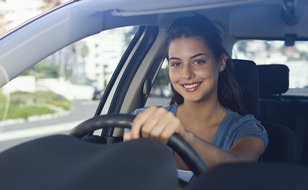 Are you new to the road? Have you just passed your test? Or perhaps you're keen to learn more about tackling the Irish roads? Whatever your reason, driving safely and keeping claim free can have a big impact on the cost of cover.
As always, we're here to help. This month is Young Driver Month, so we've set our sights on helping young drivers to be safe on the road. Why not read on and get some top tips to help keep the cost down, and that no claims bonus protected?
Road runner

Meep meep - we all know how fast the illusive Road Runner can be, but that doesn't mean when driving we have to match his speed. Speeding is a major cause of road accidents, especially when coupled with poor road conditions and bad weather. So if you want to reduce your chances of a collision, and keep your no claims bonus intact, reduce your speed and keep to the legal limits.

You're surrounded

Remember, you're not the only one on the road. It's important to take your surroundings into account. Always keep an eye on cyclists, motorbikes, pedestrians, other drivers, and road markings. That way you'll be prepared to react faster to a situation as it occurs.

Blurred lines

If you're seeing blurred lines then you shouldn't be driving. Driving under the influence is a definite no-no! It WILL most certainly lead to an accident. The same applies if you are fatigued or taking medication. It is always best to wait until you are alert before you get behind the wheel. You will also run the risk of being disqualified from driving if you're over the limit. This in turn will nullify your no claims bonus.

Keep your eyes on the prize

When driving, your priority is to drive. Avoid distractions and you'll avoid losing your bonus. Texting and using your mobile phone are illegal when driving, and understandably so, as it can break your concentration. Inattentiveness can pose not only a danger to you, but to others around you also. Don't take the risk of checking your phone because even a momentary lapse of attention can cause trouble. Not to mention saying bye-bye to your no claim bonus.
If you have any queries about car insurance policies, why not give our friendly team a call on 01 4003400, and find out what discount could apply. If you're a young driver looking for cover, then hit Get a Quote now.
First published by Fergal Lynch