Baby-proofing Your Home
Making Your Home Safe for Your Baby
Published on by Sinead Greene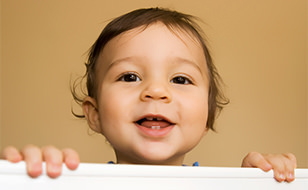 From a baby's eyes, the home is one big bright and colorful playground. Although it's fun to watch your baby discover and learn new things such as crawling, climbing, touching, tasting and smelling, the idea of taking your eyes off your little person can be daunting for many parents.
Our blog looks at some simple home hacks that you can make to ensure your nursery, bathroom, kitchen or any area of your house where your baby might end up is safe well in advance.
---
Bathroom
Always be cautious in the bathroom as 'scrub a dub' time can lead into serious casualties.
Turn down the water temperature.
Never leave your baby alone in the bath and keep your baby within arm's reach.
Drain the water from the tub right after the bath.
Keep toilet seats down and/or use toilet seat covers.
---
Kitchen
Sharp objects like knives, scissors and glasses should never be left out.
Be careful when preparing food i.e. take pips out of fruit and cut food as small as possible.
Store poisonous products with a safety cap on up high in a locked cabinet.
Keep hot liquids out of reach and while cooking, keep pan handles turned inwards.
Ensure refrigerator doors are securely closed.
Keep plastic bags out of reach.
---
Living Room
Secure and cover all furniture especially those with sharp corners such as bookshelves, tables, TVs that could fall over if your baby grabs onto them.
Use childproof locks on all windows, doors, drawers and cabinets.
Don't place furniture near windows should they crawl up and out of window.
It may be difficult but try not to leave your baby alone with a pet, remember it only takes a moment for an accident to happen.
Put gates on stairways to ensure they are tall enough so that toddlers don't climb over.
Use safety plugs or covers on all electrical outlets.
Unplug household items when you have finished using them such as irons, hairdryers and toasters.
Screen and secure off fireplaces so they can't be knocked over.
Install smoke detectors in your home and change batteries frequently.
---
Bedroom
Keep small objects out of reach such as toys, coins, buttons and marbles. Always keep the local GP phone number near-by should anything happen
Remove mobiles from cots before your baby is able to reach up and grab them.
Tie up blind cords, so your baby doesn't mess with them in case they break or worse get tangled up in them.
Use sleepers instead of blankets and remove any pillows/toys from the cot. It may seem far fetched but try learning the signs of choking so you can react fast, even taking a basic class on the CPR could be beneficial in case your baby chokes.
---
It's not physically possible to watch your baby's every move but hopefully our tips will make your home a safer place and in return make it more relaxing for you. Making all of these part of your daily routine will become second nature after a short period.
It's easy to look at your new born and think there's plenty of time to baby-proof your home but our advice is that you can't do it fast enough as before you know it your new born will be a wandering and curious toddler. At Chill Insurance we might not be able to help with how much tummy time or potty training your bundle of joy may need but we'd love to speak to you about insuring your home and it's contents on 1890 30 20 20.
Modified Date: