Baby-Proofing Your Home
Keep Your Little One Safe
Last updated: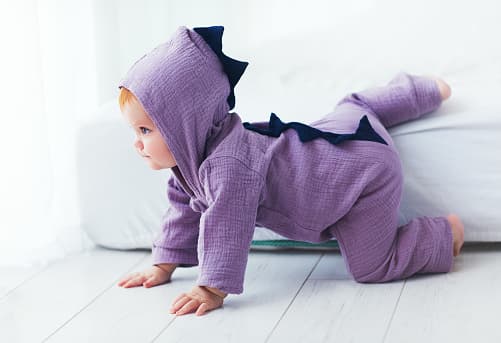 From a baby's point of view, the home is one big playground. Although it's fun to watch your baby discover and learn new things such as crawling, climbing and walking and explore using touch, taste and smell, as your little one develops you'll need to put measures in place to keep them safe around the home.
Our blog looks at some simple home hacks that you can make to ensure your nursery, bathroom, kitchen or any area of your house where your baby might end up is safe.
What to expect when you bring your baby home
Bringing a new baby home can be both exciting and scary. You may have been used to the hospital staff helping you to feed and assisting in other aspects of caring for your baby, but now it's down to you. However, this is the time when you can begin to introduce the baby to your home and to your friends and family, who are probably desperate to meet your new bundle of joy.
Babies don't come with an instruction manual so it's important to take the time to get to know your baby - their habits, their sleeping patterns and their personality. These things should make the transition from hospital to home much easier on all of you. You may find you have questions about everything from caring for your newborn's umbilical cord, to breastfeeding, to soothing a colicky baby - your public health nurse and family doctor are there to help if you have any questions or concerns.
While all of this maybe new and daunting, particularly for first-time parents, it's still important to think about the safety of your new child. Homes can be full of hazards and, though their walking days may seem a long way off, you should begin to consider how you can keep your child safe at home.
How do I keep my child safe at home?
Before you begin babyproofing, you should start by observing potential hazards. It can help to get down to their level and sit on the floor. Are there any particular spaces that look inviting, like small cupboards or places they could hide? Are there specific areas where they could injure themselves? These are the areas that you should aim to babyproof before your baby begins rolling over or crawling.
You may also want to consider taking out home insurance if you don't already have it. This can cover you should any items in your home become accidentally damaged.
How to baby proof your home
Below, you can find our top tips for keeping your baby safe at home. We've run through baby proofing room-by-room to make your task easier.
Bathroom
Your bathroom can be full of potential hazards so you should be cautious of allowing your baby in here. You should supervise them at all times, while also making sure that you keep the toilet seat down and any dangerous objects, such as razors, in cupboards that have child locks on. Medicine cabinets should always be kept locked.
When it comes to bath time, always check the temperature of the water using your elbow and stay with them throughout. Once bath time is over, drain the water straight away so there's no danger of them accidentally climbing back in.
Kitchen
Just like the bathroom, kitchens can be full of dangerous and sharp objects. You should put child locks on each door that your child could reach. Either use a safety lock where the mechanism can be pulled down to open the cupboard or a magnetic lock. You should always put scissors, knives and glasses away, either in cupboards that are well out of reach or that have child locks on, as well as any poisonous items, such as paracetamol.
When you're cooking, use the hobs at the back nearest the wall with the handles turned inwards. This will help to prevent a young child from pulling the pan over and burning themselves.
Living Room
While you may not think that your living room is a dangerous place for a baby or toddler, there are still plenty of hazards to look out for. Coffee tables can have sharp corners and while this isn't a problem for adults, children can easily fall and bang their heads on these. Cover sharp corners with small felt protectors and move anything off surfaces that could be pulled over.
You should also think about the placement of your furniture. Can they climb onto your sofa and then onto a bookshelf that could fall? Or could they climb on something that would allow them to crawl out of a window? Furniture should be placed carefully to avoid these kinds of incidents and large pieces, like wardrobes and bookcases, should be secured to the wall where possible.
If you have a fireplace, this should be screened off so it cannot be accessed and stairways should have a baby gate at both the top and bottom.
Bedroom
Our bedrooms often have blinds in them to keep them as dark as possible to help us get a good night's sleep. You should tie up any blind cords so that your baby cannot play with them. As your baby grows, you ensure that any hanging mobiles are kept well out of the way. When you put them to sleep, you should remove any toys from their cot.
As with coffee tables and other pieces of furniture, you may need soft protectors for the corners of your bed.
General
All rooms should make use of childproof locks on windows and doors, as well as any drawers or cabinets, and plug sockets that are near ground level should have safety plugs installed. Any household items, such as irons, hairdryers and toasters should be unplugged immediately after use and safety plugs put in instead. Small items that may be choking hazards should be kept out of reach or in cupboards.
Finally, smoke detectors should be installed and the batteries should be checked frequently. You should have at least one detector downstairs and one upstairs, ideally in a hallway or landing.
First published by Fergal Lynch