Aye Aye Captain!
Liffey Valley Pirates Village
Last updated: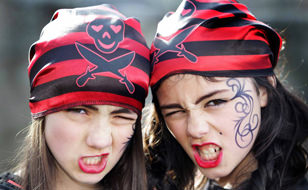 Ahoy there! We are proud to announce that we're this year's sponsor of the Pirates Village in Liffey Valley Shopping Centre.
The Pirates Village swings open its doors at 10am tomorrow, so all your little shipmates will be able to have a swash-buckling good time exploring the best play zone this winter. The village will run until April 2013, so you've got plenty of time to visit.
An hour of play costs just €5 per child and accompanying adults go free, although the play area is only suitable for children aged 1-10 years old. Whilst the kids are enjoying all the pirate fun, parents can take the weight off their feet and keep an eye on them from our parents Chill Zone.
While you are relaxing in the Chill Zone, we can take the hassle out of your insurance as well. Simply give your details to one of our staff members who will arrange a call back to give you a quote at a time that suits you. We will even give you a voucher for a FREE go on the Snow Tube Slide worth €4 as a way of saying thank you.
There are loads of great activities for the kids to enjoy including the mermaid slide, ship-wrecked galleon, and a pirates assault course. If that's not enough to wear them out, there are other awesome attractions including a brand new snow slide.
We also have some free tickets to give away! Simply get a quote from any our pop-up stores.
Keep an eye out on our Facebook page for more great offers over the coming weeks, but for now you can Chill, we'll take it from here.
First published by