As Seen On Film: Car Product Placements
The Business Of Getting Cars On Screen
Last updated: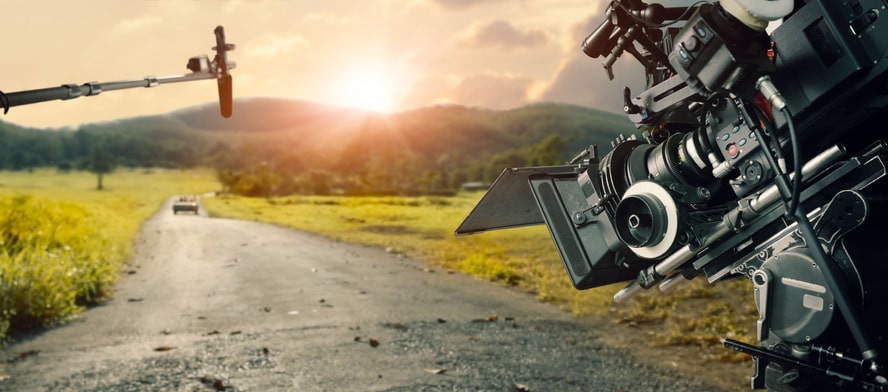 Every year, car manufacturers invest millions of dollars to feature their vehicles in upcoming movies. Sometimes, the cars are only briefly seen for a few seconds, or a couple of minutes if they're lucky. But despite the short amount of screen time, these product placements can mean big things for the brands involved.
The truth is, feature films provide brands with the perfect platform to showcase their products to a large, global audience. Especially if the movie in question is a long-awaited release, these motion pictures can help attract a very high awareness, which in turn, has the potential to boost sales. Of course, product placement is just one marketing technique - but it's an effective one at that.
Here at Chill, we've taken a look at four of the top car manufacturers and explored which high grossing movies their vehicles have featured in, as well as how some of these films have performed at the box office.
Mercedes-Benz
In 2017, Mercedes-Benz managed to appear in an impressive 17 films, some of which were among the highest grossing that year. The luxury automotive brand had two of its vehicles featured in superhero movie Justice League - the AMG Vision Gran Turismo as none other than the iconic Batmobile, as well as its E-Class Cabriolet which can be seen being driven by the one and only Wonder Woman.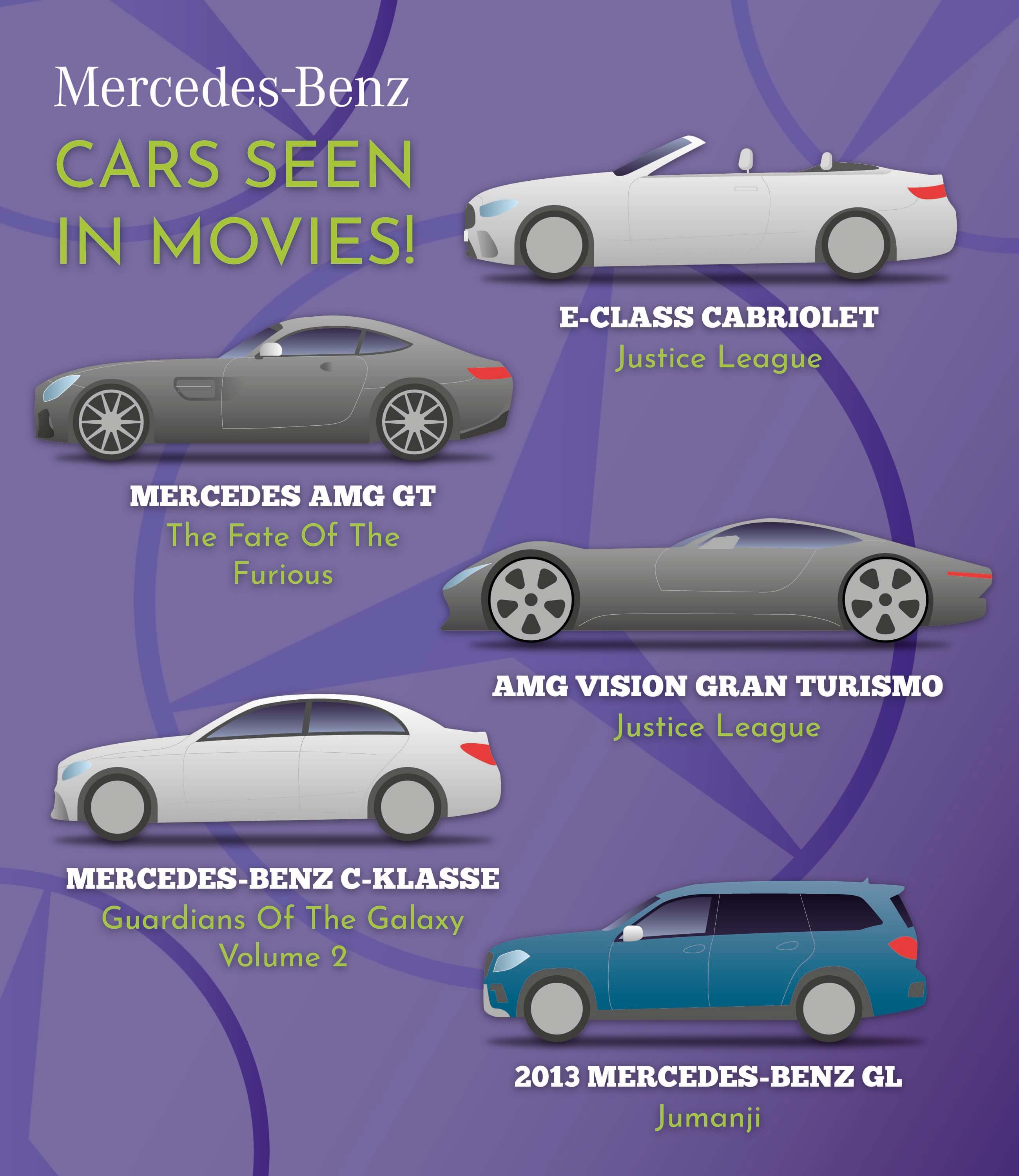 Continuing with the superhero theme, the German company also had its C-Klasse model featured in Marvel's Guardians of the Galaxy Vol. 2, which came in at spot four of the highest ranking movies of 2017 and bringing in $389.8 million at the box office that year.
In Jumanji: Welcome To The Jungle, the 2013 Mercedes-Benz GL model makes a quick appearance during a short scene. However, regardless of the small amount of screentime for Mercedes-Benz, the film ended up generating $962.2 million at the box office and securing spot five in the list of highest grossing movies of 2017.
And it doesn't stop there. Mercedes-Benz even managed to score a moment in The Fate of the Furious, the eighth installment in the Fast & Furious franchise. With such a huge focus on cars as part of its main plot, this was unsurprisingly a big deal for the brand which saw its AMG GT model take part in a high speed chase scene during the movie. Proving how popular this franchise is, The Fate of the Furious bagged spot three on the list of top ranking films worldwide that year, not to mention generating a cool $1.2 billion at the box office.
Toyota
In 2018, Toyota appeared in an impressive 55% of movies, including the Lady Gaga and Bradley Cooper blockbuster A Star Is Born which featured its Prius model as a yellow taxi cab. Its 1988 Land Cruiser also made a quick appearance in a scene during the American heist comedy flick Ocean's 8.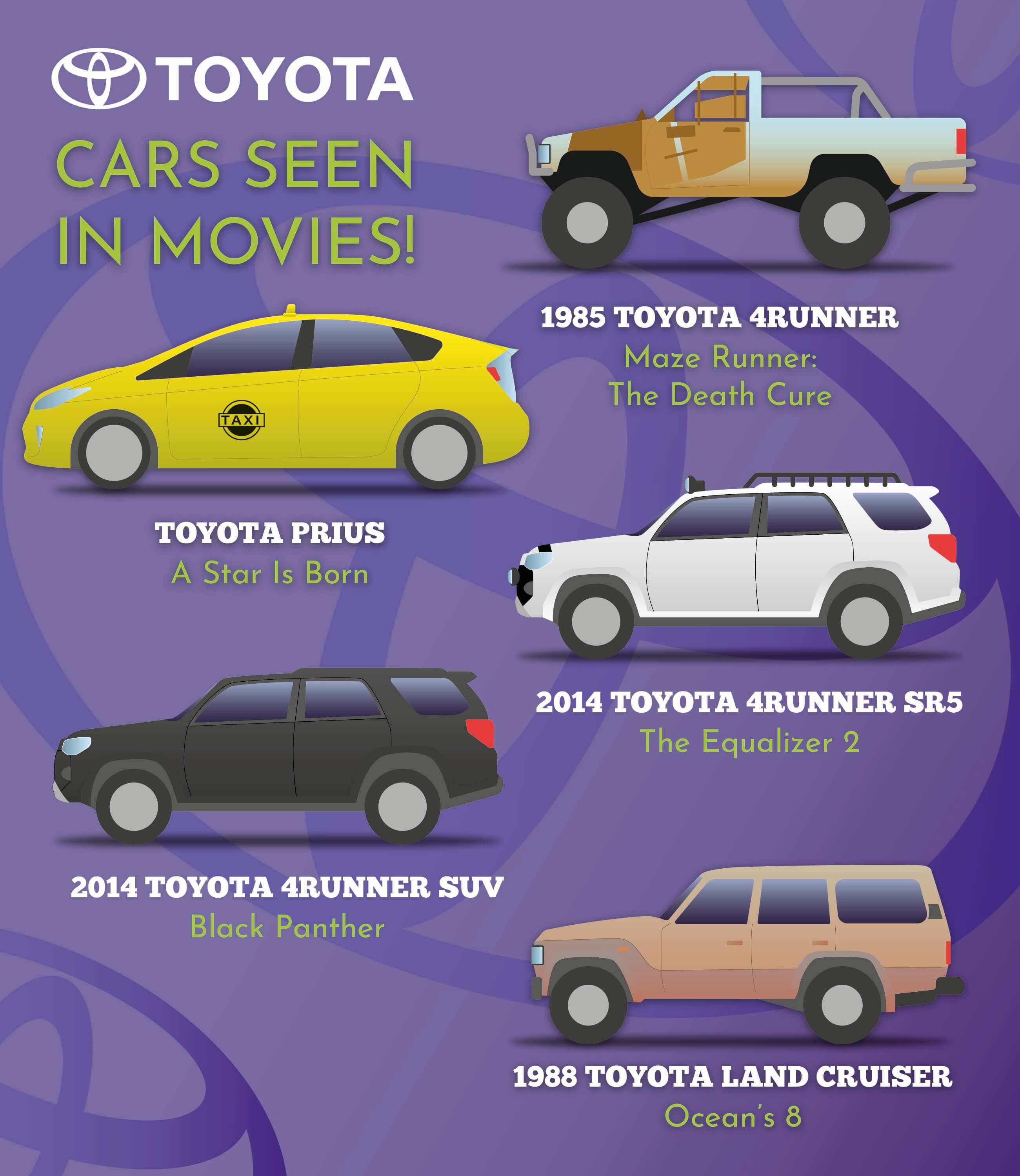 It also had several versions of its 4Runner model featured in a number of successful movies in 2018 - including the second highest grossing film worldwide of that year, Marvel's Black Panther. The action-packed superhero flick showcases Toyota's 4Runner SUV for almost an entire five minutes, and it was this appearance that generated over half of the automotive brand's annual product placement value that year. In fact, it became the third biggest single movie product placement of 2018.
Toyota's 4Runner can also be seen in dystopian science fiction picture Maze Runner: The Death Cure. In fact, the vehicle also features in the movie's official trailer careering alongside a train in a high-speed chase. The company's 4Runner SR5 also features in a handful of short scenes in the Denzel Washington action feature The Equalizer 2.
Audi
Audi has featured in some of the world's highest grossing films - including Avengers: Endgame, which made an impressive $2.8 billion at the box office and came in at number one as the top grossing film after its 2019 release. In the movie, Robert Downey Jr.'s character Tony Stark can be seen driving an e-tron GT concept vehicle. Despite only receiving a minute and a half of screen time, the vehicle caused quite the stir. In fact, the car's short appearance was said to earn $5.9 million for the company, making it one of the most successful product placements of that year.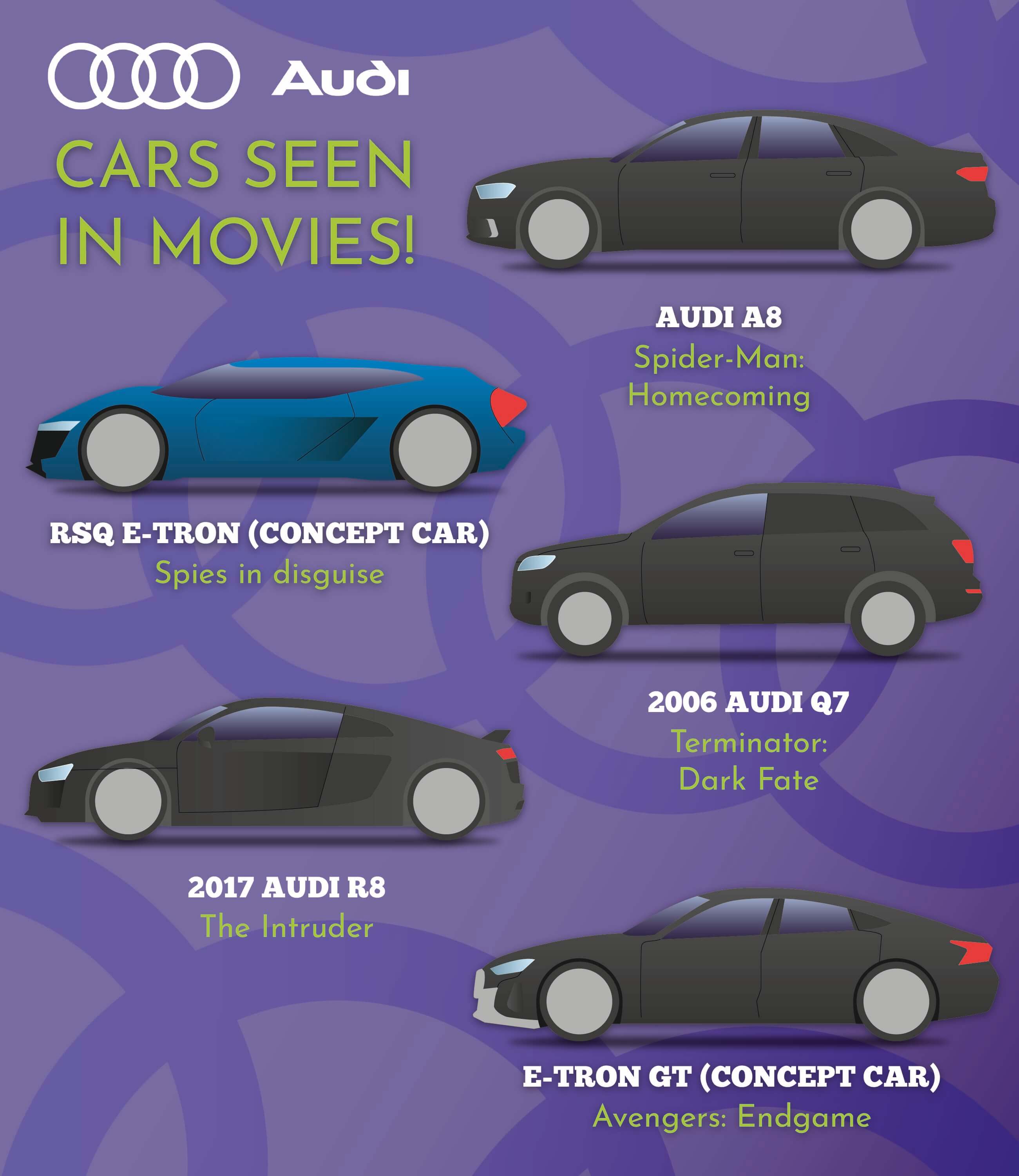 That's not the only time an Audi car features within the Marvel Cinematic Universe. In Spiderman: Homecoming, character Happy Hogan chauffeurs Tom Holland's Peter Parker in an A8 model. In fact, if you watch closely enough, you'll see the driver remove both of his hands from the wheel momentarily, giving fans a glimpse of the vehicle's innovative AI Traffic Jam Pilot AI system whereby the car can drive itself.
Outside of the MCU, Audi has featured in psychological thriller The Intruder where its R8 model takes centre screen in multiple driving scenes, while its 2006 Q7 is seen for a brief moment in James Cameron's Terminator: Dark Fate where Arnold Schwarzenegger reprises his iconic role.
Audi has even made its mark in the animated world. In the 2019 computer-animated spy comedy Spies in Disguise, Audi designed an RSQ e-tron concept vehicle complete with hologram speedometer, virtual exterior mirror and laser lighting. Despite its futuristic design, Audi's product placement expert Kai Mensing has confirmed that the RSQ e-tron is "purely fictional" with no plans to take the vehicle from the silver screen to the car showroom.
Ford
American automaker Ford appeared in a variety of blockbusters during 2020, including the sixth highest grossing movie that year Sonic The Hedgehog, which raked in $306.8 million at the box office.One of its vehicles appears as a Green Hills Sheriff Department car in multiple scenes throughout the film.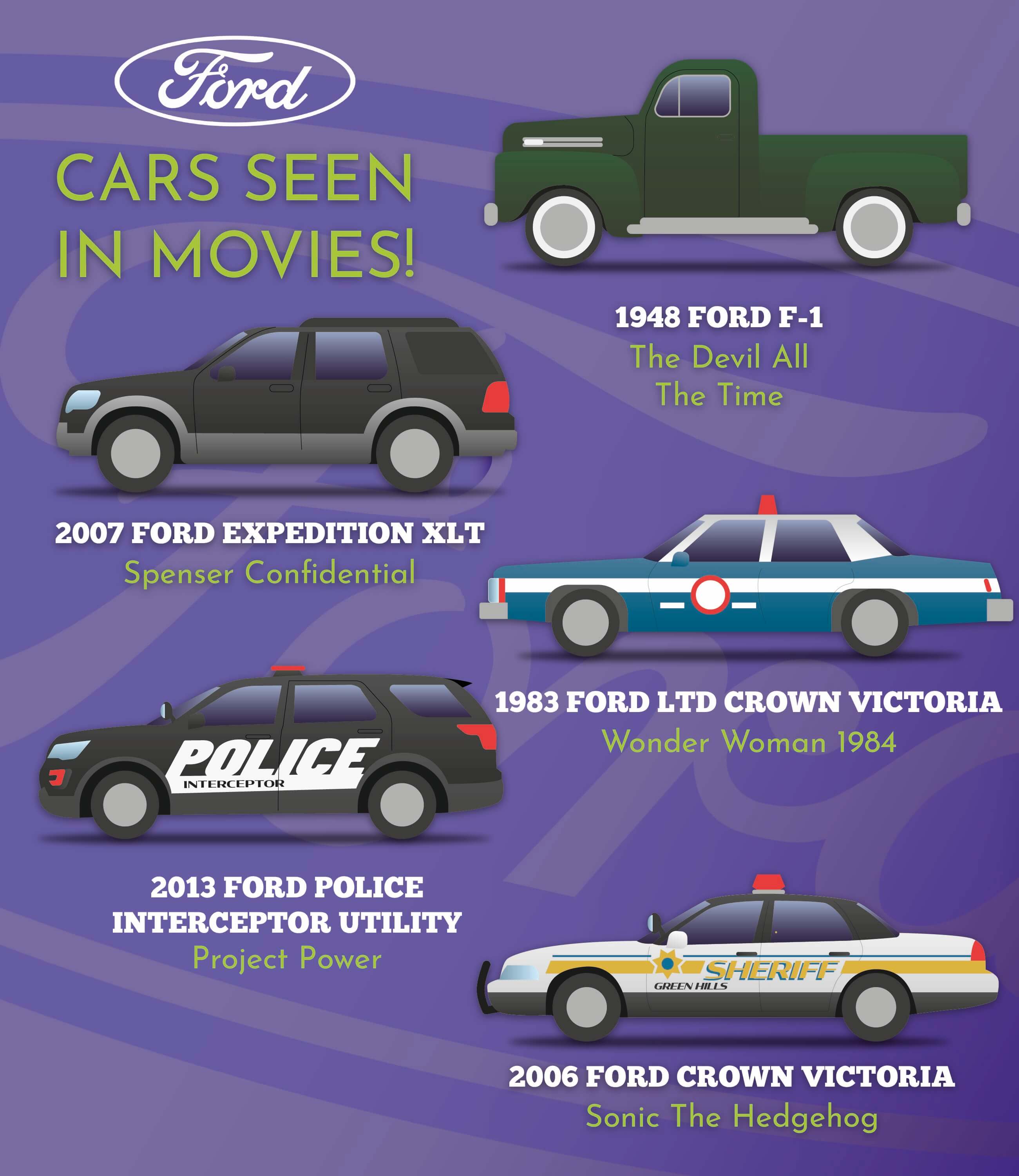 Meanwhile, its 2007 Ford Expedition XLT features in Spenser Confidential, starring Mark Wahlberg. The vehicle can be seen during some minor action shots as part of a road collision with a large truck.
Ford also managed to secure some screen time in superhero film Wonder Woman 1984 that same year. Its 1983 LTD Crown Victoria features not just in the movie, but in the trailer too, as a vintage-style police car. The Gal Gadot flick didn't quite make the top 10 of highest grossing films of 2020, coming in at number 12, but it did rake in $166.5 million.
Another movie Ford features in is thriller drama The Devil All The Time. Its F-1 1948 pick-up style model appears heavily throughout the movie as Tom Holland's main character's vehicle, gaining a good amount of screen time.
Have you ever noticed a vehicle product placement in one of your favourite films? Let us know using the hashtag #CarsinMovies.
If you're looking for great value car insurance, why not call us on 01 4003400 or hit Get a Quote now.
First published by Ian O'Reilly