Admitting Liability In An Accident
What Should You Do
Last updated: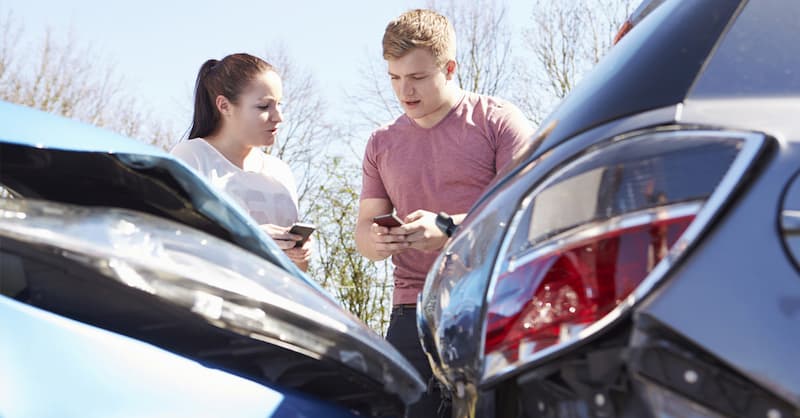 Being in a road traffic accident can be a stressful situation. Not only do you have to deal with shock and possible physical injuries, you also have your car insurance and any legal requirements to worry about. In the unfortunate event that you are involved in a crash, it's important that you know what to do, especially when it comes to admitting liability. This guide should help to shed some light on how to respond efficiently in the aftermath of a collision.
What should I do after the accident?
Immediately after the accident, the best thing you can do is gather as much information as possible. While it may be obvious who is at fault, you will need to provide your insurance company with clear evidence if you want their support. The main things you should take note of include: the date and time of the incident, vehicle details, weather conditions, damage to the vehicles and/or property, positions of the vehicles, any injuries caused and the details of the investigating police officer. It's also worth taking photos of any damage to the vehicles, or checking to see if there is CCTV footage of the accident. You should also try to find witnesses who may be willing to give you their contact details to clarify what happened.
If anyone is injured or there is any damage to property or vehicles, then you will need to leave your contact details with anyone who has reasonable grounds to ask for them. If no one asks for your details at the scene, then you should report the accident at the nearest Garda station.
Regardless of who is to blame, you should always inform your insurance company, broker or claims advisor straight away if you are involved in a road accident. Bear in mind that many insurers will have a time restriction for reporting an accident, and if you fail to inform them within the timeframe stated in your contract, your policy may no longer be valid. You also need to fill out a claim form as soon as possible and include everything that you noted down at the time.
Admitting liability
Even if you feel that you were responsible for the accident, you shouldn't make an admission at the scene. A driver is not legally obliged to admit that they are liable, so make sure you're not pressured into doing so, and avoid pressuring other drivers into doing so even if you feel they are at fault.
Most car insurers will advise you not to admit liability at the scene as it could invalidate the policy. Even if you think it is the right thing to do, it's still better to let the police investigators and insurance companies consider all the evidence first to decide who was at fault and take an appropriate course of action. Plus, there are many factors that could have contributed to the accident, and if you are suffering from shock, it's likely that you will be unable to take everything into consideration.
If I am to blame, should I admit it?
If you do admit that you are at fault verbally, your insurance company can still say you have admitted nothing if it is not in writing. However, bear in mind that someone could quote you if you are asked to stand in court, and your admission at the scene could end up in a Garda report detailing the accident. Not only could this be considered a perjury and have serious repercussions, you also run the risk of losing any compensation in a personal injury lawsuit resulting from the accident. Depending on the level of car insurance you have, you may also end up without a car and have to fork out for expensive repair costs.
Even though it is advised to refrain from admitting liability, sometimes this is easier said than done. If there is only minimal damage, there have been no injuries and the cost of repairs to the other vehicle is relatively low, many people are willing to admit that they were responsible for the accident. However, there are still risks associated with doing this. For example, days after the accident, the other party could find that they have suffered an injury and may decide to make a claim against you. With this in mind, try to avoid making an admission and simply exchange insurance information with the other party instead.
What if the other driver is to blame?
If you believe the other driver to be at fault, and you have a suspicion that they were on the phone or distracted when the crash occurred, make a note of it. If you think that any bystanders saw the other driver doing something that may have caused the crash, make sure you get their contact details too. When your insurance company are investigating the incident, they may decide to contact the other driver's mobile service provider to find out if they were using their phone when the accident happened.
The importance of getting legal advice
If you have admitted liability for an accident, legal help should be sought out as soon as possible. Your solicitor will be able to advise you on what's best to do, and if there is enough evidence to support that you were not to blame for the crash, they will be able to represent you if you decide to make a compensation claim.
Leave it to the experts
The purpose of vehicle insurance is to protect you from incidents like car accidents, and your insurer will have expertise in how to establish liability. Insurance companies have skilled investigators who will make enquiries and evaluate all the evidence before coming to a decision.
---
Here at Chill, as well as finding you competitively priced car insurance, we also offer a dedicated claims service. In the unfortunate event that you need to make a claim, we can help get you the best outcome as soon as possible.
First published by Ian O'Reilly